Future meetings and events
Sun 22nd July 2018 at 11.20 - Thu 31st October 2019 - 23.55 Events organised by Rotary Monmouth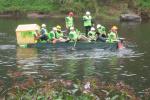 Through the year Rotary Monmouth organise a series of events which raise money for St David's Hospice, Breast Cancer research and other causes
Wed 25th September 2019 at 18.45 - Club Meeting and Feedback on this year's RYLA Course
Sponsored students provide news of the benefits they gained on the RYLA Course.
Wed 2nd October 2019 at 18.45 - 19.45 Star Speaker
Personal experiences of immunising children against Polio by Jonathan Stephens
Wed 9th October 2019 at 18.30 - 20.30 Advanced Driving Talk by IoAM expert.
Advice and guidance for the older motorist by an Institute of Advanced Motoring expert. Guests Welcome. Optional Buffet Meal available.
Wed 9th October 2019 at 18.45 - 19.45 Club Meeting and a Driver Refresher Training Update
Driver Refresher Training Update
Wed 16th October 2019 at 18.45 - 19.45 World Affairs Seminar Student provides Feedback
Club Meeting and World Affairs Seminar feedback
Wed 23rd October 2019 at 18.45 - 19.45 Cheese and Wine Tasting
Cheese and Wine Tasting