2009 - 2010 Press Articles
Copies of the 2009/10 Press Articles
Celebration of Youth Music Concert
For a report on the above concert organised by Plymouth Soroptomists and Plympton Rotary Club please click on the following link http://www.plymsorop.org.uk/chswcncrt.htm
Cheque Presentation to Ellie's Haven
Throughout the 2008/09 Rotary year, both the Plympton Rotary Club and Plympton Rotaract Club have been raising funds for their shared nominated charity for the year – Ellie's Haven.
Nigel and Julie Libby are aiming to build a non-medical holiday haven for the children of Devon and Cornwall and their families in East Cornwall.
A recent study has shown that there is a need for a non-medical short break facility in Devon and Cornwall, and they believe Ellie's Haven will become a special place for special children.
The charity is named after their daughter Ellie who requires around-the-clock care and suffers from:
Global developmental delay
Laryngomalacia - Ellie has a tube/opening in her throat
Feeding difficulties - Ellie is fed solely by tube
Seizures
Vision impairment
She was given a very short life expectancy and was not expected to live beyond her first birthday…she is still with us.
Throughout the year various events have been held, including quiz nights and a bike-a-thon to name just two and at the meeting of the Plympton Rotary Club on the 27th August, Nigel was invited along to receive a cheque for £1,500 from the Rotary club and £699.20 from the Rotaract club.
Both clubs have been delighted to have been in a position to help this wonderful cause and hope that they achieve their goal in creating this holiday haven for sick children in the not too distant future.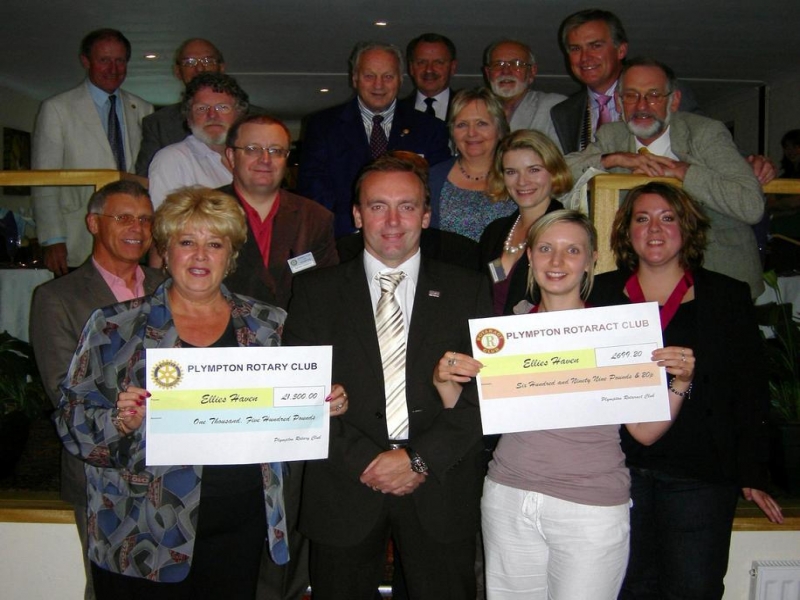 Grand Hand Over
Each July Rotary clubs around the world see a change in the club leadership with a new president taking over the reins of the club. The Plympton Rotary Club had not one and not even two reasons to celebrate this year but they had three reasons to celebrate this occasion.
Peter Stabb has taken over as President of the Plympton Rotary Club and Becky Sanders has become the President of the Plympton Rotaract Club (the junior version of Rotary for 18-30 year olds). Past president of the club Ken Edmonds however has taken on even higher office and becomes the first member of the Plympton Rotary Club to take on the role as District Governor – overseeing the 41 clubs in Rotary District 1290 (Covering West Devon and Cornwall).
With Rotary pushing hard to meet the Bill & Melinda Gates Foundation challenge to raise over $200 million by 2012 for the final efforts to eradicate polio around the world, Ken is keen to see the clubs in this district working together to meet this challenge. At least 2 major events are planned nationally which should see clubs working together for this – World Polio Day takes place on 24th October and Rotary Awareness Day on 23rd February 2010. Both dates will see clubs raising funds for this (and the many other causes Rotary clubs support) as well as promoting the work Rotarians do both at home and around the world.
Closer to home, Peter is keen to support the British Heart Foundation this year but with the clubs' Christmas collections and other events, he also hopes the club will raise considerable funds for other local charities and good causes as well. Already the club has put together a strong programme of fund raising and social events for the members over the next 12 months.
As well as supporting local charities and helping the Rotary club, Becky see's her biggest challenge and that of the Rotaract club to be that of new members. Until two years ago, following the demise of Saltram Rotaract club in around 2002, there had been no Rotaract club in Devon or Cornwall. Slowly with the help of the Plympton Rotary Club, this new club has been building the foundations for a strong future and has encouraged other Rotary clubs in the district to look into forming their own Rotaract Clubs.
So this certainly looks to be a busy and eventful year for the members of the Plympton Rotary Club family!
For more information on the Plympton Rotary Club or the Plympton Rotaract Club, please contract Darren Hands – email: dazhands@hotmail.com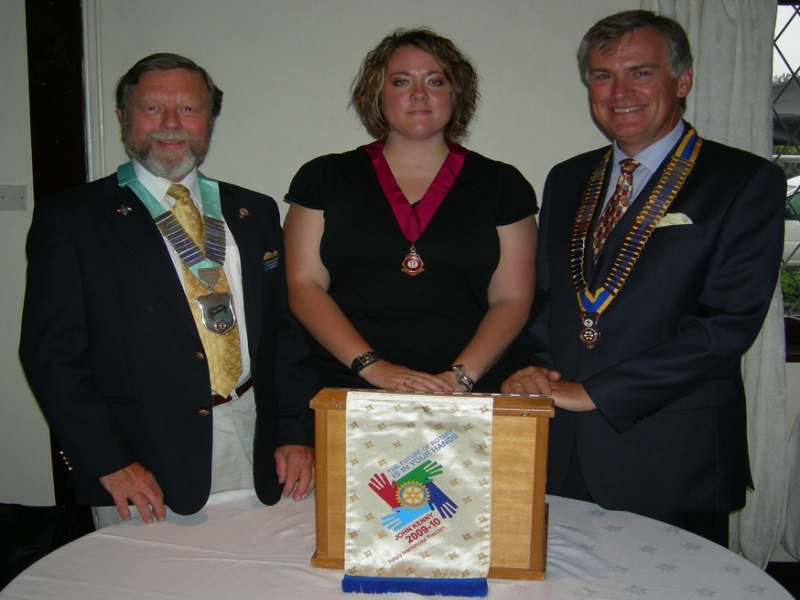 (Pictured are Left to Right: District Governor Ken Edmonds, Plympton Rotaract Club President Becky Sanders and Plympton Rotary Club President Peter Stabb)
Rotarians Recognised
2008/09 Plympton Rotary Club President Clare Thomas' final duty before handing the chains of office over to her successor Peter Stabb was to award the second Paul Harris Fellowship of her year to Peter Reid.
Paul Harris Fellowships were created in memory of the founder of Rotary and are awarded as a way to recognise service to the club or community over and above what would be considered usual or "expected".
Peter's award was in recognition of his international work, helping the Group Study Exchange team who recently visited Nepal with their preparations as well as helping with the team from Nepal who came over to Devon and Cornwall. The award to Peter was even more special as he had recently been awarded a Paul Harris Fellowship from the Rotary Club of Patan West in Nepal where he spent two and half years with the VSO.
Peter's award follows that awarded to Graham Beeson who like Peter has been a great servant to the club as well as to the Rotary District in West Devon and Cornwall. Graham received his award at the recent club presidents' night.
Both Rotarians join a select group of recipients from the Plympton Rotary Club and this recognition is richly deserved.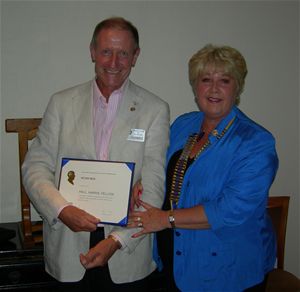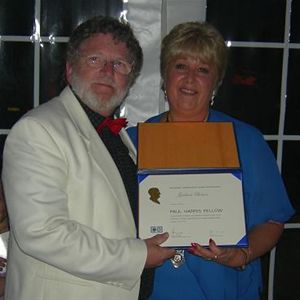 Drop Goal Competition
At the last game of Plymouth Albion's 2007/08 campaign, the Plympton Rotary Club (with help from then Albion player Wihan Neethling) ran a very successful drop goal competition to raise funds for a project it was helping to fund in South Africa.
Such was its success it was decided to run it on a more regular basis (but on a smaller scale) at half time during Albion's home games in the 2008/09 season with the help of the Rotary clubs' junior version - The Plympton Rotaract club and members of the Albion Ladies and Girls teams. It didn't start until 4 games into the campaign and after a slow start picked up a good following among the children who attended the games. Over 10's took drop goals from outside the 22 yard line (under 10's a little closer) and the standard proved to be very high. So high that on some occasions, it took so long to decide the winner the players were running back onto the pitch as the competition was decided.
Just before the Albion game against Newport, 2008/09 Club President Clare Thomas presented Dr Graham Stirling with a cheque for £54 - being half the money raised from the competition. The other half going to the Rotary and Rotaract clubs fund raising efforts for local charity Ellie's Haven. Clare is pictured with Rotaract members Becky Sanders and Louise Chugg with Albion chairman Dr Stirling and Albion coaches Danny Thomas and John Roberts.
Rotary club member and match day steward Darren Hands who ran the competition would like to thank Albion for allowing the competition to go ahead as well as the Ladies and Girls team members who helped with the ticket selling and marshalling throughout the competition. He would also like to thank everyone else who helped with the running of it and of course everyone who took part.