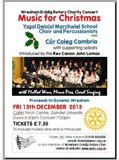 Music for Christmas Charity Concert
Tickets are now available for our Music for Christmas Charity Concert at the Catrin Finch Centre on Friday 13th December. Featuring Ysgol Deiniol Marchwel School Choir and Percussionists and Cor Coleg Cambria, with supporting soloists. Introduced by the Rev Canon John Lomas. More details anfd how to buy tickets can be found on the main concert page HERE. Proceeds to Dynamic Wrexham
Our Rotary Club will always welcome interest from potential new members of all ages willing to participate in a variety of worthwhile service projects and to enjoy the fellowship that Rotary offers. If you are interested speak to any Rotarian or contact the club using the contact form on this website.
------------------
Rotary Mock Interviews? Visit www.mockinterviews.org.uk
Twinned with the Rotary Club of Granville, New York .. read more here
Watch a short slideshow of some of our projects here