Like to know more about Rotary, or our local club? Just click the Contact Us tab and fill in the form, or ring or text our club mobile 07780 327 535. You can leave a message, and we'll get back to you.
Or Find us on Facebook:- RotaryLlanPen
Look at our photo albums, see what we do! They're on Facebook - just use the link above. Our archives are at https://sites.google.com/site/llanandpenrotaryclubphotos/
If you think you'd like to join us

click on the Join Rotary tab above: you can learn a little more about what we do, how we do it, and the fun we have doing it!
Coming Events: Why not join us for an evening?
Thursday October 16th: Buffet supper at the Split Willow at 6pm, then on to The Institute to see Llanfairfechan Players perform 'Under Milk Wood' in this Dylan Thomas' celebration year.
Friday October 24th: Join us at The Institute, Park Road, for our Wine Tasting along with a Cheese Table at 7.30pm. Only £6 allows you to sample a range of professionally selected wines in a great atmosphere.
On the other Thursdays we meet at the Split Willow at 7.30pm; come along and see us at work for our communities, and worldwide.
November: We will again be providing safety marshalls at Llanfairfechan Fireworks display; watch local press for details.
Before Christmas: We shall again be supporting Light Up Llan, touring the streets with Santa in his Grotto, and collecting at supermarkets for our community work in the coming year. We're always grateful of local help; if you can spare an evening (or more) to support Santa it really would be appreciated Contact us via any member, or use the tab above.
We had a GREAT evening on Thursday August 28th at Maen Alaw.
James Bingham, renowned mountaineer give a talk on climbing Mt Noshaq, the highest mountain in Afghanistan. Over 60 people joined in for this fascinating presentation.
Our new Rotary yea

r is well and truly underway! Already we've:
Visited Moelfre Lifeboat station, learned a little of it's history, and saw work on the near-complete new station alongside, with full slipway access.
Had a Sunday BBQ at Bryn Hedd, raising almost £1,000 for local hospices St Davids and Ty Gobaith, and MND. Thanks for everyone's support.
Had a great Day Out in Dublin.
Marshalled Llanfairfechan Carnival Parade
Run a Charity Duck Race
Helped man the Rotary stand at Llangollen International Eisteddfod
Met the new President of Rotary in Britain and Ireland
Run a Poetry competition with local schools, and presented special dictionaries to all year 5 pupils.
Been for a day out in Snowdonia by train: Conwy Valley - Ffestiniog - Welsh Highland. in glorious sunshine.
Heard about Pen Food Bank - and made a donation
Had a Croquet Challenge against St Asaph club
Held 2 working committee nights and a Club Council to get our work for the coming year under way.
Planned a day trip to Dublin
WELCOME to John Pritchard - our newest member. He was enrolled on February 27th. That's 4 new members already this Rotary year - and former member Geraint Jones has rejoined us! Use Contact above to learn more about Rotary, and how you can join us.
The Seas around the Llŷn - May 22nd
Many thanks to Lucy Kay for giving us such a superb insight into the waters around Llyn - from Tremadoc Bay round to the Rivals.
Quarry Tour - May 14th. Tickets WENT fast!
A tour of Pen Quarry by Coach; photo opportunity at the top! Thanks to all who supported this event, and had a most enlightening eveing, thanks to Ron! Another planned later this summer - watch this space!
Our 42nd Birthday party - celebrating our Charter - Friday May 9th.
Thanks to our Friends and visiting Rotarians for helping us celebrate in style. Wasn't Martin King-Sheard a great speaker!
We're hosting Water students from Delft, Netherlands on May 1st
2 students at Delft - Godfery from Uganda and Gonzalo from Argentina, are spending a week in North Wales hosted by Llangefni and Llanfairfechan and Penmaenmawr clubs. A full programme of visits to installations and facilities will be interspersed with touristic interludes to explore the region. Come and meet them at the Split Willow on Thursday evening, May 1st. Please use Contact as above for more details.
Johny Pritchard gave his job talk - with a difference!
Most new memebrs give us a short 'Job Talk' to give us an insight into their background. As an entertainer, Johny SANG to us, with a collection of music from Elvis to Neil Diamond and Kris Kristofferson. Most enjoyable - we await the next show with anticipation!
Visit to Bodnant Food Centre - Thursday April 11th
This outing opened many eyes - what a fantastic project, and right on our doorstep! An out-of-hours tour, wine tasting and a superb meal in the restaurant to end the evening. We were all impressed with the total professionalism we encountered - it bodes well for their future.
Thursday March 27th Guest Speaker - Sharon Williams on 'Sign Language

'

Guests were welcomed at this evening; informing and enjoyable too. Thank You Sharon
Thursday March 20th 2014 - Alternative night by the Foundation Committee
9 Pin Skittles and Bar meal evening at Penrhyn Old Hall, Penrhyn Bay
Fun Evening - meal + 3 games of Knockout Skittles. Final game, for the priceless Club Trophy was won by Sam. Thanks to Richard and his team for organising the evening.
Daffodil Walk Sunday April 6th
Another great event - much enjoyed by the many walkers, with a good crop of daffodils to see.
. . . . into 2014
So far this year - just weeks into our programme, we've held our working committees, supported our Inner Wheel club's International Dinner, held the second round of the district quiz at home to Porthmadog (sadly we came second - they were worthy winners) and had a job talk from member Carol Pye, among many others. You can check what we have planned elsewhere on this site - our meetings are listed on the right of the homepage. Call us if you'd like to come along to any.
Thanks for your HELP with our Christmas Float
Bringing Christmas Cheer we toured Llanfairfechan and Penmaenmawr from Friday December 6th for over the weeks before Christmas. Thanks to all those memebrs of our community who helped us, and to SPAR in Llanfairfechan and Penmaenamwr who we visited on Christmas Eve Starting at 5.30pm, and ending by 8.30pm, we're out most weekday nights.
Some of our recent meetings:
Thursday October 31st - CVSC
Jason Edwards came to tell us of the work of CVSC in supporting the voluntary sector.
Sunday October 20th; a guided walk to Aber Falls
Walkers met at the Aber Falls Cafe (A55 westbound J13, or LL33 0LD in your satnav) for a 12 noon start; back around 3pm. They explored this beautiful valley with impressive falls at the end. Donations welcome to PolioPlus, our project to rid the world of this scourge.
Send an email if you have any queries, or ring/text our club mobile as above.
Thursday September 12th Croquet Challenge
St Asaph club crossed the River Conwy to challenge us to a match. More in fun than an Olympic occasion, but we all enjoyed it despite threatening weather . . . and the croquet equivalent of the 19th afterwards at the Sailing Club!
Thursday September 5th
Working Committee Night - with a difference! Our second new member since July was enrolled tonight - welcome to Rotary, Carol Pye! There's room for more in the fellowship of our club - use the tab at the top to get more information.
Thursday August 22nd
Rebecca Owen of the Red Cross came to tell us about their community work, and how it ties in with our Ageing Well programme; useful information for our discussion the following week!
Saturday August 17th
Despite strong winds and heavy showers, club stalwarts, alongside Inner Wheel, supported Pen Town Council's Prom Gala Day. Put together at short notice, it attracted a large number of locals and visitors following the opening parade, and continuous entertainment.
Thursday August 8th
A laid-back enjoyable evening! A visit to Penmaenmawr Museum at New York Cottages and Parc Plas Mawr, in the company of John Watson-Jones, followed by supper at Maen Alaw
Thursday August 1st
District Governor Philip and daughter Alice (PE Pwllheli club) were our guests for our monthly business meeting. But there was more; new member June Hughes was inducted. We welcome her to the fellowship of our club, and Rotary worldwide.
A story from The Gambia
Bob Jones came along to tell us about a school which had also been visited by club member Georgina, while in Africa with the latest delivery of bikes for schools. Sounds like it could be the start of another club project.
Thursday June 27th - Presidents' Night
This was our formal good-bye to Japanese Rotary scholar at Bangor, Rocky (Hiroki Yoshiyama) who has been with us since last summer. We wish him well for his future in teaching English in Japan. Thankyou David B for looking after him throughout his year in Wales.
A GRAND DAY OUT
Thursday July 18th saw us heading out to Llangollen where we had hired day boats for a let-our-hair-down day. Casting off at 9am, over Pontcysllte, followed by a sizzling breakfast on board, then enjoying the company and interaction until our picnic lunch. Back to Trefor basin by 4 for the drive home. Sunshine, all day long, made this an occassion to remember!
THANKS FOR HELPING US CELEBRATE OUR BIRTHDAY



Gareth Wyn Jones - Carneddau Hill Farmer, Raconteur, and TV personality!
wowwed a full house - and a great time was had by all. We didn't feel that we were 41!
PENMAENMAWR QUARRY TOUR - MAY 8th (and September 4th)



Another sell-out coach tour of the historic granite quarry between Penmaenmawr and Llanfairfechan with photo and viewing opportunities at the 1200 ft level. Thanks to PP Ron for again providing a running commentary, on a glorious summer evening. All proceeds for our charity pot, so all benefit!
DAFFODIL WALK planned for EASTER SUNDAY delayed
Because of ice and snow along the route to the Old Church the walk was postponed until Sunday April 14th. All other details remained unchanged -
and some of the original hardy entrants arrived for an exhilarating day out.
Follow us on Facebook
- log in and look at
Rotary Llan Pen
Take a look at our superb

Photo Album
- managed by club member Georgina
click here to see it
The older photos elsewhere on this site are retained only for archive purposes
Goings on . . .
March 14th: Ageing Well Thanks Again to all who supported our second public discussion, this time at Maen Alaw on the needs of the ageing members of our communities. We're creating a database and mapping all the organisations in the area working on this or allied projects; objective is to try and unite our efforts, and maximise their effect. And also to find any gaps! Any organisation interested in the growing challenges of an ageing population are welcome to join us; drop a note using the Contact Us tab above.
February 28th: Dewi Sant celebration. Speaker Revd. Janice Brown. A great evening, thanks to you Janice for your enlightening presentation on the diocesan youth project on Bardsey Island.
Focus on the Crocus: we've been selling purple Crocus brooches to raise funds for our Polio Eradication campaign; a reminder of the purple dye used to mark the pinkies of youngsters given drops of polio vaccine in India, so we can check which ones have been missed on the follow-up day. . Thanks to Ysbyty Gwynedd and ASDA Bangor for allowing us to use their premises; we've already raised around £400 with them. Thanks to all who have supported us; we still have a few left!
Easter Sunday - March 31st: Daffodil Walk; a circular route from Sychnant Pass to Llangelelin Old Church in aid of the Rotary Foundation. Watch this space, or drop us a note using the Contact Us button above, and we'll keep you informed.
Christmas Float
Thanks to all who helped us bring Santa round the streets to meet everyone during December, and also those who collected at TESCO. We raised around £2,500 which will be used for projects helping others during the year.
Overseas Students
We've held our annual International Night for newly-arrived overseas students at Bangor University. Over 70 people were at the Split Willow to dine with them, and hear about their plans at Bangor, and beyond. Friendships were started which could last all the time they are here, and long after if past experience is anything to go by! Check all Georgina's pictures and here in our photo albums. Thanks to Kate Linck for making the arrangements, MP Guto Bebb, DG Roger and Ann and AG Colin and Julie for supporting us. Arthur Newnes' surprise was to bring along his Olympic torch for the students to examine, and be photographed with!
Tree Planting
Early this year we planted trees in Penmaenmawr and Llanfairfechan to celebrate our 40th anniversary in May 2012. We're sorry to note that two of the three cherry trees in Penmaenmawr have since disappeared. We hope to replace them in due course, but would ask community members to keep an eye out for any future vandalism. We could have done further work in the town with the money we will now needlessly have to spend on these.
A Grand Day Out!
Club members and Friends held a day trip to Porthmadog via the Welsh Highland Railway on Thursday September 13th with an afternoon in Portmadog, and superb views, and journeys in good company. Could it become an Annual Event?
We explored Penmaenmawr Quarry!
Another fully-laden coach tour of Penmaenmawr Quarry with commentary, left Penmaenmawr on Wednesday September 12th from outside Brookes Tarpaulins. Kind weather and good views ensured that this, probably the last for this year because of the shortening evenings, was much enjoyed. Sincere thanks to Quarry owners and management for their welcome support, and Rod Hamon who provided all the tour information literature for us. Not forgetting tour guide, Rockin Ron!
Welcome to New Club Member Rod Bowden JP
Rod, Anglesey born, but now from Penmaenmawr, was welcomed into club membership at the end of August.
If you'd like to get involved, or just find out how we have fun putting something back into our community, please use the 'Contact ' tab above; we'll get back to you quickly - promise - and invite you to come along and meet the gang!
If you'd like to work with us but can't commit to membership ask us about 'Friends of Rotary'. It's an informal group of people who help us from time to time with community projects. No time or money committments!
The New Team takes over for 2012-13.
"Rockin" Ron Watson-Jones has handed his gong over, after a very successful year, to new President Nick Rushbrooke; he will be supported in the coming year by President Elect Sylvia Parry, and President Nominee Geraint Jones. Treasurer Peter Hughes and Secretary Geoff Uttley continue in post for another year.
Bowling again - but outdoors!
We spent an enjoyable, rain-free evening at Llanfairfechan Bowling Club, followed by an informal supper of Soup and Sandwiches at Llan Sailing club. Thanks to the ladies there, and to members Georgina and Sylvia who made all the arrangements.
Ken Dunn Citizen of the Year
At Presidents night at the end of June, Ray Jones of Llanfairfechan was presented with this annual award by Mrs Edna Dunn; it is for his service to the Community. It comprises a certificate, and a cheque for the charity of his choice; he selected the Town Twinning group in Llanfairfechan.
Jubilee Party Celebrations:
We've suppported our communities in celebrating the Royal Diamond Jubilee on Sunday June 3rd. Shame about the weather, but the parties went on!
In Penmaenmawr we hired, and operated, a bouncy castle and various other games to entertain the youngsters at the Picnic Party on Sunday June 3rd, moved indoors to the Community Centre, between noon and 5pm. All was co-ordinated by the Light Up Pen team.
There was a Beacon lit on the Quarry on Monday evening, June 4th as part of the national chain.
In Llanfairfechan we sponsored the hire of the entertainment equipment for use on Pant y Rhedyn school. Light Up Llan were the organisers.
Blood Pressure Checks

!
Held in Penmaenmawr on April 14th by courtesy of Accent Properties, and April 28th in Llanfairfechan, at the Lloyd Hughes Room. People dropped in between 10 and 12 for a quick check that could save their life. In conjunction with the Stroke Association. 2nd Llan Guides served light refreshments, held a raffle, and we matched the £78 they raised, to help them get off the ground
Wine Tasting:
What a superb evening we had at the Institute, Llanfairfechan; over 50 wines to choose from (with soft drinks for your driver)! All proceeds were for WaterAid. Thanks for your support.
Easter Sunday - April 8th - what a great day out it was!
We went to India . . . to help with a Polio National Immunisation Day
Rotary Club member Georgina and Inner Wheel member Pauline were in India in February to help with a National Immunisation Day; they were in Karnal. Club member Sam spent some time in Lucknow at a previous immunisation day Want to see their pictures? .Here they are.
On January 12th 2012 it was formally announced that there had been no cases of Polio reported for a whole year in India - compared to thousands some years ago. But the fight has to go on for some time yet, just to be sure. The programme also goes on in Afghanistan, Nigeria, and Pakistan, the only three countries where it is now still endemic; civil wars have hampered immunisation programmes.
Have you got a Bike that you no longer need?
We're collecting them for Bikes4Africa, part of the Joleriders organisation. They will be refurbished and shipped out to Africa for older pupils to use to cycle to school - avoiding walks of several miles in the heat of the day. For our part we'll contribute the £10 per cycle needed to ship them.
Did you see people digging holes recently?
Our club members planted fasteagated ( yes we had to look that oone up, too) Cherry trees in the grass verge across from Brookes Tarpaulins in Penmaenmawr, filling the gaps in the original row, and Whitebeams near the Expressway bridge in Station Road, Llanfairfechan. click here for picture proof! They're part of our forthcoming 40th Anniversary celebrations - in May 2012 - but we've planted them now so that they can be in bloom for the big event.
Have a look at them now! They're established, and in BLOOM!
Swimmers defy the cold on New Year's Day
Members of the Rotary and Inner Wheel clubs defied the wintry temperatures to clear away Hogmanay Hangovers. Here they are in the sea at Llanfairfechan
SANTA came to Town - and met LOADS of local children!
He was with us in Llanfairfechan and Penmaenmawr; while our youngsters chatted with him, and had a piece of fruit, our members made our Christmas Charity Collection. This was followed by 2 days collecting at TESCO Llandudno Junction. Altogether we raised around £3,000 which will allow us to help local projects over the coming months.
Many thanks to all who contributed so willingly in these tough times, TESCO for allowing us into their store, and the many members of Rotary and Inner Wheel, and other helpers, who gave up their time to make it happen.
Amazing News from Kazahkstan!
Click here to read the story of the walking aid we've sent to help a 9 year old gain mobility, in conjunction with the Rotary Club of Almaty
Walking Festival in Snowdonia - October 2011.
Saturday October 22nd - Geological Walk
Sunday October 23rd - Walk from Southern Snowdonia
What an amazing event. Thanks to Steff at Pen y Ceunant tearooms on the Llanberis path for his support.
Click here for the pictures.
We are again working with our schools.
We've been back to talk to them about our JoleRiders project, which supplies refurbished bikes to schools in Africa so that children can get to school quickly instead of having to walk for hours, as there is no public transport.
We have awarded prizes to the year 6 winners of our inter-schools poetry competition:
Overall winner: Greg Bridges - Ysgol Pant y Rhedyn
Ysgol Capelulo: Ella Keistevens
Ysgol Pencae: Shaw Roberts
We congratulate the winners, and also all the entrants on their very high-standard of competition.
While at the schools we presented all year 5 pupils with their very own Rotary dictionary - to keep! We expect their reaction to be as positive as in previous years - it's a great, easily readable reference book.
Rockin' Ron for President 2011-12!
Renowned local character Ron Watson-Jones is our new club president for 2011-12. He plans to ensure that Rotary is as much fun as many of the events he performs at! We all enjoy our Rotary, and get a buzz from the fellowship and helping others - ask any member (or use the contact form above) to come along and find out what we do, and how we do it!
The Brazilians were speakers at our Charter Night Dinner on May 13th
In May we hosted a Group Study Exchange team from Amazonian Brazil, comprising a Rotarian Team Leader and 4 non-Rotarian young professionals. They stayed with local members and their families, learning about our area, and discovering how their jobs are done in Wales. Thanks to all in our communities who helped in any way.Our exchange team to visit them leaves in March 2012.
DID YOU KNOW: even 1,000km from the sea, the River Amazon is wider than the English Channel!
Penmaen-mawr Quarry tour, May 11th
The rain held off - mostly - and a sell-out coach load of local people enjoyed a memorable tour of the quarry. Thanks to all for their support, and especially Hanson Heidelburg for their support and co-operation.
100 Community Leaders
Last Autumn we had a great get-to-know-each-other evening for over 100 leaders of groups within our two communities; a follow up evening was held March 17th; if you missed it please feel free to call us, we'd love to hear from you.
Rotary Week: February 19th - 26th
This was another chance for us to work with our schools on the PolioPlus eradication programme, but unfortunately clashed with half term holidays. Instead, we were in school in March, presenting book tokens to winners of our Focus on the Crocus competition. Youngsters in western countries have never encountered Polio, and we need to make them aware of the reason we are pledged to eliminate it world-wide. Only 4 countries still have it, so we're well on our way to winning the battle.
In October we planted over 4,000 purple crocuses in our communities, intended to be in bloom during 19-26th February (but the cold winter delayed their growth), to celebrate Purple Pinkie. This represents the method used in our immunisation campaign to show which youngsters have received their vaccine - their pinkie finger is dipped in purple dye so that the vaccination teams in the four countries being covered can trace children who have been missed. A follow-up team tours the day after each campaign checking all children in their villages.
Thanks to all who supported our Christmas fundraising.
Touring our streets with Santaï¿ for over two weeks - until the weather made it impossible to complete our visits during Christmas week, gave us the chance to meet many of the younger members of our community. This, plus our 2 day collection at TESCO in Llandudno Junction (also affected by the wintry weather) allowed us to raise around £2,000 to use in our communities during the year. Many thanks to all for your generosity.
What an AMAZING EVENING
Our concert by Ysgol Glanaethwy Choir was a major success! A packed Llanfairfechan Town Hall enjoyed a superb evening's entertainment. What a talented group they are. And the bonus - due to them reducing their fees for our charity event we raisedï¿ £2,600 - enough to buy over 13,000 doses of Polio vaccine for use in our PolioPlus programme to eradicate this scourge - and we're nearly there! Just 4 countries worldwide still have it, and it's on the run. Let's keep up the pressure!
100 Community Leaders: A brilliant get-to-know-you evening! Follow up event on March 17th .
PLEASE USE THE CONTACT FORM IF YOU MISSED YOUR INVITATION.
Some events from 2010:
What a GREAT WEEK we had celebrating Rotary's 105th birthday in February! We plan a repeat celebration NEXT February too!
- On Saturday 20th we collected in Llanfairfechan and Penmaenmawr for End Polio Now - raising money for 500 doses of vaccine.
- During the week our four schools held Purple Pinkie Days, and raised money for another 400 doses of vaccine.
- On Thursday night we held our Dewi Sant celebration, with entertainment from Lleisiau Traeth Lafan.
- On Friday night we held a Macmillan Mammoth Quiz session and raised �£250 for Cancer Support
- On Saturday we joined with 5 other local clubs collecting at TESCO, Llandudno Junction, raising monies for another 1,100 doses of Polio Vaccine!
We had a Wellie Whanging contest on Llanfairfechan Beach on Sunday June 27th.
We have again held our inter-schools art competition, and donated dictionaries to year 5 pupils at all 3 of our junior schools.
click here to read about our club member David Bather's visit to Japan as Leader of our District 1180 GSE Team.
I
A Football strip for our youngsters. Dictionaries for our young scholars. An annual Achievement Award for our local schools.
Just three of the ways Rotary is working in OUR Community!
Get in touch with us easily; just ring our mobile 07780 327 535
Leave your name, number and a simple message. We'll call you back as soon as we can!
FRIENDS of ROTARY
We have an informal group of people who share our Rotary ideals, but for whatever reason cannot commit to membership. If you'd like to know more please ask any member, or call 07780 327 535 for an invite to a meeting planned on September 23rd
We are planning to hold a 100 Community Leaders NIght on October 21st.
Our President is David Bowen-Jones and he's looking forward to hosting an exciting club programme this year.
Did you see the new faces in our towns this summer?
We were hosting a Group Study Exchange team of young professionals from Japan. Thanks for giving them our usual warm welcome.
Our district GSE team of four young professionals to Japan in November 2009 was led by our club member Dave Bathers. His non-Rotarian team members come from such diverse areas as Snowdonia and Liverpool.
If you're interested in learning more about Rotary, perhaps with an interest in joining our world-wide fellowship, please click here and we'll invite you along to a meeting. Or call 07780 327 535, or have a word with any Rotarian. We'd love to meet you! We have loads of FUN and FELLOWSHIP helping others.
We're situated on the beautiful North Wales coast on the edge of Snowdonia, just along from the walled town of Conwy, and midway between Llandudno and Bangor overlooking the Menai Straits and Anglesey. Like to know more about our historic communities?
Click here for links to the Llanfairfechan or Penmaenmawr towns' websites, or our meeting venue the Split Willow
Want to know more? Ring 07780 327 535
FROM OUR ARCHIVES!
Thanks to everyone who supported us in bringing Santa to our villages
Every year - in the two weeks before Christmas, loads of youngsters came to meet him in his magnificent grotto and receive a gift of fresh fruit. Last year we raised over £2,000 in our street and TESCO collections, and this will ALL be used for charitable projects during this year. Our sincere thanks to all who supported us.
Our special thanks go to those who are NOT members of our club, including the Mayors, local Councillors, and our friends who came out to help us. It is appreciated.
Our grateful thanks are also due to TESCO in Llandudno Junction for allowing us to collect there on two days before Christmas; the generous donations people made will be used for our charity work during the coming year.
We had fellowship (and bar meals) at the Split Willow on some evenings after our rounds, and also enjoyed our Christmas Dinner there, with partners and friends. Entertainment, organised by Michele Bathers, was provided by Arwyn Evans, Enid Evans, (Rockin) Ron Watson Jones and Ray Roberts. A most enjoyable evening made a great start to the festive season. It was good that our former member John Davies was well enough to join us.
From the Archives:
Early in 2009 we were honoured to have our Paul Harris Fellow, Kate Rowlands speak to us. She was home on a brief break from her medical/charitable work in Afghanistan, and was able to answer many of our questions from first-hand experiences; our Best Wishes go with her when she returns to that troubled land.
LLANFAIRFECHAN TOWN under 11's soccer team now sport new shirts, thanks to our club!

At our annual INTERNATIONAL STUDENTS Night
In November we host 12 newly-arrived overseas students of UW Bangor. This is one of our most popular events of the year, when we get to meet students from all over the world, and give them a link with the local community while studying in Bangor. Click for pictures of our visitors.
Literacy Project:
Special Rotary dictionaries, worth nearly £10 each have been presented to all year 6 pupils of our local junior schools (Ysgol Capelulo, Ysgol Pencae, Ysgol Pant-y-Rhedyn) to take with them to their new schools. We wish them well in their studies.
Sing along with Ron!
Club Member (Rockin) Ron Watson-Jones receives his badge of membership of the
Rotary Fellowship of Musicians while entertaining at Penmaenmawr Promenade Day
Visiting Cadnant, Anglesey:

Donating money for new kit to Llanfairfechan Junior (under 11's) footballers:
Money was donated to help the under 11's obtain a new strip for the season; the money was handed over during pre-season training. See the picture of the strip on this website homepage.
Presenting the winners of our SCHOOLS ACHIEVEMENT COMPETITION 2008 with their prizes: Amy, James and Kieron:
Club President 2007-8 Jerome Bacchus inducts Garth Rogers as his successor for 2008/9; DC Barbara Bacchus inducts Sylvia Smith as President of Inner Wheel. See photo galleries.
Click on the PHOTO GALLERIES tab on the left for photos from our recent Roadshows and other events.
CLUB MEMBERS:
Look at your committee report under Club Council to remind yourself of progress towards your targets for the year!
Huw Tom Walk: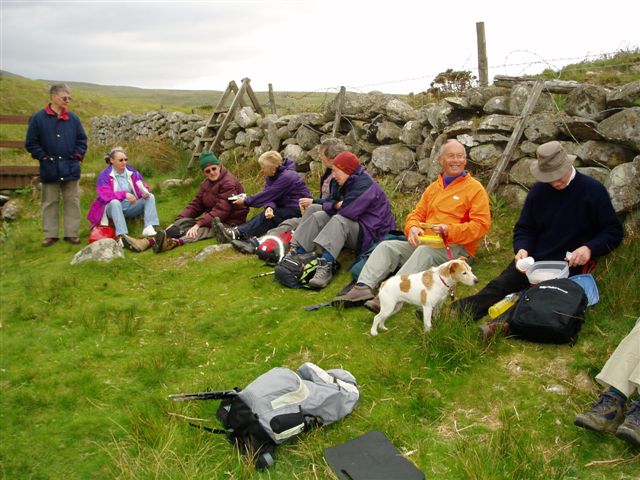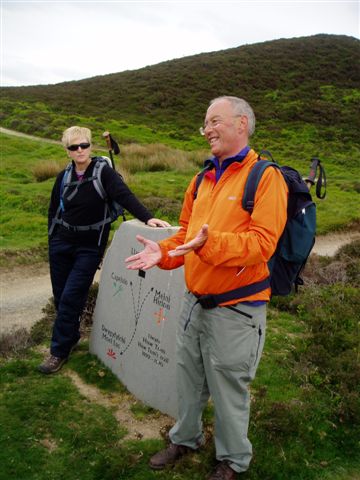 The club led the now-annual Huw Tom Walk, held on behalf of the Rotary Foundation. They were joined by a wide ranging group of walkers, who trekked from the restored historic New York Cottages in Penmaenmawr to Rowen. The route they took followed the daily footsteps of quarrymen of old between the granite quarries in Penmaenmawr, over the eastern Carneddau, and their homes in the Conwy valley. The signed way, developed by Rotarians from this club, is now part of the Conwy walking programme. The route is named after the early trades union leader.
Donations:
Recent donations have been made by the club to Ysgol Babanod towards access safety improvements, WaterAid, Royal British Legion, a local child needing medical treatment in France, Llanfairfechan Junior Football Club towards kit, Dwygyfylchi Bowling club to help them overcome vandalism, the TLC club at Llanfairfechan (for which our club members also provide transport) for seat cushions in Y Caban. Following a presentation by Ysgol Bryn Elian we have made a donation to their Schools project in Madagascar; it ties in with our emphasis this year on education, especially in Africa.
The club has again been working with local schools in the Annual Art competition. Results are on the PROJECTS page.
We have also presented Rotary Dictionaries to all year 6 pupils in our 3 schools, Pant y Rhedin, Capelulo and Pencae. They were much appreciated, and will be of use to them in years to come.
Our Group Study Exchange visitors from New Zealand
Ready to board the Snowdon Mountain Railway, and at the Interclub meeting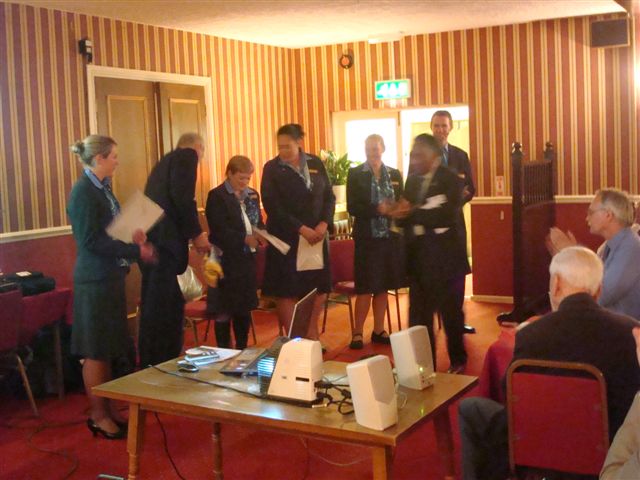 Our club has celebrated it's 38th birthday with a Charter Night Dinner at the Split Willow. Our guest speakers were the most-entertaining GSE Team from Japan.
The club, under the guidance of it's International committee, has just loaded a lorry with goods destined for the Ukraine. Contents include mountain and roadster bikes and helmets, wheelchairs, clothing, shoes, toys and furniture. It was being shipped via the International Aid Trust, based in Preston.
A "Thank You" night for those members of the community who helped us was held at the Light Up Pen Cafe; their help was greatly appreciated. Look at the pictures under 'International' alongside. We hope to make a trip soon to the IAT to have a look at their facilities, and all the work that they do.
Recent meetings have featured our committee Nights, a presentation by members of Llandrillo College Astronomical Society, the Ysgol Bryn Elian Madagascar project, the Mawdsley's as St Vincent de Paul Society organisers of aid for children in the Sudan, by Ruth Carter on the history of the Pacemaker, visits by Overseas students from University of Wales, Bangor, and other varied speakers. Much fellowship has resulted from all of these.
Club members attended the District Conference at Venue Cymru:
We were looking forward to a great weekend of Fellowship, Fun, interesting speakers and entertainment, and were not disappointed!
We also joined in the RIBI Conference in Bournemouth.
Our International committee have been collecting and refurbishing old cycles, for shipment to other parts of the world. They held a sponsored bike ride to help cover transportation costs (see photo gallery).
July again saw the club supporting Llanfairfechan carnival. After marshalling the traditional parade through the town, they operated their Stocks game on the promenade. Wet sponges were initially sold for throwing at club members, but members of the public soon took over to submit themselves as targets! A fun event in good weather. The club also supported Penmaenmawr Prom Day, with our Stocks, and our new guess the number game.
Rotary Clubs are at the heart of the community, and none more so than Llan Pen.
Would you like to JOIN OUR CLUB? Ask any member for more details, or use the contact form (left). We're always looking for more community minded people to join us!
Under 35? Would you like to study abroad for a year in 2010/11? See the Rotary Foundation page for more details.
REMINDER TO CLUB MEMBERS: To read reports from Committees and Council minutes you will need to login as a member, above.