We hope you enjoy our website. Please scroll down this page to read our latest news, find out about our forthcoming fundraising events, learn how you can join the rotary movement and see our full programme of meeting and other events.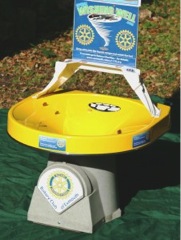 Hire our Spiral Wishing Well and make money for your Charity Fundraising Event. BROCHURE
Latest News...

Mayor visits Club

The Mayor of Newcastle, Mrs Linda Hailstones with her consort Peter, visited the club on the 5th August. The mayor is seen here receiving a donation for her chosen charities from Senior Vice President David Riley.

---

Nick Davies, our new club president inducted on 1st July.

Nick is Pictured to the right of outgoing president Brian Lewis.

---

Senior Citizens party a great success

---

Goods donated by club handed over to Special School in Zimbabwe

---

Former Ambassadorial Scholar Dr Asami Miyazak is guest at club meeting

---

Former Newcastle under Lyme Club Treasurer to become President of the Institute of Chartered Accountants

---

Forthcoming Fundraising

Events...

Sunday 6th December - Bucket Collection, Morrisons Supermarket, Milehouse Lane, Newcastle

22nd - 24th December - 'Tree of Light' Bucket Collection at Morrisons Supermarket, Goose St., Newcastle.

Recent Fundraising

Successes...

£750 for 'End Polio Now' from Music Evening on the 24th October

£203 from our collection on 15th October at Morrisons Supermarket, Lower Milehouse.

£209 from our collection on 6th September at Morrisons Supermarket, Lower Milehouse.

£207 from our collection on 3rd August at Morrisons Supermarket, Lower Milehouse.

Around £2200 from our Racenight on the 28th March

Around £360 from our bucket collection at Sainsburys on the 17th January.

Around £2400 from our Christmas collection and Tree of Light at Morrisons Supermarket.