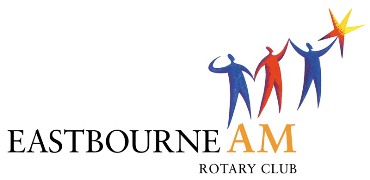 The Rotary Club of Eastbourne AM is a fun, vibrant service organisation made up of individuals and couples from all walks of life. We have all been brought together by our enthusiasm for fundraising and a desire to help people in our community but the main thing we all share is our passion for enjoying ourselves ! If you are interested in seeing what our club is all about, we would love to see you at a Friday breakfast meeting - we meet at the Chalk Farm Hotel, Willingdon at 7:15am. We finish at around 8:30am with plenty of time to get to work.
FORTHCOMING EVENTS FOR EASTBOURE AM ROTARY CLUB
- Friday April 25, we will be co-ordinating two catagories at Eastbourne Achievers Awards 2014 at the Winter Garden, and hosting at least one table and hopefully two
- Sunday April 27th, 3.30pm - The Eastbourne AM Beachy Head Lighthouse Challenge. Rotarian Martin Wellings will be teaming up with Anne-Marie Field from the Eastbourne Herald to encourage families to take part - last year 120 people took part. For details and registration form - see the 'Lighthouse Challenge' page under Club Projects.
- Saturday May 17th - we are staging the Marianne Williams Music Scholarships 2014 at the Birley Centre, in association with the East Sussex Music Service. Marianne was a very special member of Eastbourne AM who lost a brave battle with cancer before Christmas. She started the bursaries and they will live on annually in her memory.
- Friday May 23rd - we are holding a charity Golf Day at Willingdon Golf Club in aid of our two main charities - the Breakaway Holiday Project and the Quicken Trust. We want companies to sponsor holes at £100 each - if you can then please email: petelindsey30@hotmail.com
EASTBOURNE AM is grateful to Sheikh Abid-Gulzar who donated £300 to our Burns Night raffle, which we are putting towards Breakaway. More on the Burns Night under 'What we Do' on this site.