Club Speaker Peter Swinscoe - Rotary Jaipur Limb Charity
Mon 19th February 2018 at 19.15 - 21.30
Rotary Jaipur Limb Charity- Bringing affordable artificial limbs to developing countries
Rotary Club of Birstall Luddites
Club Speaker Peter Swinscoe - Jaipur Limb
Peter with his daughter Liz visited the Club on Monday 19th Feb and gave a talk about the
UK and Ireland Rotary Jaipur Limb Charity Project.
Rotarian Peter from the Rotary Club of Worksop is Project Manager of Jaipur Limb Charity for the Indian Subcontinent
and as been associated with the Charity for 25 years in Southern India.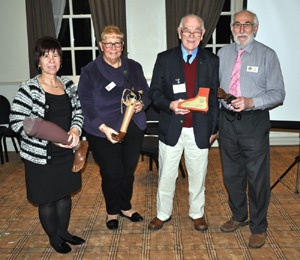 He explained about the Charity Its principal activity is the raising of funds in order to finance limb camps and limb centres in Africa, the Indian sub-continent and other areas of the world in need of help, as determined by the trustees. This is achieved through donations from Rotary clubs, Inner Wheel clubs, other organisations and private individuals.
He talked about the 7 day camps set up and run by Rotarians. The Rotarians do the registrations, where the limbs are measured and then these are passed to people who make the limbs. The limbs are made from
high-density polyethylene
pipes These are put in an oven to set and then plaster of paris is used to make the limb. Peter also showed another aid developed by an American the
LN4 Prosthetic hand
was show being fitted
see video
.
Peter talked of the causes of the defects - Fishing, farming accidents, diabetes , polio sufferers need limbs
In many developing countries there are tens of thousands of people who suffer as a result of amputated or deformed limbs. The causes of this misery are many, but include birth defects, communicable diseases such as leprosy and polio, non-communicable diseases such as vascular disorders and diabetes, snake bites, and traumatic injuries as a result of accidents, natural disasters and armed conflict.
Peter then asked the club to watch a short You-Tube video with Paul Merton. This is on display below.
This highlights the success of the Jaipur limb/foot and hand for a small amount of money.
Peter took questions from Luddites and a vote of thanks was said by International Chairman John Logan and President Helen thanked Peter and Liz for their travel up from Retford.
What is the Jaipur Limb?
It is an artificial leg, developed at the Mahaveer hospital in Jaipur, India. The unique component is the Jaipur foot, a clever combination of wood and various densities of rubber vulcanised into a realistic looking brown foot. The Jaipur limb is hard-wearing and will last for three or four years, longer if worn with a shoe. One of the major differences between the Jaipur technology and western technology is the cost – whereas a western limb will cost between £1,000.00 and £2,000.00, a Jaipur limb can be made and fitted for as little as £50.00.
LINK - The Jaipur Link. (can be used to DONATE)
LINK - Limb camp in India (can be used to DONATE)
LINK - Jaipur Foot
CLICK FOR BIG PICTURE
banner showing uk Rotary clubs supporting
Jaipur Limb

CLICK FOR BIG PICTURE


banner shows details for Rotary
support in India

CLICK FOR BIG PICTURE
Jaipur Limb camp in Trivandrum