RAF HARROWBEER 1940's Weekend
Sat 11th August 2018 at 11.00 - Sun 12th August 2018 - 17.00
Spitfire flypasts both days. Re-enactments. Exhibitions. Trade Stands. Remembrance. Great days out for the whole family. Rotary Club of Yelverton will run car parking over the weekend.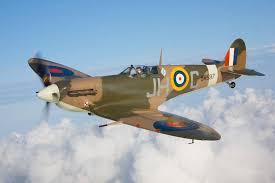 RAF Harrowbeer is a former WWII Fighter Airfield at Yelverton, Devon. Our main website is www.rafharrowbeer.co.uk where you can learn all about the Airfield's history.
The 2017 1940s Weekend was organised by the RAF Harrowbeer Interest Group, in association with the Old Garden & Horticultural Machinery & Tools Club; WWII-Re-Enactment South West Group, and Tavistock Model Flying Club.
Every Hour: MkIX Replica Spitfire with running Merlin engine. Enjoy the sight and sound of a Spitfire starting up with the roar of the mighty 27litere Merlin engine!
Win the opportunity to sit in the cockpit at 4pm and be The One to start her up! Just buy a ticket in our Spitfire Experience Draw on the day. Lots of other prizes to be won too. All proceeds from the draw go to funding the 1940s Weekend.
Battle of Britain Memorial Flight Spitfire Flypast:
We are delighted to announce that the BBMF will be providing a Spitfire Flypast on both the Saturday and Sunday of the 2018 event! Please DO NOT ask us for timings for these as we will not know until a few days before the event.
Vintage Aircraft Flypast: Sunday afternoon only
A flypast by several vintage aircraft.
Saturday 11th August @ 11am
Remembrance Service by the RAF Harrowbeer Memorial Stone by Knightstone Tea Rooms. A short service where we remember the 66+ service personnel who lost their lives whilst serving at, or flying from, RAF Harrowbeer.
Saturday & Sunday afternoon @ 4.30pm: At the Going Down of the Sun.
Re-enactor parade with musical accompaniment from Bern Stewart. The re-enactors remember and salute The Fallen, and lost friends and family.