Rotary Fireworks 2018
Sat 3rd November 2018 at 17.45 - 20.30
For over 30 years the premier firework display in the Salisbury and Wilton area commemorating the 1605 Gunpowder Plot has been organised by the local Rotary clubs.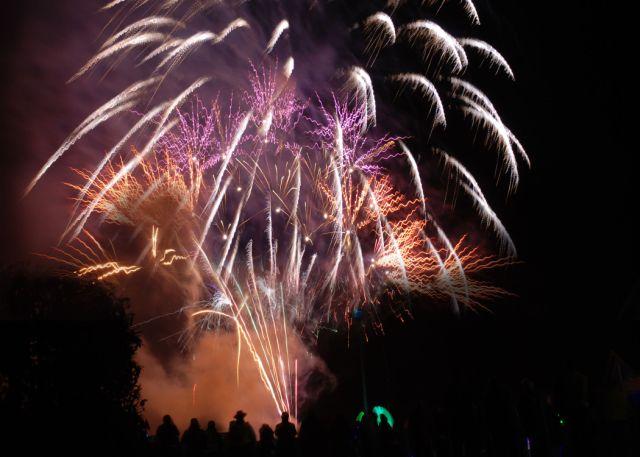 This year's Rotary Fireworks will be a joint venture between the Rotary Clubs of Wilton and Salisbury in association with our major sponsor, Persimmon Homes. All profits will be donated to local charities.
TICKET PRICES
EARLYBIRD: (These are the cheapest tickets and will be on sale until Nov 2nd - see below)
£8 for Earlybird Adult+Child (Each ticket admits 1 adult and 1 child)
£4 for Earlybird Child (4-17) (Each ticket admits 1 child)
Free for Under 4's
Available
ONLINE NOW
from The Ticketsellers (click logo on right to visit their website) and
LOCALLY FROM OCT 1st
from Britz Takeaway & Diner (Wilton Road Salisbury), Cobbs Cafe (Wilton Shopping Village), Wilton Hardware (West Street Wilton); Hayball Motorcycles, (Brunel Road Churchfields) and Well Natural (Queen Street Salisbury):
LAST MINUTE (These will be on sale at the gates of the venue from 5.45pm on Nov 3rd)
£10 for Adult+Child (Each ticket admits 1 adult and 1 child)
£5 for Child (4-17) (Each ticket admits 1 child)
Free for under 4's
With every ticket purchased Britz are offering a free meal at their shop on Wilton Road, Salisbury.
LIMITED PAID-FOR ONSITE CAR PARKING (NEW)
BUT FREE PARK & RIDE
Please note this year only limited parking at the venue will be available for 250 cars at £5 per car payable on arrival at the gate (Disabled Blue Badge Holders FREE). You are strongly advised to take advantage of the FREE Park & Ride Shuttle made available by Salisbury Reds and Wiltshire Council from Wilton (Park & Ride Terminus), Britford (Park & Ride Terminus) and Salisbury (Milford Street opposite the Red Lion; NB FREE PARKING will be available in Culver Street car park). The service on all three routes will commence at 5:40pm.
REFRESHMENTS
There will be a licensed bar and food stalls on site and opportunities for children to purchase light sticks and novelties.
WE ARE GRATEFUL TO OUR BUSINESS PARTNERS WHO HELP TO MAKE THIS EVENT POSSIBLE