Rotary Club of Wensleydale

Home | Fellowship | Charter and Handover Dinner 2009
Another successful Charter and handover dinner was held at Wensleydale creamery, with over 70 attendees.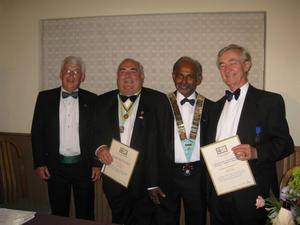 The guest speaker was Neville Fox who regaled the guests with "Tales from the Dales".
District Governor John Philip was presented with a cheque for £1,200 to support Rotary's Polio Plus project whose aim is to eradicate Polio throughout the world.
Phil Oliver and Dr. Chris Wheatley were recognised for their work for the Rotary District and were presented with a District citation.