Rotary Club of Wensleydale

Despite the poor weather forecast and the rain that did arrive, 258 runners registered, 70 of them on the day! In the end, 238 actually ran the race, and all finished. The grass sections were softer than in previous years, but none were too wet.


Our patron Mr James Wight started the race that was hotly contested for individual  prizes provided by the sponsors The Walking Shop of Leyburn, Brymor Ice Cream, Dales View Holiday Homes, and Campbells of Leyburn, with club team shields provided by York Acorn for the team of the first two men and one lady, the Swaledale Club Shield for the team of the first four ladies, and the Rotary Club Shield for the team of the first four men.
This event has become quite a challenge for the runners personal bests and there are new runners entering with good times each year. This year,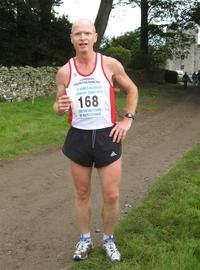 Shaun Whelan, of London Frontrunners, won with a new record time of 52.59, knocking 18 seconds off last year's record, set by Gary Dunn,of Thirsk and Sowerby. Gary unfortunately lost a shoe on Black Hill when he was in the lead, but recovered to take second place in 54.32. But for the shoe incident, we could have had a very exciting finish! Third was Trevor Wilks of Leeds City AC in 55.41.
The results for the ladies saw Charlotte Sanderson, of Thirsk and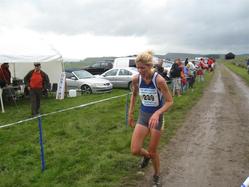 Sowerby, winning in 63.07,with Robyn Oldham, of Knavesmire, coming second in 65.05, and 3rd placed, for the second year in succession, was Erika Johnson of Swaledale Fellrunners with a time of 66.40.
Apart from the weather, the only glitch of the day was caused by the computer giving out, before the category winners could be computed. They were as follows;-
Male Veterans
40+
Mark Forrest - Frontrunners - 56.41
Andrew Henderson - Durham fell Runners - 58.16
50+
Paul Muller - Horwich RMT Runners - 57.19
Andy Normandale - York Acorn = 59.45
60+
Michael Walsh - Kendal AC - 62.24
Michael Hetherton - York Acorn - 67.12
Female Veterans
35+
Carol Morgan - Nidd Valley - 69.18
Jacqueline Keavney - Swaledale Road Runners - 70.04
45+
Anna Kelly - Clayton Le Moors - 69.47
Caroline Pollard -North York Moors - 72.23
55+
Pat Kirby - Thirsk & Sowerby - 82.47
Pauline Bennison - Swaledale Road Runners - 87.19
Special Mention should be made of 3 competitors 70+
Ray Todd - 72 - Newton Aycliffe a superb time 87.01
Alan K Purvis - 71 - Elvet Striders - 102.24
Glenys Nutter - 71- Swaledale Road Runners - 128.36
Wensleydale Rotary Club Shield for 4 men- Won by York Acorn  a combined time of 250.14
Swaledale Club Shield for 4 ladies,  Won by Swaledale Road Runners,  a combined time of 283.50
York Acorn Shield for 2 men and 1 lady -Won by Thirsk and Sowerby a combined time of 178.57
For the full results, click on Results of 2009 Herriot Run.pdf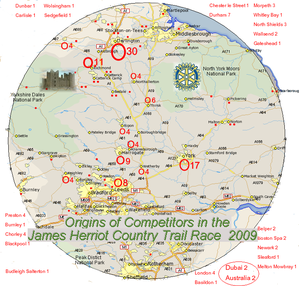 Alan Purvis, of Elvet Striders, has produced this map showing the origin of the competitors for this year's Run- they range from Dunbar to Dubai and beyond! (Click on the map to enlarge it)
There were no injuries reported to the St Johns Ambulance staff at the event, though there may have been one or two minor scrapes which were self-treated.
There was excellent support for the competitors, many bringing family and friends for the day out. The Castle tea-rooms were open for refreshment as were the Castle gardens and shop etc for the visitors.
The Rotary Club of Wensleydale thank all who ran the race, supported the runners, the St Johns officers and all those who acted as marshals and the Swaledale club non runners who took on the role of timekeeping etc. We are indebted to our sponsors of  and of course our patron James Wight.  We hope to see you all again at next years race that will be on Sunday 25th July 2010.