Rotary Club of March

Mon Jan 25th 2010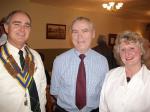 The Rotary Club of March celebrated a traditional Burns Night. The evening commenced with the arrival of the haggis accompanied by the skirl of pipes. Rtn. Don Roberts  proposed a toast to the haggis before plunging a knife into it.
 
The guest speaker for the evening, Mr. Russell Lyons, then gave the Selkirk Grace before the members, their wives and guests enjoyed the scottish fare. This consisted of cockaleekie soup, haggis with neeps and finally cloutie dumplings.
 
Mr. Lyons then gave a talk outlining the life of Robert Burns who was a prolific writer and produced an enormous wealth of material in his short life of 37years. Readings from Burns' work were shared with the gathering by Rtns. Don Morris, Don Roberts and John Orbell. Toast to the lassies was proposed by club president Mike Enderby and responded to by his wife Julia.
 
The photographs show the entry of the haggis and Mr. Lyons flanked by Mr. and Mrs. Enderby.