Rotary Club of Plympton

Home | News Stories | 2009/10 News Stories - part 2
  End of 2009-10 Year
The last meeting of the 2009-10 year saw a great evening of fun and fellowship for the club.
Our guest speaker was David Fitzgerald from the BBC (a report on Fitz's talk can be found on the "Speakers" page of the website) and a number of presentations made after the meal.  As had been planned, Peter handed over the chain of office to Christine but not before he had been presented with a Presidential Citation from District Governor Ken Edmonds.  Peter also had a surprise in store for Darren Hands – to whom he presented a Paul Harris Fellowship.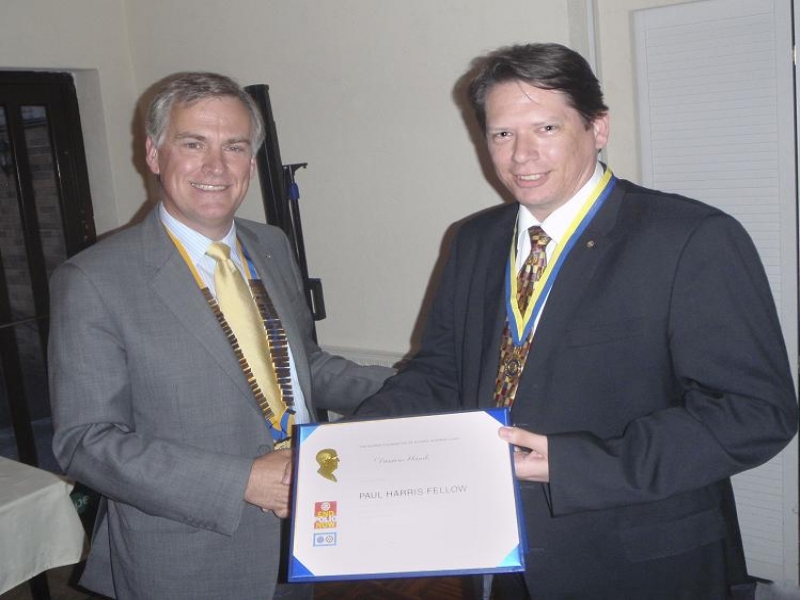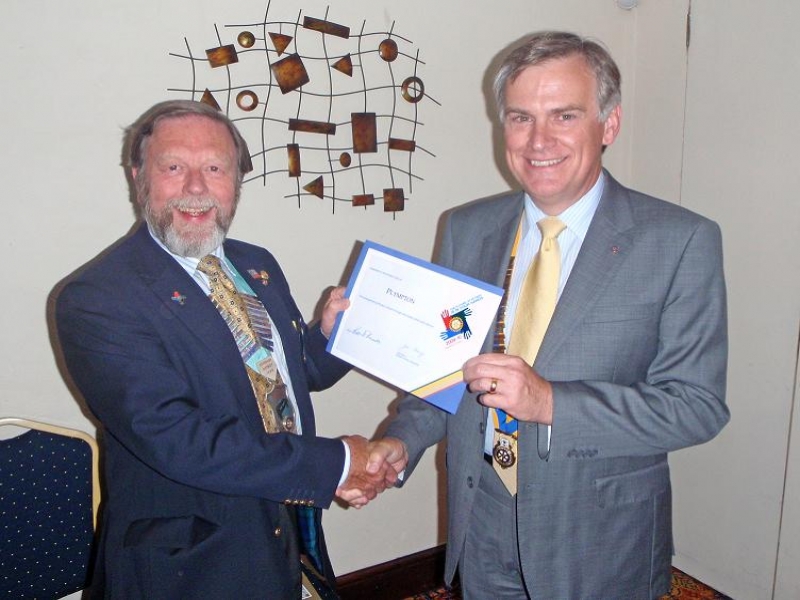 Shyampti Water Project
A mini website has been set up for the Nepal Water Project which compliments the details shown on our website.  It also contains a facility to donate money online towards the project which we have also added.
The mini website can be found here:

To donate online click here:

Polio Publicity Continues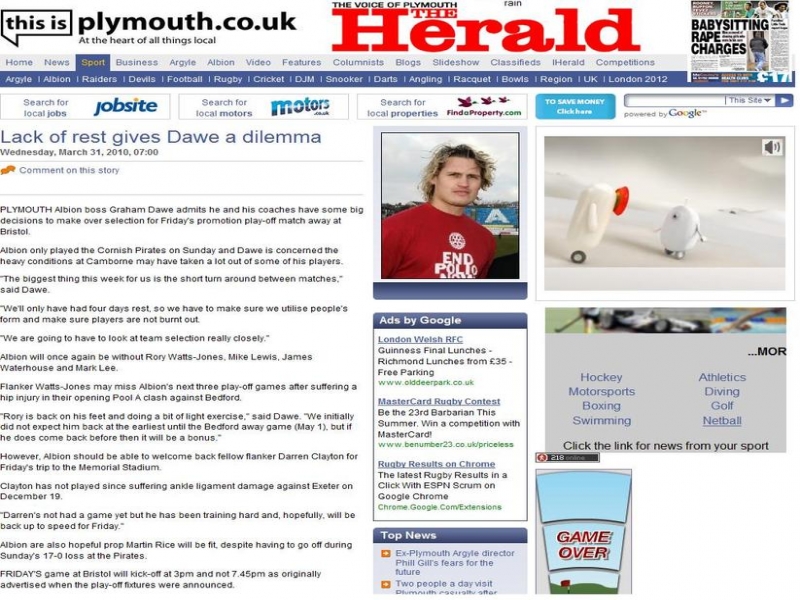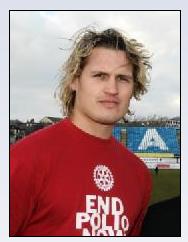 Following the support Plymouth Albion and the Cornish Pirates gave to Rotary's "End Polio Now" efforts, publicty is still being generated through the T-shirts used as The Herald are using photos of Albion's Darren Clayton from the pre-event publicity shot rather than one of him in his Albion top.
President Peter's (and Jan's) Perambulations 23 to 26 February 2010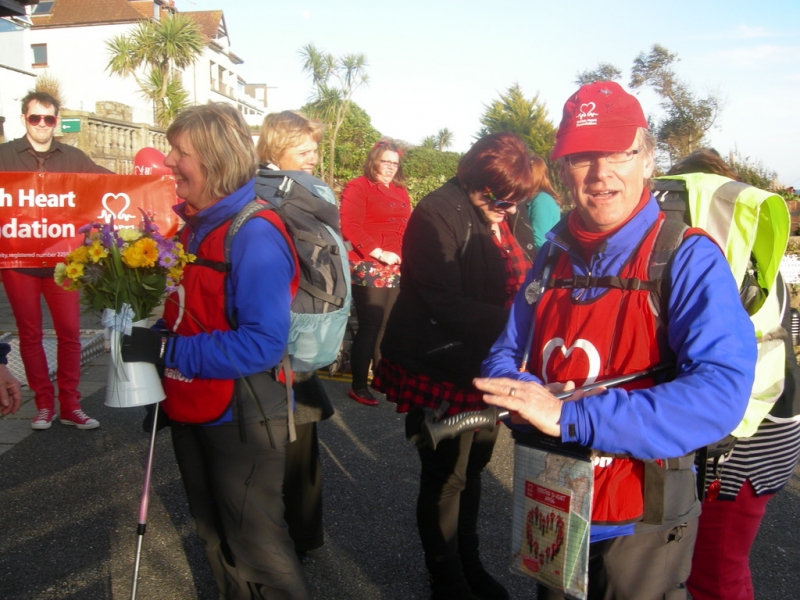 THEY DID IT!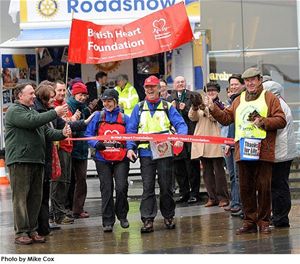 Every incoming president of the Rotary Club of Plympton chooses a personal charity to support in their year of Office.  Peter has chosen the British Heart Foundation (BHF) - an obvious choice given his appalling family history of heart disease which includes his own triple bypass (CABG) nearly 11 years ago.  The BHF are supporting a new local appeal - The Derriford 3D Heart Appeal - and are hoping to raise £97,000 in 2010 to purchase a 3 Dimensional scanner.  Looking for a personal challenge, Peter decided to walk from Plymouth to Falmouth in February 2010 - National Heart Month and also Rotary Awareness Week as well as being the week leading up to the start of Rotary District 1290's Conference.  District Governor, Ken Edmonds, is also a member of the Plympton Club, so all this seemed to fit together.  Then he told Jan!  Jan immediately agreed to accompany Peter and they both started planning and training in 2009. The Trek started from Drake's Shopping Mall in Plymouth City Centre on Tuesday 23 February - Rotary Awareness Day and saw the Lord Mayor of Plymouth see Peter and Jan off on their way.  Some 55 miles (by the shortest road distance) later, Peter and Jan arrived at the Falmouth Beach hotel.   Nearly £2000 has been raised through this walk and all of this will be donated to the Derriford 3D Heart Scanner Appeal via the British Heart Foundation.  Members of our Rotary club accompanied Peter and Jan on the first part of their journey to the Torpoint Ferry - if only to ensure that they actually got through border security and into Cornwall!  The route they took was: 23 Feb      Plymouth to Polbathic - 10 miles 24 Feb      Polbathic to Fowey - 17 miles 25 Feb      Fowey to Tregony - 14 miles  26 Feb      Tregony to St Mawes and Falmouth - 13 miles  Members of the club joined Peter and Jan for the last mile of the walk as well as waiting at the hotel for them to arrive.  District Governor Ken was on hand to also greet them at the hotel along with Rotary in Great Britain & Ireland president, David Fowler and the Rotary International President's representative at the conference, Charlotte Mori, from Germany.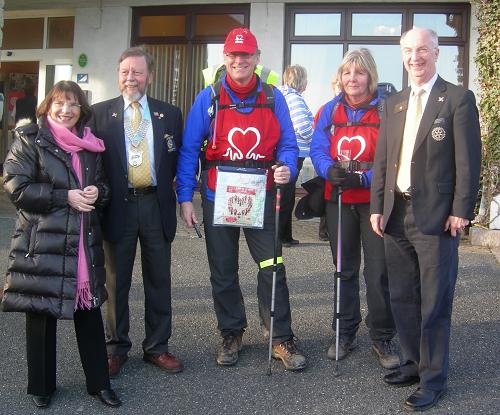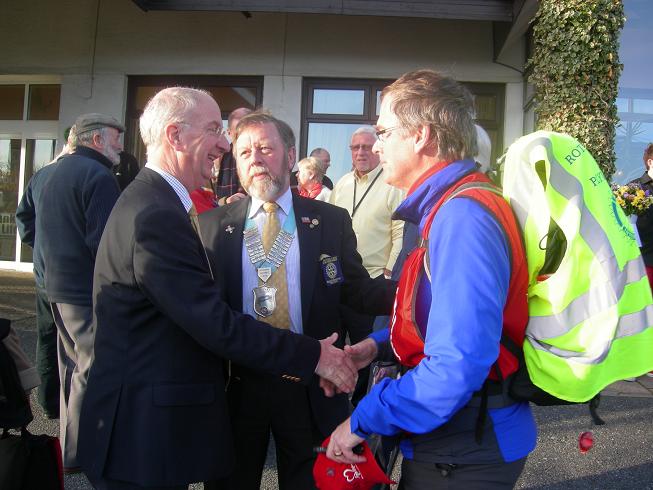 Follow this link for more details of the Deriiford 3D Appeal:     www.bhf.org.uk/derrifordappeal Follow this link for more about the Rotary Club of Plympton:   www.rotary-ribi.org/clubs/homepage.php?ClubID=1055 Latest News: Mon 18 Jan 2010   Jan, Laura, Amy and several Rotarians attended the launch of the Derriford 3d Scanner Appeal (see pictures) Mon 1 Feb 2010   Start of National Heart Month.  Peter, Jan and daughters Laura, Amy and Becky all appeared on Westcountry News to promote the trek and BHF Heart Month.  It was daunting speaking to camera but news reporter Richard Lawrence and cameraman Roger made it easy for us.  Piece was shown in conjunction with item about the lighting up of public buildings in the UK to signify the start of National Heart Month.  See pictues section for a great shot of the Eden Project Biodomes lit up in BHF Red.  I think we have used up our 15 minutes of fame! Fri 5 Feb 2010   Raised £276.75 collecting outside Tesco at Lee Mill.  Our thanks to Tesco and all those that gave so generously.
Plymouth Albion & The Cornish Pirates help to "End Polio Now"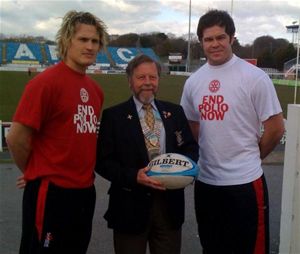 Ahead of their recent British & Irish cup game, District Governor Ken Edmonds and Assistant Governor Darren Hands presented Albion's Darren Clayton and Pirates' Ben Gulliver with special End Polio Now T-shirts which the teams wore during their pre-match warm up.  This game also saw a collection in aid of the campaign with members of our club, together with members from Roborough and Drake assist the Albion Rotary Club members and collected almost £400.00 
Water Project in Nepal
More details on this talk can be found in the "Club Calendar" section. During their visit to Nepal, some of the 2009 Group Study Exchange team visited a village in the Shyampti area of Nepal.  Women in the village currently face a fifty minute round trip carrying their family's water on their heads.  Over time, this causes horrific injuries.  The 2009 GSE team want to raise £20,000 through Rotary clubs in our district and in Nepal District 3292 to fund running water to the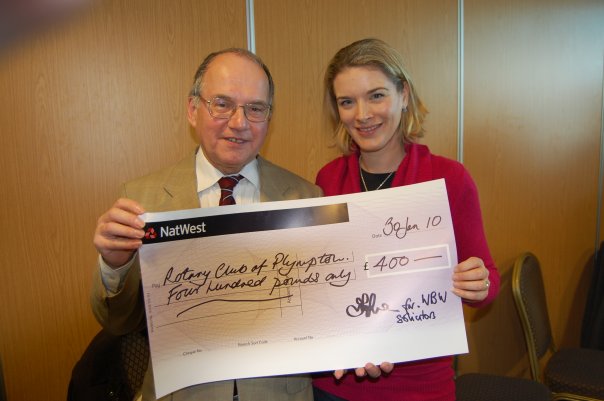 village.  Each housegold there will provide some of the labour for installing the water pipes.  This will ensure they are also able to repair them. 
Jenny Walrond (who has since gone on to join our club) was a member of the team and they have been busy raising funds for this project from directors at Exeter Chiefs and Rotherham Titans rugby clubs as well as WBW solicitors - seen here presenting a cheque to Jenny following a sweepstake held at Chiefs games.  At the end of January Jenny also cooked a Nepali lunch for almost seventy people - with more than a little help from other team members and members of the Plympton Rotary club.    
2009 Xmas Collections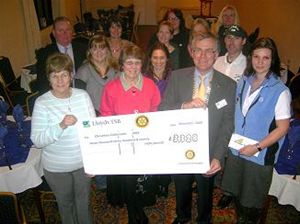 Plympton Rotary's 2009 Christmas Collections has proved to be another outstanding success.  In the weeks leading up to Christmas, the evening street collections and the static collections on the Ridgeway and Chaddlewood shopping centres, members of the club (with help from several other local organisations) has shown the people of Plympton to extremely generous.
At a recent meeting of the Plympton Rotary Club, President Peter Stabb was please to announce that £3,328 had been raised.  This has been split between various Rotary charities (which benefit from a £1,628 share) and the following local charities and good causes who share the rest.
The various local organisations to benefit are:
·         Gables Farm Dog & Cats Home
·         Plympton & District Civic Society
·         Plympton Torybrook District Guides
·         Plympton Cricket Club
·         10th Plympton Brownies
·         Rees Pre-school Group
·         WRVS Friendship Club
·         HCPT Group 45
·         Colebrook Little Chreubs Pre-school Group
The Plympton Rotary Club would like to thank everyone who responded to their appeal for a vehicle – especially Neil Landsborough whose vehicle was used for the duration of the collections – but a final, and the biggest thank you must go to everyone who donated to the collections.
Group Study Exchange Team 2010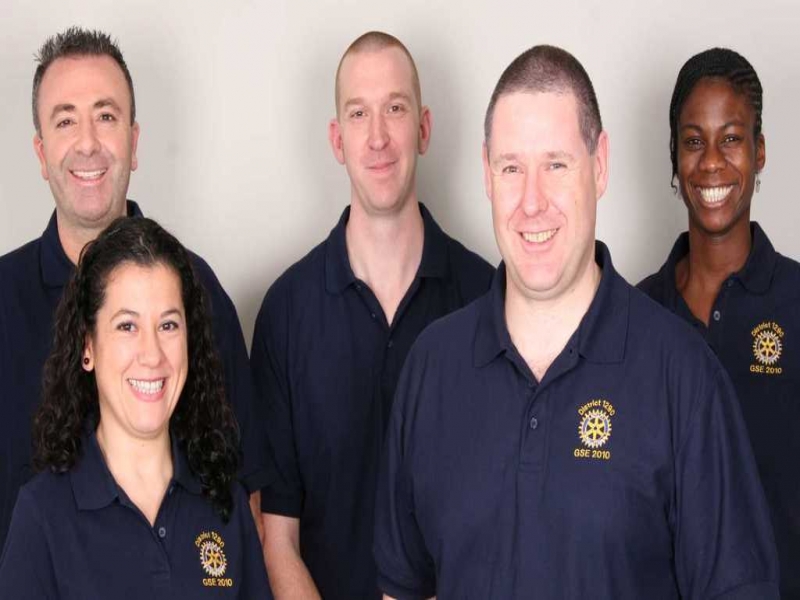 We are pleased, as a club, to be sponsoring Jenny Kumah from the BBC who has been selected to be part of this years Group Study Exchange team our district is sending to Venezuala.
The full team is:
Team Leader: Martin Taylor (Rotary Club of Bodmin)
Team Members:
Jenny Kumah - sponsored by Rotary Club of Plympton
Jason Coon - sponsored by the Rotary Club of Saltash
Ana Maria Pan-Huertas - sponsored by the Rotary Club of St Ives
Rob Wintle - sponsored by the Rotary club of Bodmin
The team will leave for Venezuela in April  and will spnd four weeks taking part in vocational and cultural visits hosted by Rotarians in District 4370. 
District Governor 2009-10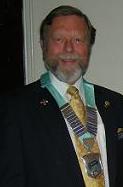 This Rotary year (2009-10) the Plympton Rotary Club are proud that our own Ken Edmonds is the District Governor here in West Devon & Cornwall (District 1290).
Throughout the year Ken is keeping a blog whoch can be found at the following link. http://districtgovernor.blogspot.com/  
Rotary and the search for the Missing Link
Chris Turney, Professor of Physical Geography at the University of Exeter completed the 2009 speaker programme of the Plympton Rotary Club with his recent talk on climate change in the past and how it has played a part in human evolution and migration.
In a talk in which he explained how humans have evolved, he told of the work he did with the radiocarbon dating on the 'Hobbit' fossil of Flores , Indonesia that hit the headlines worldwide in 2004 and spoke of the search for the "missing link" in human evolution.  He also spoke of some of the eccentric characters who have helped in our understanding of where we come from and the problems they faced as well as some of the problems he has encountered – including an incident in taking casts of skulls through an airport check-in.
Chris is pictured with club president Peter Stabb holding some of the skull casts he brought along to aid in his talk.
Past speakers in the first half of this Rotary year have included Plymstock School pupils Matthew Warne and Siobhan Rick who spoke about their trip to Auschwitz through the Holocaust Education Trust, Jon Shaw from the University of Plymouth on the South West's transport links and the problems we face with them and local photographer Lee Pengelly who spoke on the inspiration behind his latest book, Portrait of Plymouth.  The speaker programme for the second half of the Rotary year kicks off in January and it promises to be just as diverse and appealing to the members.  If any visiting Rotarian (and their guests) would like to attend, please check out the Plympton Rotary club website (www.plymptonrotary.org.uk) for details and please contact our club secretary prior to your visit.
 It's not just about Charity work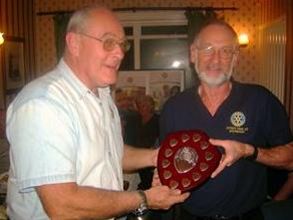 Rotarians from five of the Rotary clubs in Plymouth recently showed that Rotary isn't just about charity work by taking part in the 1st Annual Rotary Pub Games Challenge at the Blue Peter pub in Plymstock.
Members from the Rotary clubs of Saltash, Saltram, Plympton, Plymouth Albion and Plymouth Mayflower competed in 6 traditional pub games for the much coveted trophy and honour of being the inaugural champions.  These games included popular games such as Pool, Darts and Dominos as well as some old favourites – Bar Skittles, Shuffle Board and Shove Ha'penny.  Thanks must go to the Blue Peter for allowing the clubs to take over the pub on the night which proved to be a big hit with those taking part.
Each club played all of the other clubs in the six disciplines and thanks to winning all of their matches in Pool and bar Skittles, Plympton Rotary Club emerged as the winners at the end of the night.
Shown in the picture is Brian Stoyel handing over the trophy to Plympton Rotary Clubs' Mike Carroll.
Celebration of Youth Music Concert
 For a report on the above concert organised by Plymouth Soroptomists and Plympton Rotary Club please click on the following link http://www.plymsorop.org.uk/chswcncrt.htm
Cheque Presentation to Ellie's Haven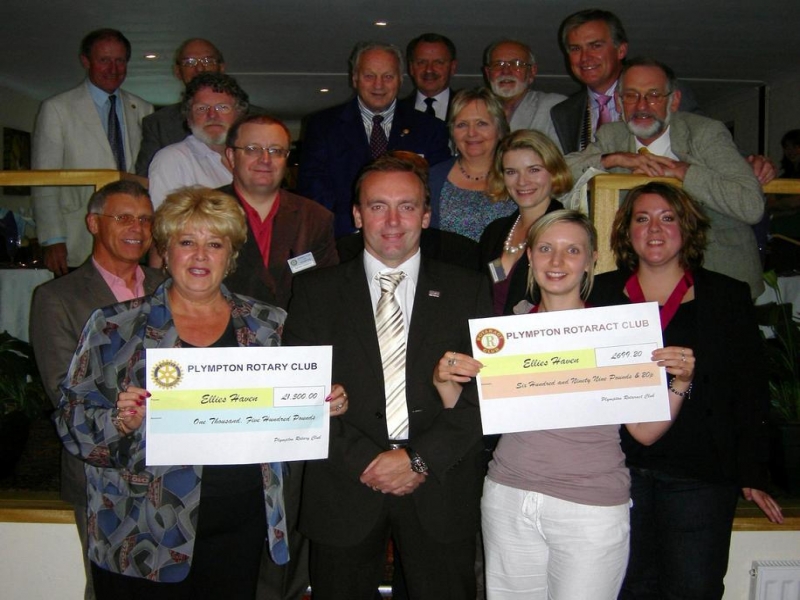 Throughout the 2008/09 Rotary year, both the Plympton Rotary Club and Plympton Rotaract Club have been raising funds for their shared nominated charity for the year – Ellie's Haven.
Nigel and Julie Libby are aiming to build a non-medical holiday haven for the children of Devon and Cornwall and their families in East Cornwall.
A recent study has shown that there is a need for a non-medical short break facility in Devon and Cornwall, and they believe Ellie's Haven will become a special place for special children.
The charity is named after their daughter Ellie who requires around-the-clock care and suffers from:
Global developmental delay
Laryngomalacia - Ellie has a tube/opening in her throat
Feeding difficulties - Ellie is fed solely by tube
Seizures
Vision impairment
She was given a very short life expectancy and was not expected to live beyond her first birthday…she is still with us.
Throughout the year various events have been held, including quiz nights and a bike-a-thon to name just two and at the meeting of the Plympton Rotary Club on the 27th August, Nigel was invited along to receive a cheque for £1,500 from the Rotary club and £699.20 from the Rotaract club.
Both clubs have been delighted to have been in a position to help this wonderful cause and hope that they achieve their goal in creating this holiday haven for sick children in the not too distant future.
Grand Hand Over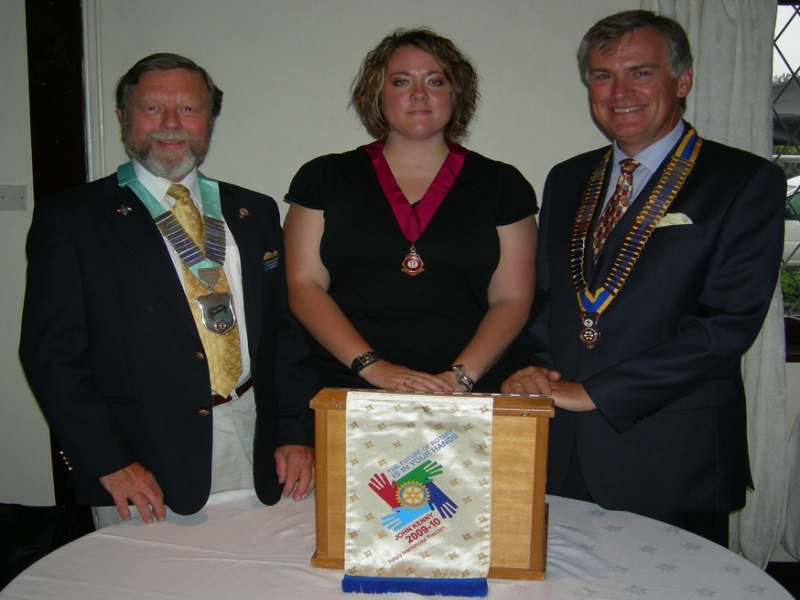 Each July Rotary clubs around the world see a change in the club leadership with a new president taking over the reins of the club.  The Plympton Rotary Club had not one and not even two reasons to celebrate this year but they had three reasons to celebrate this occasion. 
Peter Stabb has taken over as President of the Plympton Rotary Club and Becky Sanders has become the President of the Plympton Rotaract Club (the junior version of Rotary for 18-30 year olds).  Past president of the club Ken Edmonds however has taken on even higher office and becomes the first member of the Plympton Rotary Club to take on the role as District Governor – overseeing the 41 clubs in Rotary District 1290 (Covering West Devon and Cornwall). 
With Rotary pushing hard to meet the Bill & Melinda Gates Foundation challenge to raise over $200 million by 2012 for the final efforts to eradicate polio around the world, Ken is keen to see the clubs in this district working together to meet this challenge.  At least 2 major events are planned nationally which should see clubs working together for this – World Polio Day takes place on 24th October and Rotary Awareness Day on 23rd February 2010.  Both dates will see clubs raising funds for this (and the many other causes Rotary clubs support) as well as promoting the work Rotarians do both at home and around the world. 
Closer to home, Peter is keen to support the British Heart Foundation this year but with the clubs' Christmas collections and other events, he also hopes the club will raise considerable funds for other local charities and good causes as well.  Already the club has put together a strong programme of fund raising and social events for the members over the next 12 months. 
As well as supporting local charities and helping the Rotary club, Becky see's her biggest challenge and that of the Rotaract club to be that of new members.  Until two years ago, following the demise of Saltram Rotaract club in around 2002, there had been no Rotaract club in Devon or Cornwall.  Slowly with the help of the Plympton Rotary Club, this new club has been building the foundations for a strong future and has encouraged other Rotary clubs in the district to look into forming their own Rotaract Clubs. 
So this certainly looks to be a busy and eventful year for the members of the Plympton Rotary Club family! 
(Pictured are Left to Right: District Governor Ken Edmonds, Plympton Rotaract Club President Becky Sanders and Plympton Rotary Club President Peter Stabb)