Thanks for Life - End Polio Now Campaign
Thanks for Life Collections at Morrisons & Tesco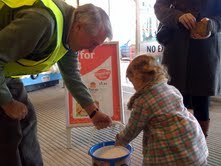 Thanks to all who donated at Morrisons supermarket on Saturday 20th February. 440.00 was raised for Rotary's End Polio Now Campaign. The Tesco collection is on Saturday 27th February.

To raise 1m for Polio Eradication through the Thanks for Life initiative.
To maximise public awareness of the Rotary Polio campaign, the Gates Challenge and Rotary in general.
To increase membership.
Thanks for Life Website