Rotary Club of Plympton

Home | Speakers | Speakers from 2008-09 (selection)
June 2009
Plymouth Albion Ladies RFC

Plymouth Albion Ladies RFC are no strangers to Rotary.  In the early days of the Plymouth Albion RC, the Ladies team often agreed to help with some of the events Albion Rotary Club organised such as screen washes, the annual toy collection, the fashion show and even a row-a-thon.
The Albion ladies team was formed in about 1995 when a group of women players, mainly from the College of St Mark & St John, wanted to play rugby union at weekends as well as for their college during the week.  In 2000,  Marjons Albion officially became Plymouth Albion Ladies with the Rugby club throwing its official weight behind the team which responded by winning the Devon & Cornwall League wearing the official Albion colours. In 2000-01 Albion won National League Division
Three and reached the semi-final of the South of England Cup, and the following season they captured the National League Division 2 South West title with a perfect record of ten wins from ten games. More and more players achieved individual recognition and one of the proudest moments of the club came when Albion Ladies provided 21 out of the 22-player Devon squad that roundly defeated the then South of England county champions Dorset & Wilts. The last couple of seasons has seen  Plymouth Albion Ladies playing in Premiership 2, the second highest tier of English women's rugby. They are officially among the top 16 sides in the country.   No less than 25 players have gained international recognition, and currently four players are in the national Supertens sides – the top eighty players in the country - and seven more players have been selected for the South West regional squad.  Scrum half Georgina Rozario was also a member of England Ladies Six Nations winning squad this past year.
The ladies team are also helping to develop girls rugby with the introduction of U18 and U16 teams in the past year.
As explained to the club by club captain Sonia Clattworthy, ladies rugby has faced a battle to be taken seriously with many of the old school members of rugby clubs believing that rugby should remain a "man's" game and yes whilst there are certain aspects where ladies rugby doesn't quite match up to the mens game, the skill, the passing, the running and the tackles are of just the same intensity and matches can be a joy to watch.  [She certainly won George over!
The ladies team have also been developing players for the future through the U18 team – the Plymouth Albion Girls Team who have had a very successful year this past season and their scrum half, Jess Veacock from Plympton, who was among the group who came along has even taken up refereeing the game.  In fact it is believed Jess is the youngest referee in the whole of the UK and at present is able to mix playing and officiating as currently matches do not clash.  She scored 100% in her refereeing exams and hopes one day to become an international referee. Members of both Ladies and Girls teams assisted with the running of the drop competition we ran at Albion this past year and Sonia expressed her hope that we can build on these links in the future.
It could certainly be seen that both teams are certainly great ambassadors for Plymouth sport.
Visiting Group Study Exchange Team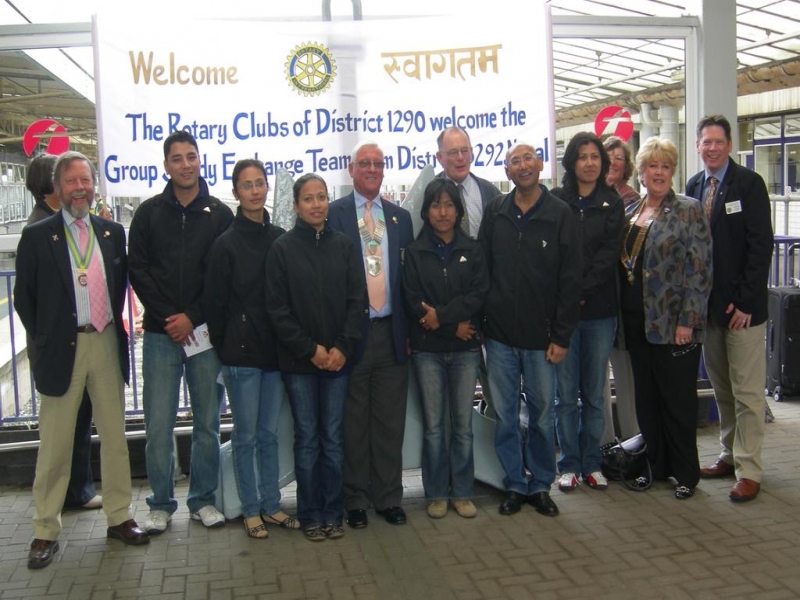 Not only where our team to Nepal a great team but so where their counterparts from Nepal.
Several of our club members had been at Plymouth Rail Station to greet the visiting district 3292 Group Study Exchange team from Nepal and we met up with them again at a joint meeting hosted between ourselves and Drake Rotary Club. 
Since their arrival they have toured the district and their talk gave a small glimpse into the many great memories they have to take back with them to Nepal.
April 2009
Debbie Grosch-Squance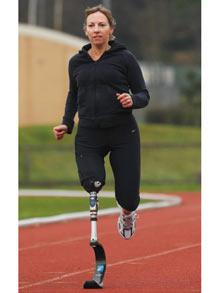 Debbie Grosch-Squance's leg was amputated below the knee in 2006 to save her life after a chest infection turned into necrotizing fasciitis, which attacks skin tissue and muscle.  Then 41, the mother-of-two from Plymouth was determined to regain her former active lifestyle, and learn to walk and run on an artificial leg.
Now she has achieved both ambitions, and is back working 20 hours a week at two part-time jobs – as a qualified pre-school supervisor and as a clerk in the Central Medical Records office at Plymouth's Derriford Hospital.  Debbie, had taken up road running two years before her amputation and told the club of her determination to run again. 
HMS Vivid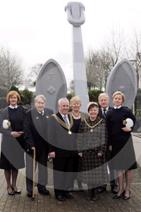 The club recently welcomed Commander Angie Hancock and Lieutenant Commander Graham Price from HMS Vivid, the Royal Navy Reserves (who are based here in Plymouth) at our last partners night They gave an account of its role in the modern Navy, its history and the challenges it faces. It was interesting to note that there are many similarities to the problems their members face and we as Rotarians face in finding the right balance between  family/work and Reserves (or Rotary) – comparing it to a milk maids 3 legged stool.  If one leg goes, they all go.
Commander Hancock and Lieutenant Commander Price told those present of the commitment involved in being a member of the Royal Navy reserves which can include deployment with the regular service – and in fact Angie will be off to Afghanistan in November for 4 months.
HMS Vivid, as a Navy Reserve establishment has been in existence for 140 years and 75 years ago was where we now find HMS Drake.
They provide a significant contribution to the Navy's theatre of operations and for this HMS Vivid was recently awarded the Freedom of the city.
The Wooden Spoon Society

Trudy Pridday recently came to the club to tell us about the Wooden Spoon Society.  Wooden Spoon is the children's charity of the rugby world. For 25 years Spoon has harnessed the spirit and values of rugby to give disadvantaged children in Britain and Ireland a chance to achieve their full potential  in life. Over this time more than 350 projects have been supported with over £15million given in grants to national and local projects. Over 2000 fundraising events have been held supported by 10,000 plus social members. Funds raised have enhanced the lives of more than 500,000 children, young people and their families.  The Devon Spoon is honoured to have ex-England Internationals David Trick and Danny Grewcock as its patrons and last year raised more money than any of the other regions in the UK.
Spoon was formed 25 years ago this year by a group of England rugby supporters after England had picked up (yet again – for it was that period in English Rugby history) the Wooden Spoon in what was then the 5 Nations Championship.  A group of English supporters were presented with a Wooden Spoon by their Irish opponents to mark the historic occasion. On returning home the proposal to play golf for the spoon attracted the interest of fellow English supporters. Over 100 people attended that golf day at Farnham and by the end of the evening £8450 had been raised. The funds were cashed in for a minibus purchased for the Park Special Needs School in Aylesbury.
The charity was born...
March 2009
Helen Greathead

How do you get boys to read?  Just ask Plymouth author Helen Greathead. She's made a career out of transforming reluctant readers into to avid page-turners, and her first big success was in the unlikely subject of history – frequently a turn-off even for young bookworms.As a commissioning editor for children's specialists Scholastic, she was behind one of the publishing phenomena of recent years, the Horrible History series. The blood-and-guts, muck-and-mire true stories were devoured by boys and girls and admired by teachers and critics as soon as they hit the shelves.
They are now well into their second decade, their umpteenth format – geography and biographies of famous people were given the same treatment – and their enduring popularity will soon be given a further boost with a television series.
Helen who was our speaker at our last Partners night has now turned author with four books on dinosaurs, which were again gobbled up by eager and unenthusiastic readers alike and more recently she switched back to history for four books on some of the most glamorous but most dangerous tasks ever – the Tough Jobs series.
With no aides apart from examples of her books, Helen kept those members and guests present captivated with her tale on how she is tackling the issue of getting children to read. 
Mark Mears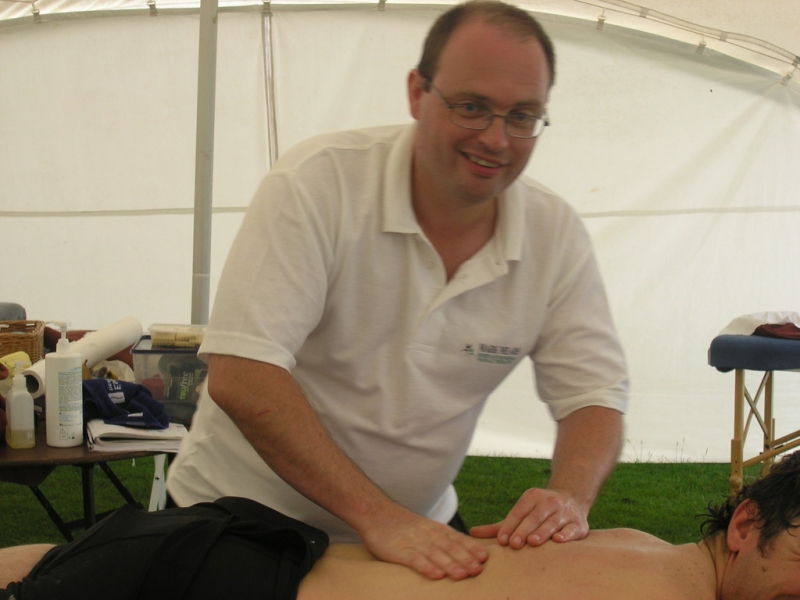 Mark Mears, a Sports masseuse to Plymouth Albion RFC recently gave an insight to the world of sports injuries and his work with Plymouth Albion.  This involves providing sports massage to players before a game, sometimes during the game and also after the game.  This work is supplemented by 2 clinics per week when post match soreness and injuries are dealt with.
February 2009
Dartmoor Rescue Group – Bob Harrison
Bob Harrison from the DRG visited the club to tell us a little about the history of the group and to tell us how developments over the years since its conception have made their work that much easier.  It was surprising to most members of our club that only 10% of their call outs require them to go up on to the moors. His task was made a bit harder for him when he discovered that David Leah used to be a member of the DRG.  Bob finished off his talk by telling us a few stories regarding some of the call outs he has been part of and expressed an interest for our two groups to work together in
Ellie's Haven – Nigel Libby
One of the charities we will be supporting this year (2008/09) is Ellie's Haven.  Ellie, who was born on 25th January 2005, is the child of Julie and Nigel Libby.  Julie and Nigel had a little boy called Thomas who sadly passed away when he was only fourteen months old. Thomas died of a terminal illness for which there is currently no name but it was a terminal illness believed to be linked with the genetics of both Julie and Nigel. The geneticist believed that if they had a baby girl it was more likely that she would not be similarly affected. Four years after Thomas' death, Ellie was born. It quickly transpired that she too, had a similar terminal condition.   Ellie requires around-the-clock care and suffers from:
Global developmental delay
Laryngomalacia - Ellie has a tube/opening in her throat
Feeding difficulties - Ellie is fed solely by tube
Seizures
Vision impairment
Ellie was given a very short life expectancy and was not expected to live beyond her first birthday...she is still with us.
The trustees of Ellies Haven, want to make Ellie's life have meaning and wish to provide Cornwall and Devon in particular, with something to be proud of and something that will stand as a permanent memorial to Ellie.
Ellie's Haven is being built on the outskirts of Looe to make the most of short and precious lives and will offer holidays and short breaks in a relaxed and friendly atmosphere.  It will be a home from home experience for children and young people with life limiting/life threatening conditions and those with  long term illnesses, and for their parents/guardians and siblings and their carer/s, if needed.
Because of Julie & Nigel's first hand experiences with their son Thomas, and daughter Ellie, they are now going to provide a facility for other families whose children have life limited and life threatening conditions."
November 2008
Ocean Row Girls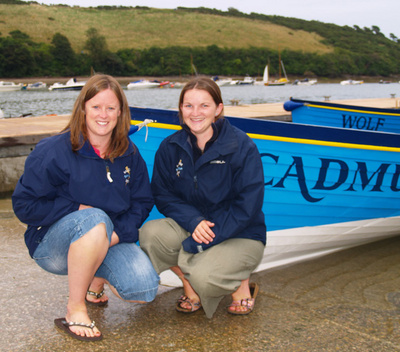 Stepping in at very short notice, Chrissie Bunting and Madie Steer came to the club in late October to tell us of a venture they are taking part in next Spring.  Both girls are gig rowers and have entered the first ever Indian Ocean Rowing Race. 
This involves the two of them rowing 3100 miles (the Atlantic is 2900 miles) across the Indian Ocean from Geraldton, near Perth in Australia to Mauritius in a 24ft ocean row boat.
Every participant uses the same type of boat but to save costs, the girls – who are calling themeselves "Ocean Row Girls" are building theirs themselves.   To date only around 300 people have ever rowed an ocean – only a handful the Indian Ocean, and of these 300 only about 50 were women.  At the time of writing, the Ocean Row Girls are the only women's pair entered and so if, or rather when they complete the race, they will become the first ever Women's Ocean Rowing Pair to cross the Indian Ocean.
The girls are not just taking part for the chance to enter the record books, they are also hoping to raise funds for two charities.  Chrissie aims to raise funds for "The Shark Trust" – a local charity dedicated to promoting the study, conservation and protection of sharks.  Madie on the other hand is supporting "Cancer Research UK" – a charity close to her heart following her mothers death from skin cancer in 2002 – ironic considering they will be exposed to the sun out on the ocean.
On their website – www.oceanrowgirls.com – Pete Goss has written "The girls will be facing the toughest challenge of their lives, facing the Indian Ocean together will test their mental and physical strength and endurance to breaking point. They also face the challenge of building and equipping their boat, but this will provide them with the confidence and knowledge they will need to make a successful crossing and step into the ocean rowing history books with a world first. I wish them all the best."
Such is their enthusiasm, most of those clubs members present know they will give it their best shot and to this end we are looking at ways in which we as a club can support them. 
September 2008
Memories of Korea - District 1290 Group Study Exchange Team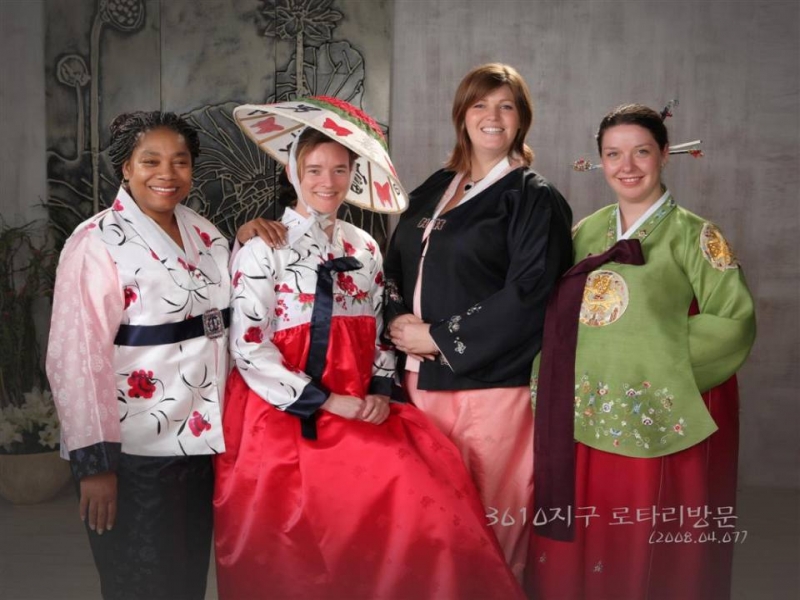 Mountains to climb, food wriggling along the table and lots and lots of tea – just a few of the experiences the districts' 2008 Group Study Exchange team (led by our own Fatou) encountered on their trip to South Korea earlier this year.
To a packed meeting which included members of Drake and Plymouth Albion Rotary club's along with members of our Rotaract club they recounted tales of their trip which included visits to steel works, a wedding photographer (see photo below), temples as well as a conference where Fatou together with a member of her host family ended up singing to the delegates.  Food was an eye opener – with lots of raw fish being eaten and on occasions it was so fresh, the octopus tentacles  were still crawling across the table.  They took a conscious decision to try as many different foods as possible and resisted offers of "English" food which did result with the team members missing the Korean food when they returned home for several weeks afterwards.  It would appear from their talk that as expected, the trip was an eye opener     revealing many cultural differences and was very rewarding for the whole team.
August 2008
RYLA Memories – Amanda Hannon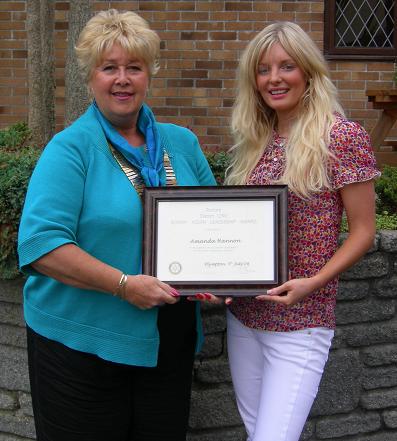 Our 2008 RYLA candidate – or as Ken pointed out RYLA Awardee, Amanda Hannon recently returned to the club to speak on her experiences on this year's RYLA course.  As many of us know, RYLA – the Rotary Youth Leadership Award, is an outward bounds based course which the district runs at Brimpts Farm on Dartmoor.
Amanda had only been given a few weeks notice of her participation so had not had much time to prepare but having met her a week or two before the course, our club members could see how she had developed as a result of the course.  She openly admitted that at the start of the week, she did not know the blue line on a map denoted a river.
Being split into 4 teams, she told the club that at first they all thought it was one team against each other, but as the week went on, they learnt they were all working for the same common purpose.
Amanda told us that she has learnt how to believe in herself and how to exceed expectations.  She learnt valuable teamwork and leadership skills and again told the club how on the course people put trust in you – when beforehand she wouldn't have put trust in herself.  "If you believe in yourself you can do anything" she told us – a mantra she has followed every day since returning from the course.  Amanda finished off her talk by thanking us for helping to give her the opportunity to take part on RYLA – an experience she admits will live with her forever.