Rotary Club of Plympton

Home | Speakers | Speakers 2009-10 (part 2)
24th June - David Fitzgerald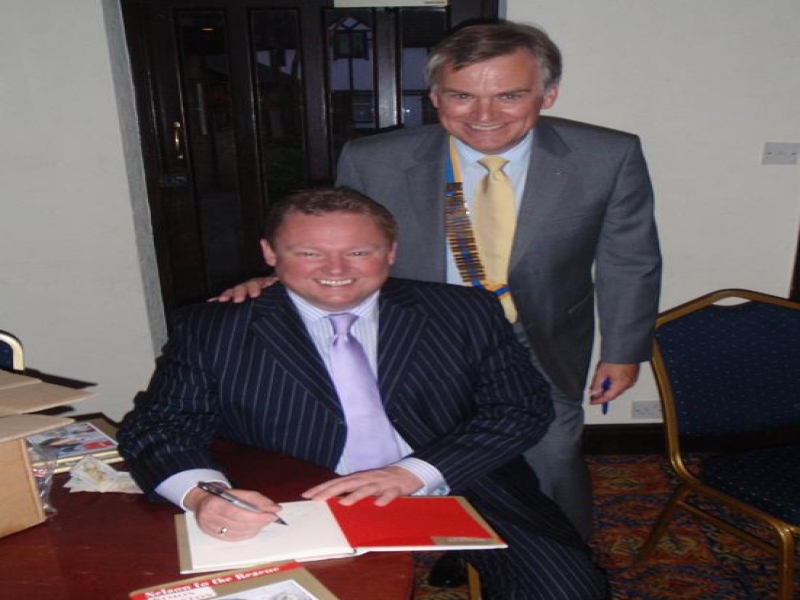 The final speaker of the 2009-10 year needs no introduction to many of us. To many, we remember Fitz as part of te great double act with Gus Honeybun - to others he is the voice of Radio Devon's Interactive Lunch programme.
Fitz gave us a light hearted look back at his career in the media - from the time our own David Sunderland hired him at TSW, through SKY news to the BBC. He joked about the problems presenters face in pronouncing names and with live broadcasts. There was even a reference to "the Enemy" - his good lady wife and of course "Ratboy" - the son and heir.
Fitz also brought along copies of the childrens book he and Falklands war veteran Simin Weston have written together. SImon had already signed copies and Fitz was only too happy to sign copies for members at the meeting.
17th June – Charlie O'Sullivan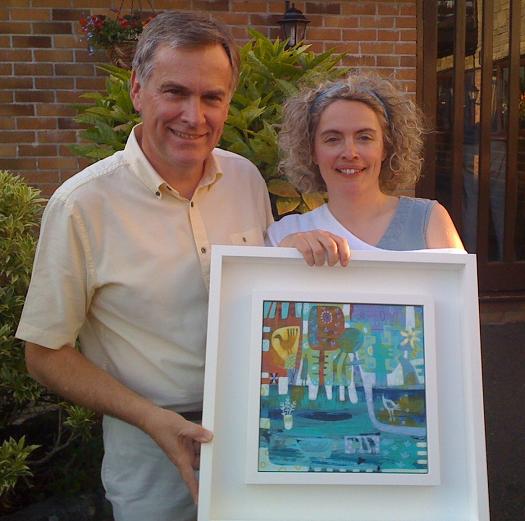 Local artist Charlie O'Sullivan was the latest speaker at the Rotary Club of Plympton, continuing the fine speaker programme that the club has had this year.
Charlie, who previously was an illustrator for the BBC and Channel 4 not only showed examples of her work but also explained the tools and the methods of her work. With boundless enthusiasm, she explained how she builds up her work acrylic paints and in some cases textiles. The club were particularly impressed how this can include incorporating such things as maps, bus tickets and even press clippings about her – which sometimes can be seen whilst other times just forming part of the layers making up the piece. Although this may be known to some of those viewing her work, what they may be unaware of is the cavity behind the piece which contains a story behind the piece – be it a doodle, a poem or such like. Charlie explained that even some of those who have purchased her work may be unaware of this.
Something else that people may not be aware of regarding Charlie's work is the inspiration behind it. Whilst for commissioned work, it could come from words provided, in some cases she finds it from the characters she meets – could therefore Malcolm the fireman, Christine the teacher or Peter the accountant whom she was sat with during the meeting find their way into a future piece?
In an interactive talk, Charlie also explained how she gets inspirations for her work and how she juggles up to six pieces at a time.
The Plympton Rotary Club would like to thank Charlie for sparing the time to talk to us and we are sure she has won a few more fans of her work following this talk. Her next main solo exhibition is in November and will defiantly be worth going to.
20th May - Visiting Group Study Exchange Team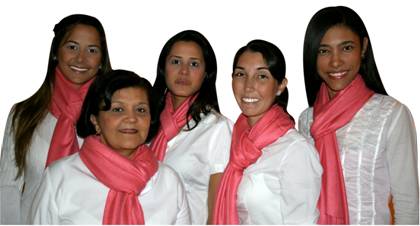 The visiting GSE team from Venezuela arrived in our district in April and toured the district, returning to Plymouth on the 20th May.
They spoke to our club (and the visiting Rotarians from several other local clubs) about their country - its climate, its culture, its geography, its people and much much more as well as telling us a little about themselves. DG Ken remarke that they have been great ambassadors for their country.
Plympton Rotary Club played a major part in their stay in Plymouth and more details can be found in the Group Study Exchange section of this website
29th April - Jemma Woodman - Cool Earth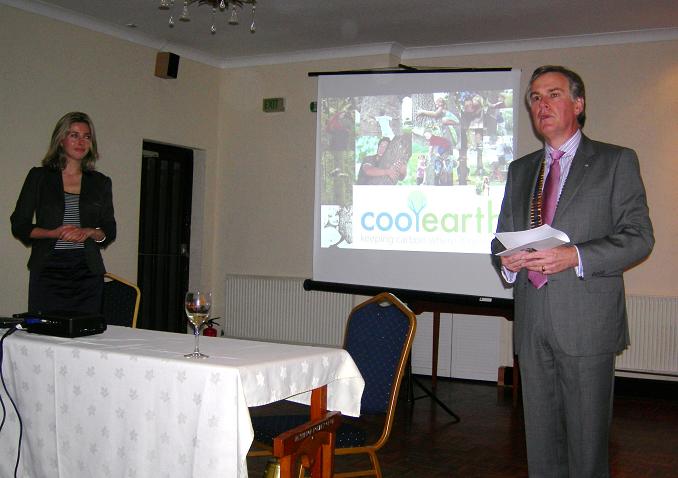 At the beginning of his year in office, Rotary in Great Britain & Ireland President, David Fowler urged Rotarians to do more to help the environment. He said "There is now overwhelming scientific evidence that mankind is exploiting the natural resources of planet Earth at an unsustainable rate; in particular, carbon emissions from the fossil fuels are the primary cause of current global warming and ocean acidification. The poorest people on the planet will be least able to cope with the consequences."
During the year he has been planting trees around the UK – just as Rotary's founder Paul Harris did 100 years ago when he visited other clubs and hopes this helps to reflect Rotary's commitment to the environment.
To tie in with this and Rotary's forthcoming Environment Day – on 29th May, former ITV Westcountry presenter, Jemma Woodman from Cool Earth recently spoke to the Plympton Rotary Club about the efforts Cool Earth have been undertaking in the Amazon rainforest.
She explained how Cool Earth is an organsiation that protects endangered rainforest to combat global warming, protect ecosystems and provide sustainable jobs for local people.
Cool Earth protects and secures rainforest under imminent threat of destruction, working with local communities to ensure that they benefit from keeping the forest standing. Cool Earth has currently protected over 57,000 acres of rainforest.
Rainforest destruction is a huge contributor to climate change. It accounts for as many CO2 emissions as the USA. On average, an area of the rainforest roughly the size of Los Angeles disappears every month. Deforestation has a doubly damaging effect: it not only releases into the atmosphere the carbon contained in the trees that are cut down but also reduces the number of trees that can recover the carbon dioxide that humans produce.
Cool Earth currently has projects in Peru, Brazil and Ecuador and Jemma's talk concentrated on the project at Ashaninka in Peru.
Ashaninka lies in an arc of deforestation that is destroying some of the world's richest stores of forest carbon. With local partners, Cool Earth is securing forest once held by logging concessions and opening it up to rubber tappers and harvesters of forest produce.
The Peruvian Amazon is experiencing rapid deforestation. Illegal loggers are devastating the rainforest resources of many tribal communities. Cool Earth's project with the Ashaninka tribe prevents loggers from entering the community's forests. In collaboration with Ecotribal, the Ashaninka chiefs at Cutivireni have offered their land for sponsorship through Cool Earth, allowing them to keep their forests intact and continue to live sustainably from their own land.
This Cool Earth project protects endemic species and ecosystems of high biological value. Ashaninka forests abound in wildlife, including high numbers of macaws, toucans, many hummingbirds, spectacled bears, several monkey species, tapir, anteaters and big cats.
In an interesting question and answer session in which Jemma explained some of Cool Earths plans for the future – which include an iPhone application and the selling of tea and coffee, it was questioned whether or not the work undertaken by Cool Earth is merely westernising the tribes people but Jemma explained that they do not buy the land at all but instead work with local trusts and communities to help secure land tenure rights for them and work with them to establish sustainable living without destroying the rainforest. She went on to say that most of the indigenous communities they now work with have actively approached Cool Earth themselves.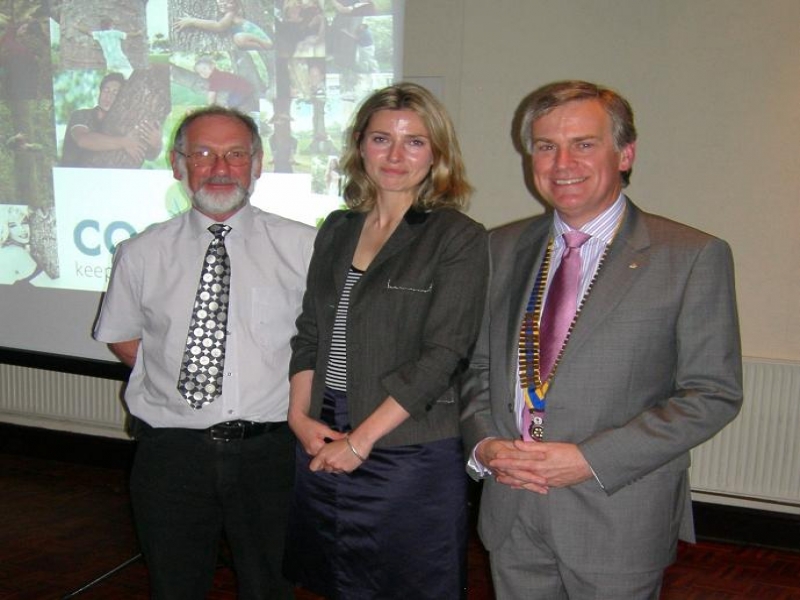 For more information on Cool Earth please visit their website - www.coolearth.org
22nd April - Shaun Ellis - The Wolfman of Combe Martin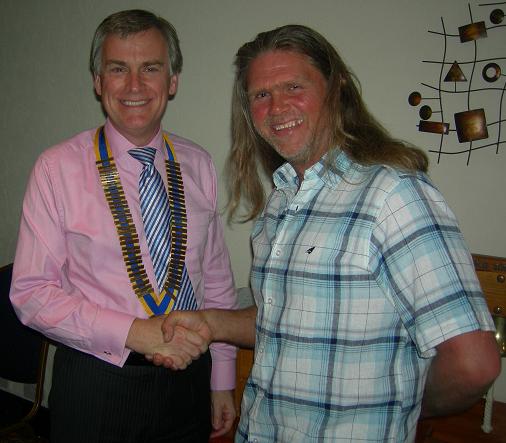 Shaun Ellis, better known to some as "The Wolfman from Commbe Martin" was the recent guest speaker at the Plympton Rotary Club and continues the list of great speakers that the club has had this year.
Shaun has had an interest in wildlife from a young age and after 6 years in the Royal Marines gave up everything he owned to spend the next seven years living with the Nez Perce Native Americans on their reservation in northern Idaho. He told the club how on his arrival he was given a tent at the furthest part of the camp and how this caused him some concern – only finding out later that this was for a reason – the reason being to become closer to the animal he has grown a close bond with – the wolf.
He was able to live among wolves, gaining their trust and learning so much about them. This included learning how they adapt their tactics when hunting and learning from their failures. He told of one story of how one of the male wolves in the pack one day stopped him from leaving the camp and forced him into a tree hollow. Shaun was kept there by the snarling wolf for 2 hours and he thought his time was up. Eventually the wolf let him out and Shaun was able to see evidence that a bear had been in the area and would surely have attacked him had he not been hidden – the wolf did what he did to protect him. Through his research Shaun has found that wolves look after each other as a community – something we humans have lost touch with over time and something we could learn a lot from. Indeed, if wolves were reintroduced into the UK, perhaps these values would find their way back into modern society – alas although it is something he would like to see happen, it is not something he feels will.
Shaun and his team have also conducted a lot of research into the diets of wolves – how, if forced to change their diet due deforestation, it can affect their behavior and make them more dangerous. As has been proven with humans, they have also found that diet of a wolf can also determine the gender of their offspring. Some of the other research conducted by Shaun and his tea, has also helped us to get a better understanding of our domestic pets such as dogs and cats – Shaun explained to the club members why for instance cats may play with a captured mouse or bird and how this ties in with hierarchy among other animals just as it would in the wild.
Through talks such as this one, Shaun hopes to use the same philosophy as the late Steve Irwin, in placing these animals into peoples hearts and in doing so showing these wonderful animals that he calls family in a different light to that in which they often portrayed. Certainly through this talk, Shaun has won over a few more hearts and changed a few perceptions of the wolf.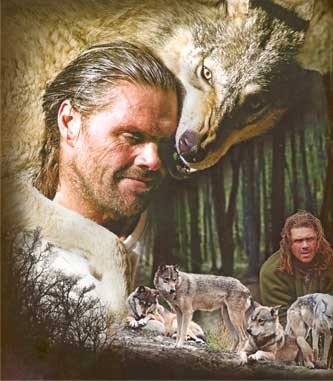 18th March – David Rose – Life as a Rugby Referee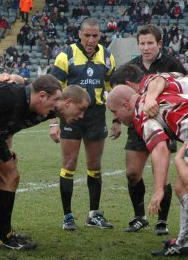 The Corinthian spirit is dead in professional sport – so says RFU elite referee David Rose who recently spoke to members of the Plympton Rotary Club about his career as a rugby referee. David said that this is due to the financial rewards now found in many professional sports such as rugby and football, and the demands put on those who take part in them and who rely on the income they earn to make a living. But what people tend to forget is that at the end of the day, it is only a game!
His talk took the club through the difficulties of being a referee as well as his career – from his playing days with clubs such as Moseley, to becoming the first referee to be fast tracked by the RFU reaching the required standard to officiate at Premiership games in just 3 seasons. David, who is also the RFU's Head of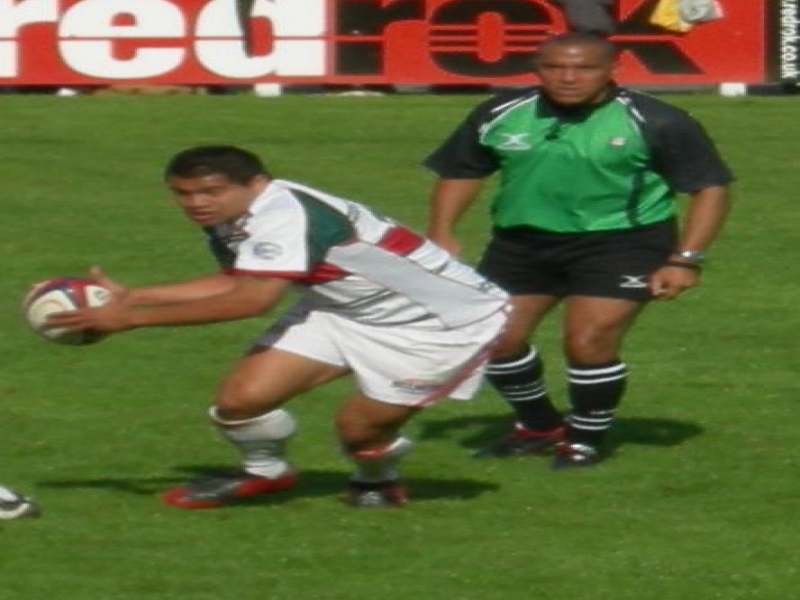 Rugby Development for Ladies Rugby, explained that in many ways, rugby is the most difficult game in the world to officiate. Whereas football has rules, rugby has laws – which are therefore open to interpretation. It is complicated by the fact that if a law is broken, he has to decide if there has been an effect by it being broken – which is why people watching the game may see one incident go unpunished but a similar incident a few minutes later be punished.
An interesting question and answer session followed where he explained how and why rugby referees seem to be given more respect than their counterparts in football – using a widely published example involving himself from earlier in the season. With the size of modern players, he explained how rugby is no longer referred to as a contact sport but is a collision sport although he does not see the game moving towards the way of American Football and the protection and padding they use. David spoke on the problems of the modern day scrum, in part brought about through the use of the (almost) skin tight tops worn by players these days as well as his thoughts on the play off system introduced this year and which Plymouth Albion find themselves involved in.
This was a fascinating albeit brief glimpse into the world of referees in top class sport – interjected with some very amusing anecdotes from his career, which included a tale about his first match officiating former England captain (and now head coach) Martin Johnson - and continues the high class programme of speakers the club has had this year.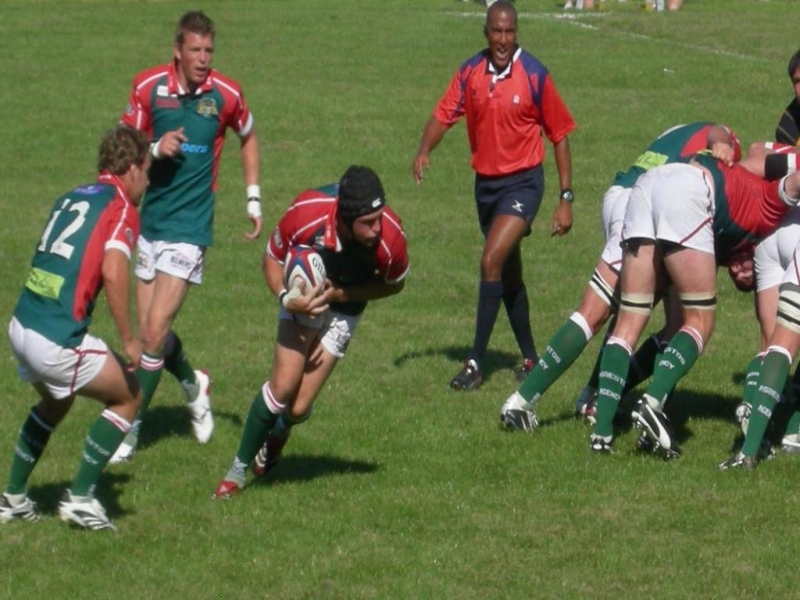 25th February (PN) - Jayne Mortimore - Haunted Apparitions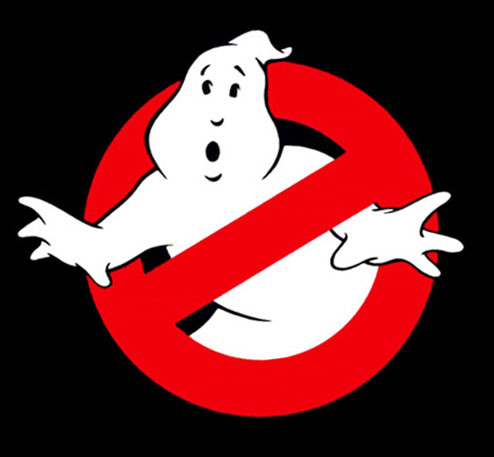 Haunted Apparitions are a seriously minded Paranormal Investigations Team who are actively seeking evidence of paranormal phenomenom to prove the existance of an afterlife.
In their previous guise as Haunted Knights, they have conducted investigations into several well known buildings in and around Plympton – including the Guidlhall, the Forresters Arms, The London Inn and many more.
A bit of a controversial talk, with some members of the audience being believers whilst others still need a little persuasion. That said, it still had members talking about it throughout the whole of the district conference which took place a few days later - so it certainly made an impression.
18th February – GSE Team – Nepal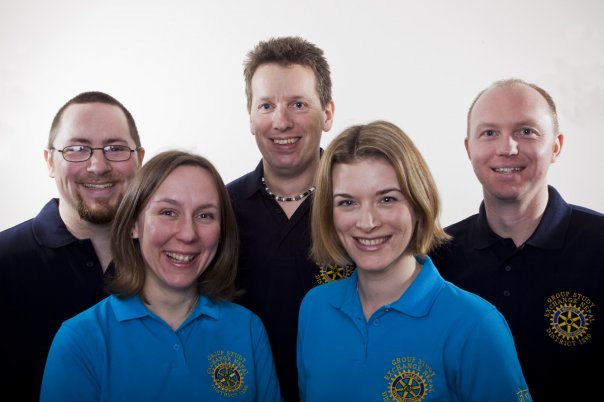 Three of last years' very successful Group Study Exchange team which went to Nepal came to the club on 18th February to tell of their adventure.
This was the last presentation before the district conference and so was their final chance to tweek it. If that wasn't enough pressure, we also had guests from nepal in the audience.
We cannot do justice to their talk in this space but to read more about their travels, please go to the District 1290 website.