Rotary Club of Plympton

Home | News Stories | 2009/10 News Stories - part 1
Young Singer of the Year 2010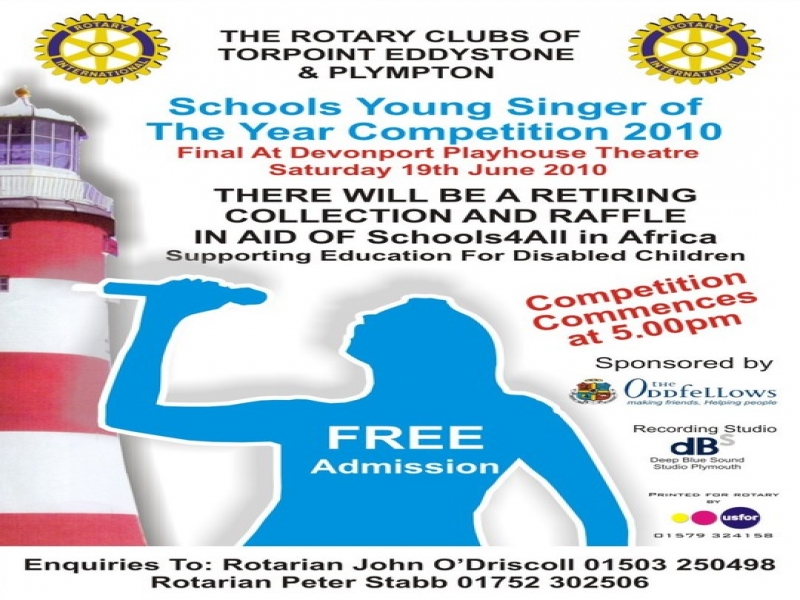 Once again the Rotary Clubs of Plympton and Torpoint Eddystone have teamed up to organise a showcase for young talent in the Plymouth area. The 2010 Young Singer of the Year Competition takes place at the Devonport Playhouse Theatre, Devonport on Saturday 19th June starting at 5.00pm.
Admission is free although there will be a collection and raffle with the proceeds going to the Leonard Cheshire "Schools for All in Africa" project.
What is the "Schools for All in Africa project"? Well can you imagine your childhood without an education? A childhood without learning, without playing amongst friends… You see, an education is about so much more than learning to read and write – it's about socialisation; it's about getting a start in life.
Yet 90% of disabled girls and boys in Africa are excluded from school. Excluded from a chance in life....
This project aims to make a difference to these children and Rotary clubs such as the Plympton Rotary Club have been working in partnership with the Leonard Cheshire Disability organisation to address this issue.
Several local schools have already entered individual singers or groups for this competition so please come along and support what will be a wonderful evening's entertainment.
Rotary District 4370 Group Study Exchange Tean from Venezuela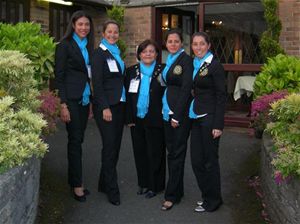 A report of the visiting GSE team can be found in the Group Study Exchange section of our website
Art Exhibition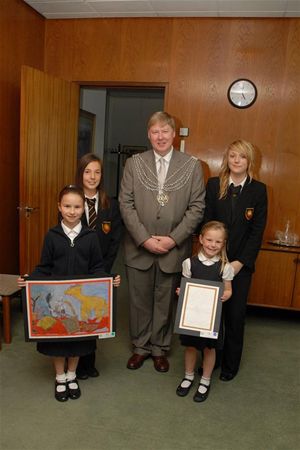 The winners of the recent Art Exhibition at Plymouth Airport recently received their prizes from the Deputy Lord Mayor. Full report within the Service Projects section of the website
Kick Polio Out of Africa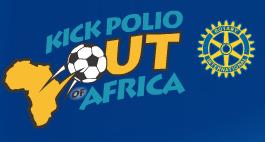 To tie in with the World Cup, Rotary has teamed up with several organisations with a campaign to raise awarness of Polio in Africa. Thanks to this campaign sponsored by Rotary International, the World Health Organization, the Centers for Disease Control and Prevention and UNICEF, polio in Africa may soon be a thing of the past. The campaign is called Kick Polio Out of Africa and its aim is to raise awareness about the debilitating disease using a sport (soccer) and an event (World Cup 2010) that Africa loves.
The campaign was officially kicked off in Cape Town, South Africa with a soccer ball signed by Archbishop Desmond Tutu. The ball is now traveling through 22 polio-affected countries in Africa.
Online, you can "sign" the ball by going to the Kick Polio Out of Africa website -you can access this by clicking on the above logo.
Meal at Bistro One in aid of Shyampti Water Project
The Nepalese supper held at Bistro One in Plymouth proved to be a great success and raised more funds for the Nepal Water Project. Restauranteur Stephen Barratt treated us to a tutored wine tasting, Momos, Kashmiri Chicken, Kullu Trout and a Ginger and Lemon Possett. The evening was a sellout and many of the people had never heard of the water project prior to Jenny's talk – so the night met another aim when Jenny organised the event in raising awareness of the project. One exciting thing was that a chap called Mark Bexter attended after reading about the event in the local newspaper. He has been working towards improving water in Nepal since 1983 and is in the process of developing a water sanitation technological innovation and is really keen to be involved and for us to be involved in any future projects he runs. Over £260 was raised for the Shyampti Water Project on the night and many donations received beforehand from people unable to make the evening.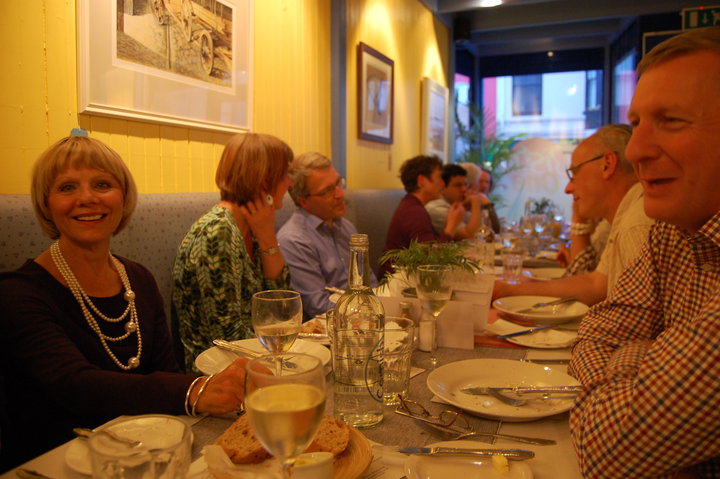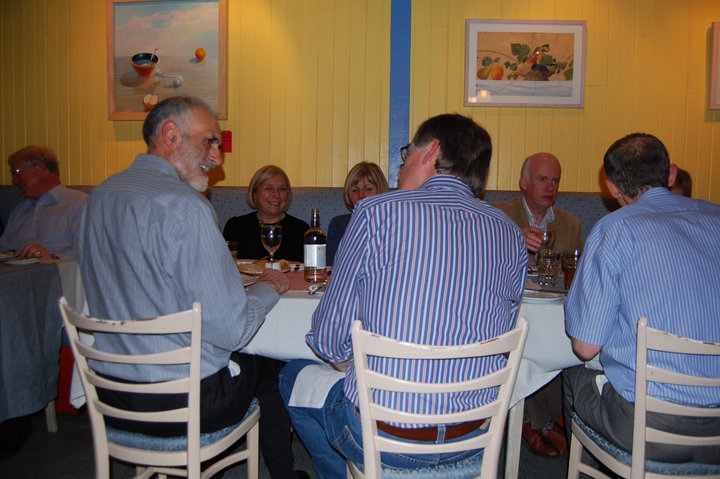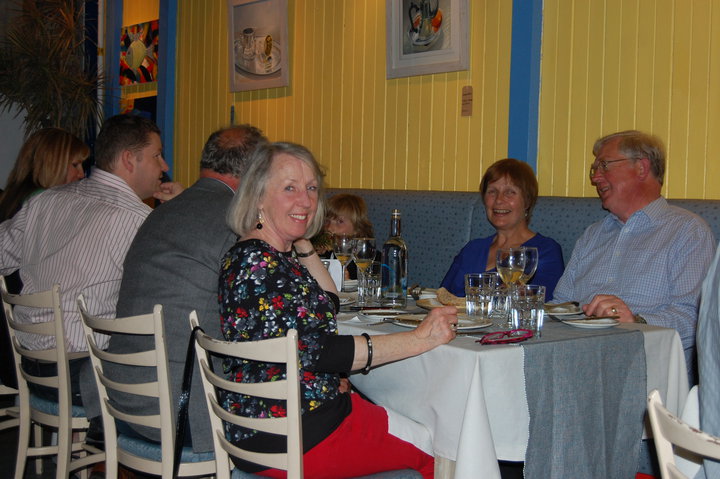 Following the meal at Bistro One, Jenny continued her fund raising - collecting £230 from some drunk Exeter Chiefs supporters. This brought the weekend total to £492.63. Following a plea on Facebook, this was increased to £500 meaning over £3,000 has now been raised.
Cool Earth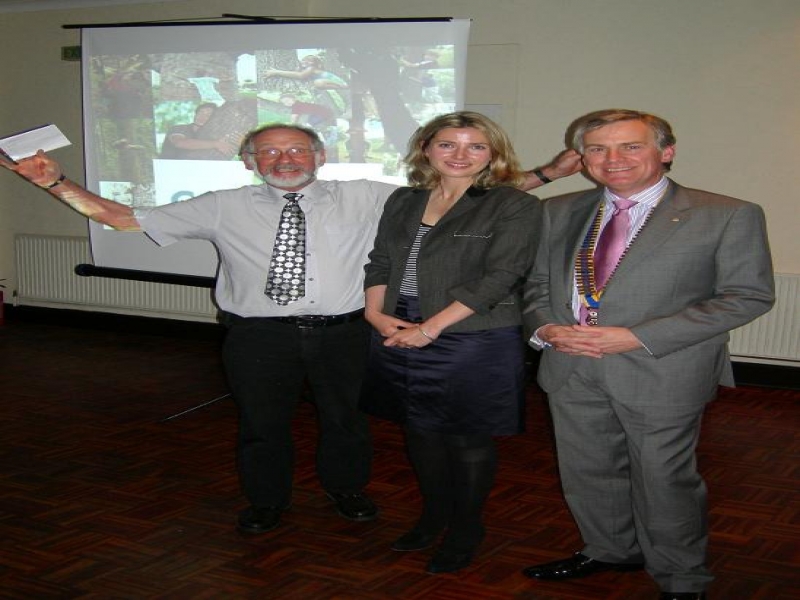 Jemma Woodman from Cool Earth was our latest speaker on the 29th April. A report of her talk is on the "speakers" page.
The Wolfman Cometh…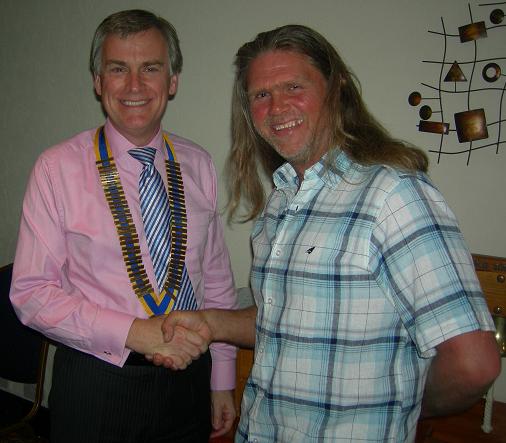 Shaun Ellis, better known to some as "The Wolfman from Commbe Martin" was the recent guest speaker at the Plympton Rotary Club and continues the list of great speakers that the club has had this year.
Shaun has had an interest in wildlife from a young age and after 6 years in the Royal Marines gave up everything he owned to spend the next seven years living with the Nez Perce Native Americans on their reservation in northern Idaho. He told the club how on his arrival he was given a tent at the furthest part of the camp and how this caused him some concern – only finding out later that this was for a reason – the reason being to become closer to the animal he has grown a close bond with – the wolf.
He was able to live among wolves, gaining their trust and learning so much about them. This included learning how they adapt their tactics when hunting and learning from their failures. He told of one story of how one of the male wolves in the pack one day stopped him from leaving the camp and forced him into a tree hollow. Shaun was kept there by the snarling wolf for 2 hours and he thought his time was up. Eventually the wolf let him out and Shaun was able to see evidence that a bear had been in the area and would surely have attacked him had he not been hidden – the wolf did what he did to protect him. Through his research Shaun has found that wolves look after each other as a community – something we humans have lost touch with over time and something we could learn a lot from. Indeed, if wolves were reintroduced into the UK, perhaps these values would find their way back into modern society – alas although it is something he would like to see happen, it is not something he feels will.
Shaun and his team have also conducted a lot of research into the diets of wolves – how, if forced to change their diet due deforestation, it can affect their behavior and make them more dangerous. As has been proven with humans, they have also found that diet of a wolf can also determine the gender of their offspring. Some of the other research conducted by Shaun and his tea, has also helped us to get a better understanding of our domestic pets such as dogs and cats – Shaun explained to the club members why for instance cats may play with a captured mouse or bird and how this ties in with hierarchy among other animals just as it would in the wild.
Through talks such as this one, Shaun hopes to use the same philosophy as the late Steve Irwin, in placing these animals into peoples hearts and in doing so showing these wonderful animals that he calls family in a different light to that in which they often portrayed. Certainly through this talk, Shaun has won over a few more hearts and changed a few perceptions of the wolf.
Stroke Awareness Day 2010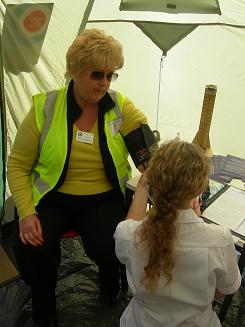 We again took part in the RIBI Stroke Awareness Day on 17th April at St Stephens Place on the Plympton Ridgeway.
Nepal Water Project Update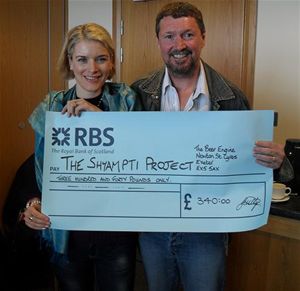 The Beer Engine pub and restaurant in Newton St Cyres has very kindly donated £340 to the project - this coupled with the Grand National winnings of some of the locals has brought our total to over £2500! The photo shows Jenny with the owner Mike Tutty Nigel and Jenny have also begun their fundraising half marathons - pics to follow - hopefully!