Rotary Club of High Wycombe

Home | Community | Santa Collection Hazlemere & Wanderers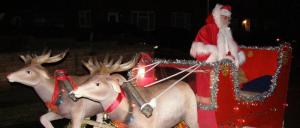 See report
The Rotary Club of High Wycombe wish to thank the residents of Hazlemere & Widmer End & the supporters at Wycombe Wanderers match versus Bury for their generosity in supporting our recent Christmas collections with Santa & his sleigh.
£1330 was collected from the street collections on five nights, & £610 was collected at Adams Park; a magnificent response.
Rotary Club members will be at Sainbury's & Morrisons in the run–up to Christmas collecting money, which, combined with the money already collected, will be for two local good causes.
 Rotary & the Lions Club are providing  approx 150 Christmas food parcels to elderly people identified by local police & churches. The Rotary Club collections will fund this project & also support the Pepper Foundation, part of Iain Rennie Hospice at home, which supports seriously ill children & their families in Buckinghamshire.
The Rotary Club thanks you all for your generosity & wishes readers a joyful Christmas & happy New Year.