Rotary Club of Wensleydale

This year's Wander was again a big success, with over 300 entries and lots of sunshine!
Over 160 walkers and runners completed the 22 mile route, including the Nine year old grandson of one of the Wensleydale Rotarians! About 120 walkers and runners completed the shorter, 12 mile walk, with some of the runners arriving back at Wensleydale school before lunch was ready!
The weather was near perfect with lots of sunshine, but not too hot. However, after the long dry spell, the ground was a little hard. This might have contributed to one walker, at least, getting a blister on her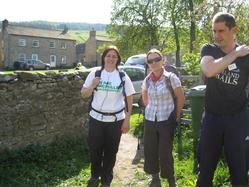 toe, but it did not stop her finishing the long route as she was being sponsored in aid of Macmillan Cancer Relief, so she was determined to be able to claim the £400+ promised to her.
The sausages and bread rolls with optional onions, ketchup, mustard etc were much appreciated at the Rubbing Houses on Middleham high moor- the half-way stage on the long route.
Also appreciated were the hot meal and showers at the finish in Wensleydale School.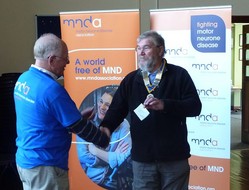 This year, the principle benefiting Charity was the Motor Neurone Disease Association, which put on a display in the school hall. An interim cheque for £1000 was presented to them by the Rtn David Pointon, President of the Rotary Club of Wensleydale. A further cheque will follow when the full amount raised by the event has been counted.
The event was sponsored by GSC Chartered Surveyors of Leyburn.
For full list of finishing times, click on WW 2011 Results