2011 Link Visit to Kent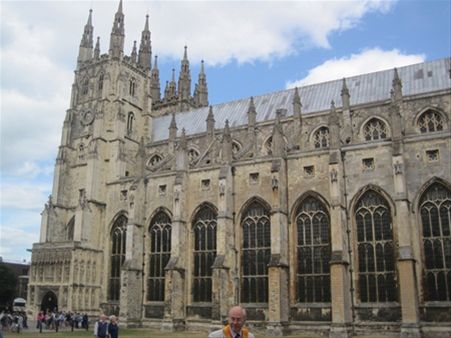 2011 Link Visit to Kent
Our 2011 Link Visit to Kent started on Thursday May 12th with Rotarians and their partners from Bruges West (Belgium), Meerbusch (Germany) and Pinner made their way to the Bridgewood Manor Hotel near Chatham in Kent which was to be our 'home' for the next 3 nights. The first evening was at the hotel and was a very informal and relaxed event with a buffet meal so as to give everyone a chance to meet old and new friends without having to rush out for dinner. Tony Moore set-up a slide show of his various Link Visit photographs going back many years which was an ideal start to the visit as it renewed memories for those who had been attending these visits for a long time.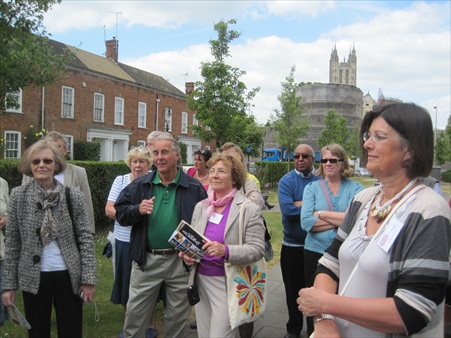 Friday was spent in Canterbury starting with a cathedral tour. We had four guides for our party of about 35 one of whom was John Blackford who is a member of the Rotary Club of Faversham. The German speaking guide was a lady originally from Germany who was in her late eighties having married an Englishman and moved to Canterbury after the Second World War. There were many positive comments about all these guides and particularly the German lady. After the 90 minute tour we relaxed with a coffee or tea at the nearby Cathedral Lodge Hotel where we able to admire the view of the cathedral from the garden.
City tour in Canterbury
After our cathedral tour we then had a walking tour of the city. Our English speaking guide showed us the city wall and various historical buildings whilst explaining the long and varied history of the city. The tour was followed by a very enjoyable lunch at The Adobe Hotel in the centre of the city after which there was free time until 4.30pm for everyone to either go shopping, visit one of the many tourist attractions or just relax.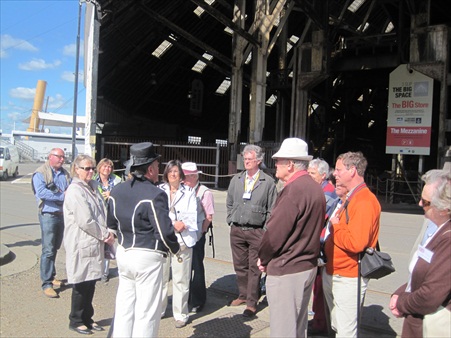 Dinner Friday evening was in the grand surroundings of the Commissioners House at The Historical Chatham Naval Dockyard. It was built in 1704 for the Commissioner (the admiral responsible for the dockyard) and was designed to entertain visiting dignitaries in a grand style though it was also a family home. The house was used for this purpose right up until the 1980's when the dockyard finally closed.
Chatham Naval Dockyard tour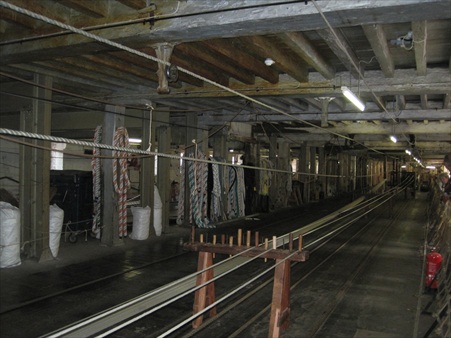 On Saturday we returned to The Historical Chatham Naval Dockyard for a tour which lasted all morning. Our guide was dressed in a seaman's uniform from Nelson's time - Chatham has a particularly close tie with Nelson as HMS Victory was built there. There are a number of ships in the dockyard, exhibitions, museums and ancient buildings with the highlight of the tour, the Ropery which was built in the late eighteenth century and where ropes are still being made today. The dockyard is vast and you could spend a number of days visiting all the various attractions.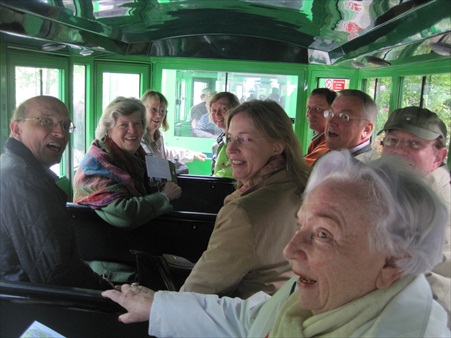 The Ropery
Lunch was in a lively Italian restaurant called Don Vincenzo in nearby Rochester where the friendly staff did an excellent job supplying us with copious amounts of wine and food. After lunch, we travelled to Leeds Castle which must be one of the most attractive settings for a castle anywhere in the world as it is surrounded by water. Here we had two hours to spend of our own choice, as, in addition to visiting the castle there are vast grounds which contain a maze, underground grotto and an aviary as well as a number of gardens.
Land Train at Leeds Castle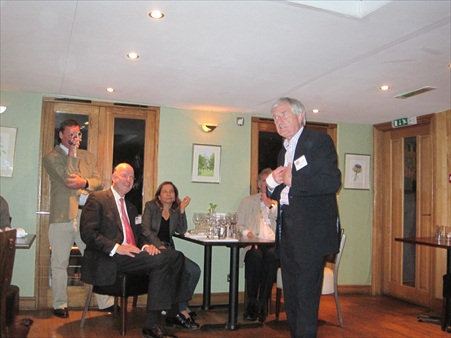 The highlight of the Link Visit for most was dinner on the Saturday evening at The Barge Restaurant in Maidstone. It was an ideal setting as the converted barge is permanently moored on the River Medway in the centre of Maidstone and has a private dining room at the stern with huge picture windows with views of boats and wildlife passing. After a wonderful meal with some good wine various individuals found their singing voices and took to the floor to entertain us ! This started with Christian Quack (Meerbusch) and Kate Glozier (Pinner) giving us their version of the old Yorkshire folk song "On Ilkley Moor Baht 'at". Follow that - and most did try ! Everyone joined in for Bernard De Mot's "Yellow Submarine". A number of those who had attended many of the Link Visits later said "this is what Link Visits used to be like". It was a great end to a very enjoyable Link Visit.
Tom Cryan telling a story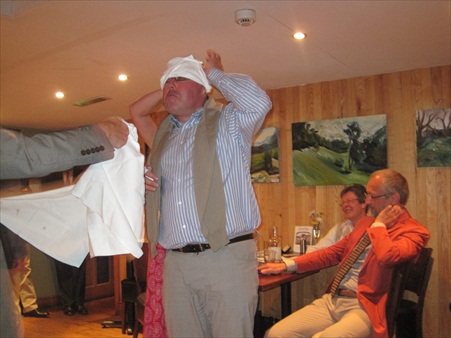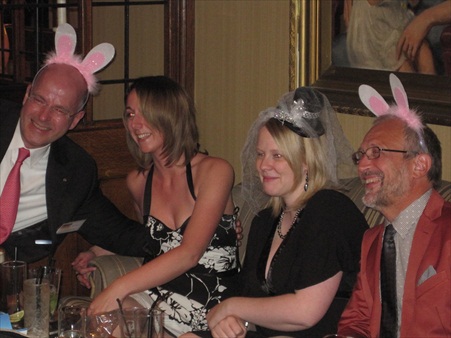 The latest men's fashion in Belgium ! Christian and Bernard join a Hen Night back at the hotel !
From a personal point of view, this was only Kate and my second Link Visit and we thoroughly enjoyed meeting 'old' and new friends. In fact, we really do encourage everyone to join us next year in Antwerp and see what fun it is !

Kate and Brian Glozier