Rotary Club of Plympton

Young Photographer 2011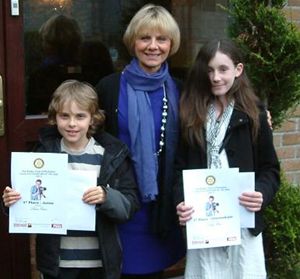 Despite a couple of false starts and a change of theme, at their last meeting, the Rotary Club of Plympton presented the winners of their Young Photographer Competition with their prizes.
Originally asking youngsters to submit a portfolio of work around "Community Spirit" – the theme of the Rotary national competition - there was little response. The theme was then changed to "Where I live" and the club saw entries flood in.
Lewis Eason won the Junior section and Libby Ward the Intermediate section and are pictured with club president Christine Carmichael and their certificates of merit.
Plympton Rotarian Darren Hands said "The standard of the entrants was very high and the judges and club members have been very impressed by them. The wealth of talent in these young people from around the city really came into focus with all the entries uniquely capturing the spirit of the theme. We would like to thank everyone who took part and also take this opportunity to once again thank our sponsors, The Herald and The Plymouth Post for publishing details of the competition and Lee Pengelly of Silverscene Photography who donated the winner's prizes. It is hoped that we can now make this an annual competition."
The Plympton Rotary Club prides itself on its work with promoting youth activities and will be shortly launching their annual Young Artist exhibition at Plymouth City Airport.