Rotary Club of Plympton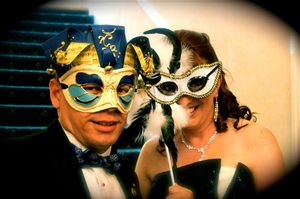 Plympton Rotary Club President, Christine Carmichael has said that the recent Masquerade Ball in aid of St Luke's Hospice exceeded her wildest expectations.
Nearly 150 people attended the ball, held at the Moorland Links Hotel where the guests not only enjoyed a fantastic meal but where also entertained by "Souled Out" – a great band who mixed soul music with a few contemporary songs as well.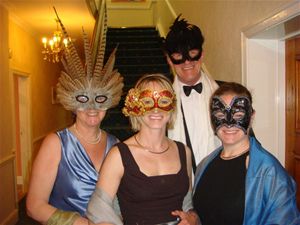 With this many people present, there were a wide variety of masks on display, from basic eye masks, to butterflies, pheasants, jesters and even Darth Vader!  Everyone entered into the spirit of the evening and if there had been a best mask competition, the judges would surely have had a very difficult time.
During a time when many people are feeling the pinch, nearly £3,000 was raised for President Christine's nominated charity for the year, St Luke's Hospice,  which will supplement other fund raising events that have taken place over the year by the club.  Additionally, many local companies provided prizes for the raffle which was a great success.
Christine expressed her sincere thanks on behalf of the club to all those companies who provided prizes or supported the ball in other ways, "Souled Out" who provided an excellent set, everyone who bought raffle tickets and especially those who attended and who helped make this such a memorable night.