Rotary Club of Plympton

Milnerton RC – Literacy for All
At the 2007-08  district conference we were approached by Richard Wade, a visting Rotarian from the Milnerton Rotary Club in South Africa who asked if we would be able to support a literacy project his club were involved in called "Literacy for All". Sadly his clubs' main fund raising activity had had to be scrapped, so Richard and his wife Lynne (who was a past President of Milnerton RC) realised the club would need help from other clubs. They approached their old club of Canary Wharf (of which they are both past presidents) and knowing a few Rotarians in D1290, approached us here in Plympton.
In South Africa, there is the disturbing fact that 61% of pupils still cannot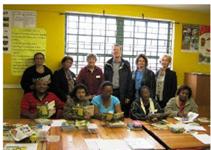 read by the end of Grade 3. Part of this problem was inherited from Apartheid South Africa and despite the efforts of the government, there is still not enough money to spend on education. Language is another problem – there are 11 official languages in South Africa. English and Afrikaans are the two main ones so most teaching aids are in these languages at the expense of the other 9. Milnerton RC and the other Rotary Clubs in and around Cape Town have become involved with the Literacy for All programme where they sponsor a series of mother-tongue reading books and teacher training at needy schools. Milnerton RC are helping 2 such schools – the Trevor Manuel Primary School in Fisantekraal, Durbanville and Sivuyiseni Primary School in Khayelitsha.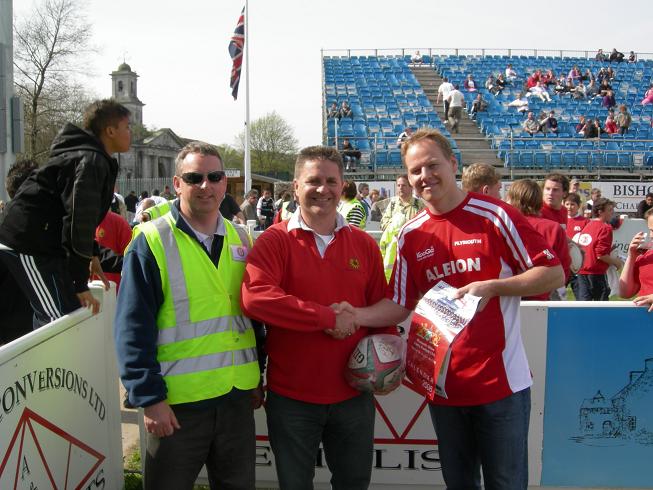 At the time, Plymouth Albion RFC had a number of South African players in their squad and one of them, Wihan Neethling, helped us organize a drop goal competition at Plymouth Albion's last match of the season.
This proved to be so popular that throughout the 2008/09 season we ran this as an ongoing event at Albion matches and was a big hit with the supporters.
We also ran a quiz night – which was compered by BBC's Aysha Iqbal to raise further funds and with a District Simplified Grant we reached are target of £700.  Darren did his works problems no favours as his boss' team came last - picking up the wooden spoon in the process!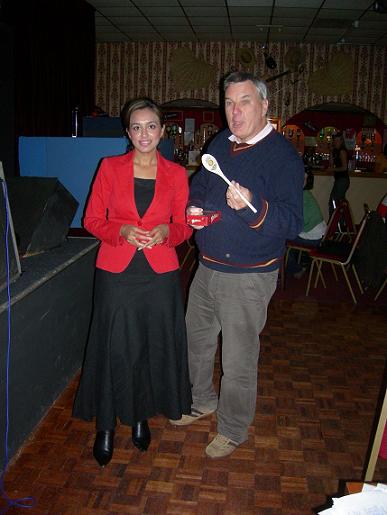 Following this news, Richard emailed to say the following: "It's great news that Plympton's efforts since March have raised this wonderful sum to assist our literacy project here. Each book will have a small sticker in it acknowledging the contributions of the six Rotary clubs, including Plympton, involved in funding the project. Our thanks once again." Already the work of this project is

making progress and they report many examples of children making fantastic progress. One such example is of a Grade1 Xhosa- speaking girl, shown in the photo writing the word   isiphithiphithi (a lovely word meaning "what a mess" and pronounced issi-peety-peety). This word is out of Book 7 in the Grade 1 Series of 14 books and she was able to accomplish this with confidence (look at her excellent writing!) less than half-way into the year.
The 4,456 textbooks which Plympton Rotary kindly part-sponsored all have stickers inside thanking all of the contributing clubs. Two-thirds of the books being supplied to Trevor Manuel Primary are in Afrikaans with the remainder and all the books being supplied to Sivuyiseni Primary in Khayelitsha being in Xhosa (pronounced Causa, with the tongue flicked off the roof of the mouth to create a click" as you say the first syllable).

In June 2009, Richard visited Plymouth and our club and presented a copy of one of these books for our archieves.