Rotary Club of Plympton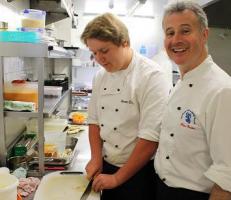 Read about our 2012 Young Chef competiton and the progress of our winner James.
Progress of our Young Chef Winner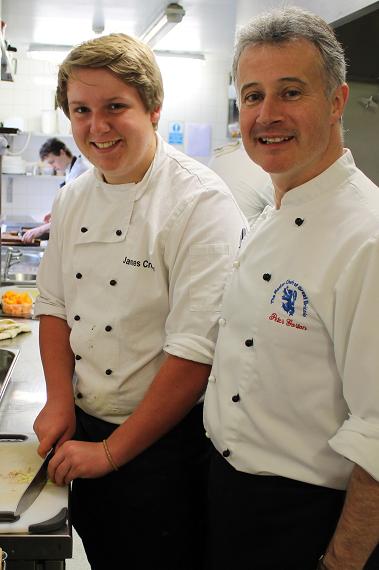 In today's media, young members of society are often given a bad reputation. Too often the majority are tarnished by the misdemeanors of the few. But Rotary through some of the "youth" projects and competitions it undertakes aims to showcase some of the great things our youth participate in.
This is highlighted in no better way than the example of James Crotty. James entered and won the Rotary Club of Plympton's local heat of the Rotary in Great Britain & Ireland (RIBI) "Young Chef Competition". Before progressing into the next round of the competition, one of the judges, celebrity chef and Master Chef of Great Britain, Peter Gorton offered James a day in his restaurant to learn a few tricks of the trade and to give him a few ideas. That one day became a week and although James didn't win the district final, by coming second he did enough to secure a place in the South West Regional Final. Here, James a pupil at Eggbuckland Community College, came third. But his story doesn't end there.
James may not have reached the national finals, but Peter was so impressed by James' commitment and enthusiasm that he has since given James a job on Saturdays in his restaurants' kitchen. As Peter says, "In the local heat a few things went wrong for James but he didn't panic or got flustered – he worked out what he needed to do and produced a wonderful three course meal ." He goes on to say, "James has a really good aptitude and a nice touch in the kitchen. If it's what he wants, he certainly has the ability to be a really good chef." In Peter's restaurant, James gets involved in a variety of things, from helping produce desserts to filleting fish, he gets stuck in with it all.
Watching James in the kitchen at "Gorton's" it is evident that he is really enjoying the experience of working for one of Britain's top chefs. With a smile on his face James told Rotary how he looks forward to travelling to Peter's restaurant in Tavistock every Saturday "Peter is such a great teacher and I am learning so much from him. Hopefully this will help me with my ambition of running my own restaurant."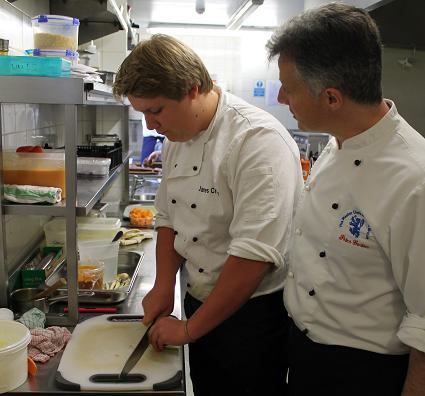 As Plympton Rotary Club member and local event organiser Kirstie Brown said "Rotary Young Chef could be a stepping stone to a career in the food industry" – which for James it certainly seems to be. A thought shared by Peter who feels competitions such as this can only be a good thing and a great way to give young people a chance to experience something that perhaps they would not normally get the chance to do. Peter said "this competition encourages young people to look at the cost and health implications of food. By working to a tight budget, it tests their all round skills – not just in producing the food but in the planning.
But this is not the main aim of the competition – as Kirstie follows up "it is also a good way for young people to have fun learning an important life skill."
The final word goes to James who offers these words to anyone thinking of taking part in Young Chef (or other Rotary youth competitions) – "Don't hesitate to take part because you never know what you will get out of it".
Food, Glorious Food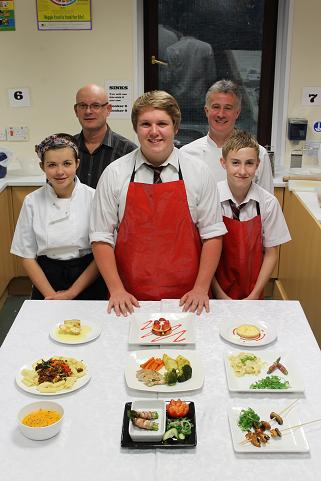 Budding chefs served up an array of culinary delights on Monday 12th December as they
commenced battle to be crowned Rotary Young Chef of 2012. With just two hours to prepare and serve a 3 course meal for two on a budget of £15, youngsters from Eggbuckland Community College and Notre Dame School served stunning dishes from Asparagus tips with goats and parmesan Cheese to Rigatoni and Beef Ragu.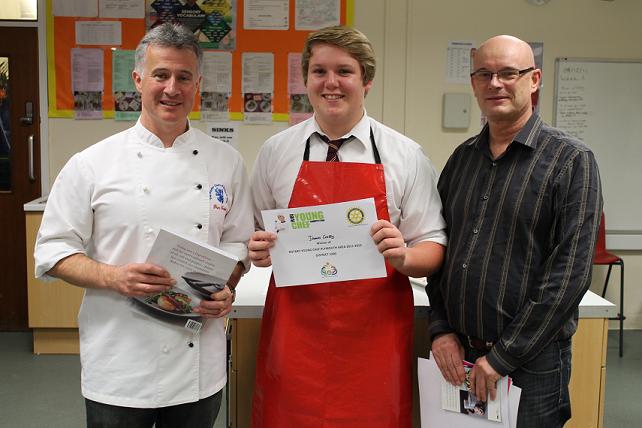 Celebrity Chef Peter Gorton together and Clive Hancock of the Smithaleigh Hotel had a hard job deciding the winner with the first prize eventually being awarded to James Crotty of Eggbuckland Community College.
Rotary and its associates believe that cooking a healthy meal is an important life skill. Schools are now focusing on teaching all young people to cook in schools and our competition supports that initiative.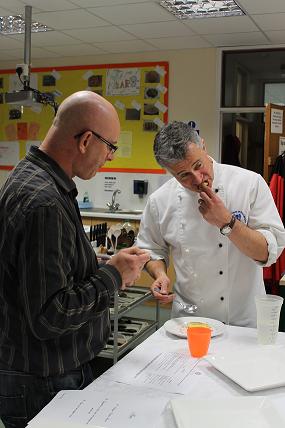 Rotary Young Chef aims to encourage young people to:

- Develop cookery skills

- Develop food presentation skills

- Consider Healthy Eating options

- Prove their organisational and planning skills

- Prove their ability to cope in a demanding situation

Now in its eleventh year, the Rotary Young Chef Competition was created to give young people across the UK and Ireland the chance to display their creative talents with food, while discovering the importance of healthy eating.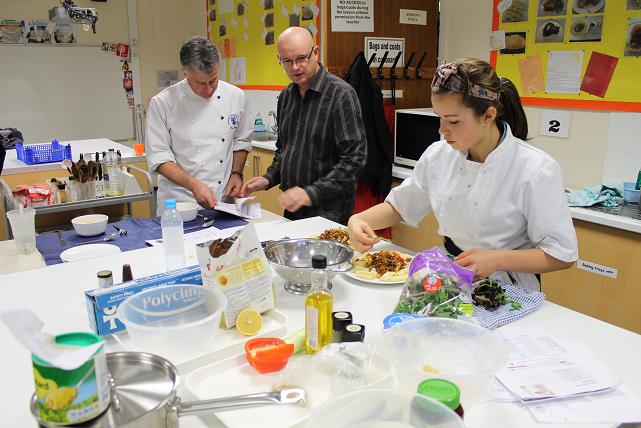 The winner of this heat now goes on to the District Final in Helston on 21st February, then via a Regional Competition next March onto the RIBI Final of Rotary Young Chef on 21st April.
As part of his prize, James will be given a lesson from Peter who will also assist his preparation for the next round.
Club member and local event organiser Kirstie Brown says;
"Rotary Young Chef could be a stepping stone to a career in the food industry, but this is not the main aim of the competition- it is simply a good way for young people to have fun learning an important life skill."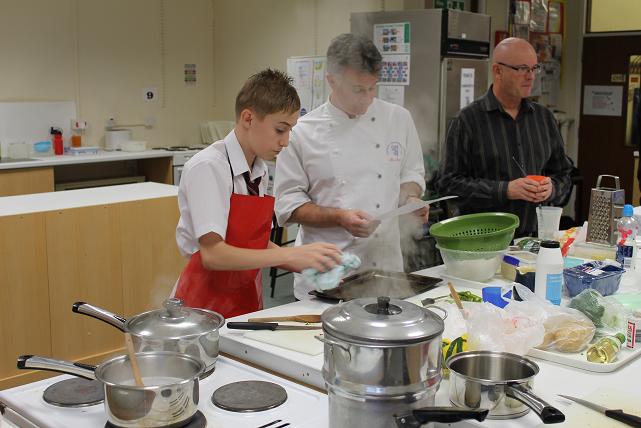 Clare Thomas, Chair of our New Generations/Youth Opportunities Committee went on to say "Rotary offers many opportunities for youngsters to develop skills and display their talents. Rotary Young Writer, Young Photographer, Young Artist and a Youth Music concert are just a few of
the options available. I would like to think that our chefs here today will inspire more youngsters to take part in activities such as these."
* * * * *
The chefs taking part and their meals where: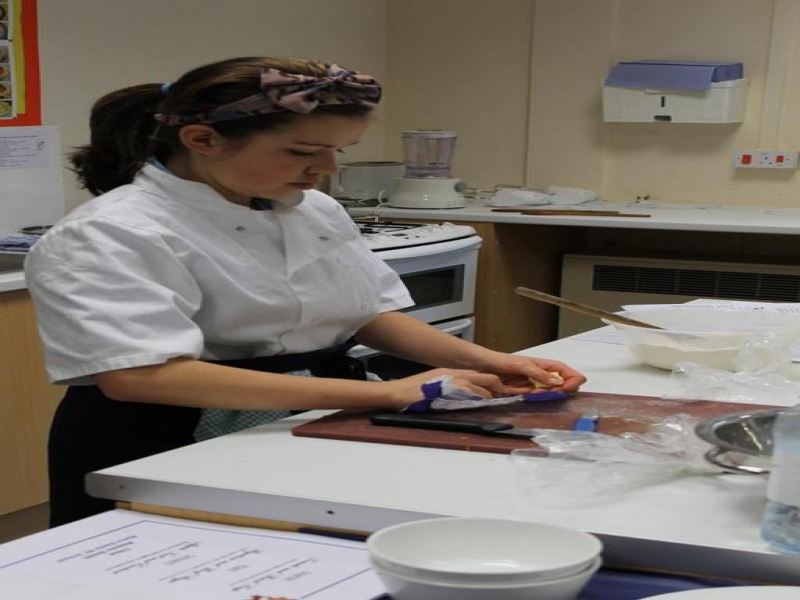 Chloe Beaven-Smith of Notre Dame RC School
Tomato and Basil Soup / Rigatoni and Beef Ragu / Apple Tart and Custard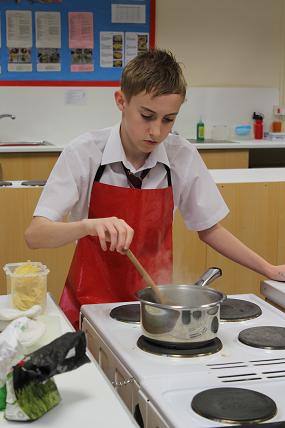 Bradley Thomas of Eggbuckland Community College
Barbeque Chicken Skewers / Tagliatelle in a cheese sauce with asparagus and parma ham / Lemon Tart and whipped cream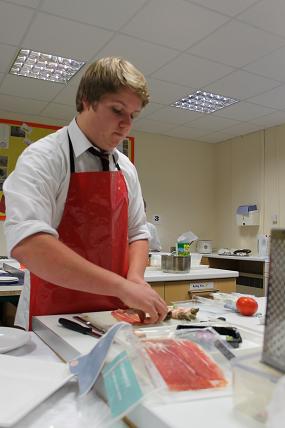 James Crotty of Eggbuckland Community College
Asparagus tips with goats cheese and parmesan cheese / Chicken with a white wine sauce with
potatoes, carrots and broccoli / Strawberry shortcake