Visitor Guide
About our club.....
Welcome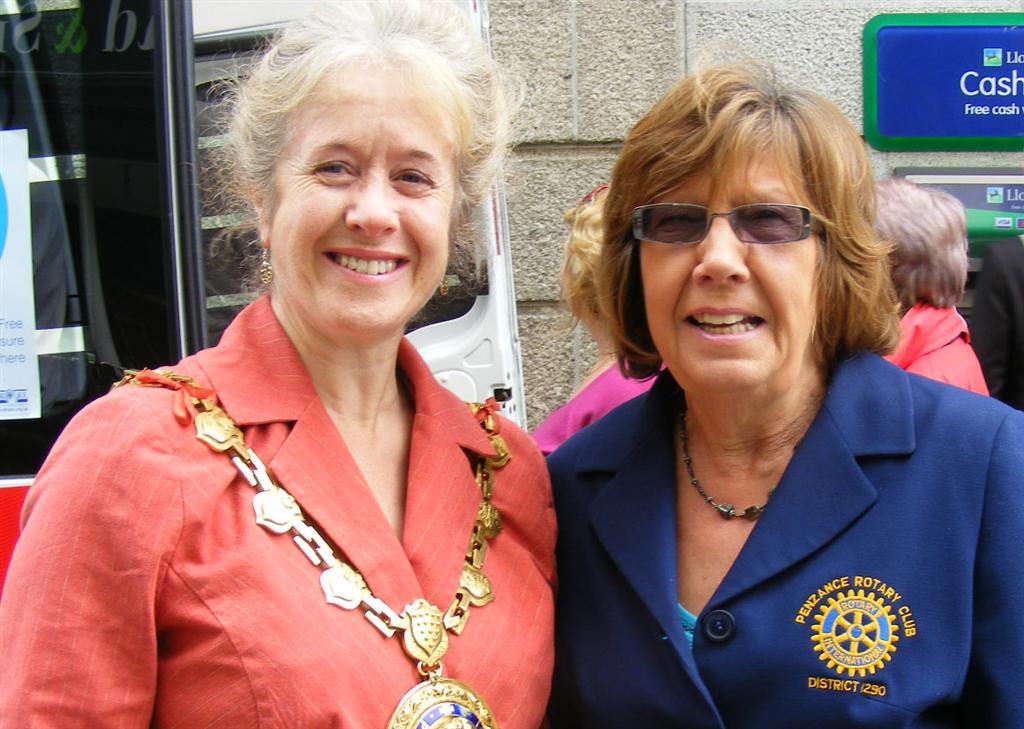 The Rotary Club of Penzance is the most Westerly club on the mainland of England and Wales. It was elected as a member of Rotary International in 1923. With the exception of the St. Ives enclave in the East of the area it serves all that part of the Penwith Peninsular from Crowlas to Land's End including the ancient town of Marazion and St. Michael's Mount.
Penzance - Named "Pen Sans" in the ancient Cornish language, meaning "Holy Headland", referring to the headland to the western side of the harbour on which a chapel was established by early Christians well over 1000 years ago, Penzance received Royal Charters for its harbour in 1512, for markets and fairs in 1592 and was formally incorporated by Royal Charter in 1614.
The club has always had a good reputation for welcoming visitors; in fact in 1928 when Penzance was not the easiest place to travel to, there were 21 place names on one page of the Visitors' Book, many overseas such as Nice, Sydney and Massachusetts. Rotarians' husbands , wives or partners are also made very welcome at our lunches. All that we ask is that you give the Secretary at least 24 hours notice of your intentions, together with any special dietary instructions which the hotel will do its best to achieve.
Rtn Anita George MBE
President 2012/13
Daughter Clubs
The club now has two "daughter" clubs. The Isles of Scilly Club was set up in 1971 and meets at 8.00pm on Monday evenings at the Isles of Scilly Golf Club on St Mary's. (Except on Bank Holidays). The Rotary Club of Mounts Bay (not to be confused with the Gentlemen's Club of the same name in Penzance) was set up in 1989.
Lunch Meetings
We start our lunch meetings promptly at 1.00pm (1300 hrs) so please try to be there at least 15 minutes before that time to allow the stewards to book you in and introduce you to the President. We try our best to finish our meetings promptly as well at 2.00pm(1400 hrs) although if we have a speaker this can sometimes make us late by up to 15minutes.
We do exchange bannerettes, although we restrict this to overseas clubs including those in Continental Europe.
Meeting Venue and Contact
We meet at the Queens Hotel, Penzance; or see the information on the home page.
Contacts: Club Secretary: Graham Hickman Tel: 01736 711890
email: admin@penzance.rotary1175.org
Club Webmaster: Jon Symons; email: it@penzance.rotary1175.org
The club currently has 25 members (inc 1 Hon. Member).
The Inner Wheel Club of Penzance.
The club meets on the second Tuesday of the month at the Queen's Hotel, Penzance and begin at 2.30 pm.
Contact: Secretary: Claire Sharpe Tel: 01736 732456
About International Inner Wheel
International Inner Wheel is most probably the largest women's Voluntary Service Organisation in the world. We hold Non Governmental Organisation (NGO) status with the United Nations and have representatives in its three centres of Geneva, New York and Vienna and are therefore able to play an important role in today's world.
Since its inception in 1924 Inner Wheel continues to grow as new Clubs form in many countries. Currently we have more than 100,000 members in over 101 countries and geographical locations and members enjoy working together making new friends and having fun whilst experiencing the sense of 'belonging' that Club life brings. Visiting members wherever we are in the world is a great joy and the start of lifelong friendships.
Find out more International Inner Wheel
Find out more about Inner Wheel in Great Britain and Ireland