Presidential Address
This is the page for the President's thoughts for his year of office.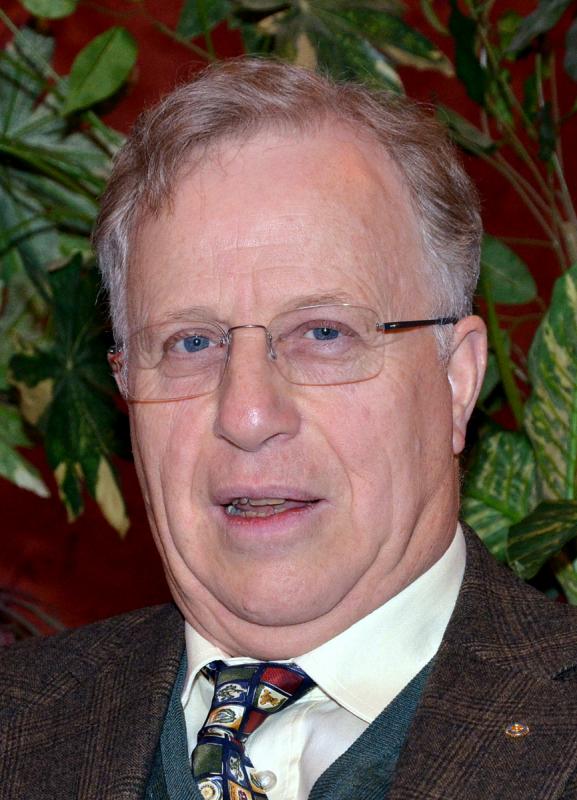 Presidential Message
Two years ago, I bought a little book . . . . a blank. . . . to jot a few things down . . . . !
Optimistically, I wrote: "Live Rotary' – 'Do GOOD in the WORLD !" Hmm . . . . !
At least I can now add: RI President Barry Rassin: "Be the Inspiration"
Loads of cliché phrases are used in Rotary – We could all list a dozen. They roll off the tongue very easily, but they all have the seed of truth in them, and they carry a common thread which all Rotarians recognise: that is . . . . Rotary Service !
It is there in the weekly work of our Club, and in some great Rotary projects around the World ! Follow the International Committee ! The breadth of what Rotary achieves is truly amazing. Great Projects make it easy to talk to friends (and others we meet more casually) about Rotary.
Over time, we might enthuse a few to join with us in Service. Women (also) welcome !
This year, let's remember the 'Basics'. A hackneyed word, but, focussing on Rotary work itself, we might briefly forget the ever-growing heap of Rotary and other Policies we have to deal with. Some of those, it seems to me, are leading us to become somewhat introspective !
• I mean the Health & Safety Policy/ the Safeguarding Policy / the Dignity Policy, not to
mention the Crisis Management Policy and the totally forgettable GDPR & Privacy Policy !
There may well be others ! I shall not comment further !
So our Projects next year cover the key Rotary Humanities (Hunger, Health, Water, and
Education). Our Committee Presentations show those we work towards and support.
• One or two Projects we plan for need no cash, just our time ! One is quite new !
Sal's Shoes aims to collect useable hand-me-down Footwear, and re-purpose it for
Schoolchildren overseas, who often, are not allowed to attend School without Shoes !
Take a look at the Website – this project is quite inspiring: http://www.salsshoes.com/
Charities & Speakers
Charitable Fund-raising is generally quite difficult for us, being a central Bradford Club. We are fortunate to have support from Ilkley Golf Club in running the Blaize Golf Classic, but we do need to work to raise Funds from additional sources.
If funds should turn out to be somewhat reduced at the start of 2018-19, we must carefully consider how best to allocate our Charitable Donations money.
• To help with this, I propose that this year, Charity Speakers should, if possible, largely
be drawn from Organisations suggested and approved by Members in advance.
In this way, we shall be able to make a sensible Donation to each, whilst continuing support for 'ad hoc' Rotary causes – plus any World or other Disasters which may arise.
I hope Members will support this approach.
Whilst I have no major Charity in mind, a key cause for the year will be Polio Plus.
Some believe the scourge of Polio has now gone, but it has not, and sometimes Projects fail in the
'last mile'. So it could be with Polio, if we do not maintain our resolve to the very end.
The Project is now in its 34th Year. The question 'how long will it take?' remains anyone's guess, but we are very close to wiping it out for good.
Vaccinations are needed for three years after the last reported case, so we still have work to do, and we must go on until we succeed. There is much to be gained from a Polio-free World.
Given that all Club donations to Polio Plus will be tripled by the Gates Foundation for the next three years, I propose that our weekly 'Fines' should be put towards this cause ! Together with the Gates contribution, it could reach almost £2,000
Through our RYLA involvement, we have seen for ourselves the Leadership benefits
accruing to young people who spend a few days 'competing' amongst new contacts.
We aim to continue this project, but in addition I think the principle would certainly apply to a young person going to sea for 4-5 days under the auspices of Ocean Youth Trust North, experiencing and soaking up the challenges of life full-time on board.
This has long been on my mind, since a Speaker we heard many years ago. Whilst it may be difficult to find a Candidate, we should certainly try, and I hope we shall be successful.
We cannot find a Candidate for this year's sailing to Holland (which is actually supporting the Tall Ships race). But I am asking this year for your help and support in finding a young person for the North Shields sailing in August 2019, for which we shall seek a District Grant of 50% (by mid-July this year) towards a basic cost of around £700.
• District Conference - Just to mention: this will be held in Scarborough: 12-14th October.
We have reserved eight rooms at the Riviera Town House, which serves an excellent breakfast.
A 'tick-sheet' will be circulated shortly so Members can indicate their intention to Attend.
Here . . . . just for good measure, is a Link to the History of the Rotary Wheel:
http://www.rotary-ribi.org/clubs/page.php?PgID=621782&ClubID=1995
I add my thanks Committee Chairmen, for the work and time involved to present to this Assembly, and to others who contribute to the smooth running of the Club throughout the year. Also to President Graham and his Team for the wonderful year we have shared together, with many truly excellent Speakers and Events.
I look forward with some small apprehension to my second term as President, but in the sure and certain belief that we shall all enjoy it in Rotary Fun & Fellowship
Thank you all !
John Barrow
President