Community Services
Community
Community Services Committee
The Rotary Club of Northwich Vale Royal held their Pensioners Party at Winnington Recreational Club on Saturday 14th February with a record number of 84 people attending.
The pensioners were treated to a wonderful meal with a glass of wine and entertainment provided free of charge by local band Freeway. Event organizer Peter Hall said Louise from Mid Cheshire Catering put on an excellent meal. Everyone appeared to enjoy the event and James and Alan from local band Freeway had the guests dancing in the aisles.
Joint event organizer Peter Chapman says A lot of work by a lot of people goes into making this event a success. The Rotary motto says Were for Communities and this event provides an opportunity for us do exactly that, by giving elderly people the chance to get out and meet people, be entertained and have a good time.
The Rotary Club wish to thank Councillor Musgrave for his financial support for this event, Louise who did a great job with the catering, Petty Pool Trust and Cransley School for providing much needed transport, Freeway who provided the entertainment, and all the volunteers and helpers who gave up their time to help serve the meals and make it such a huge success. Thanks also to Graham Evans MP and Town Mayor Alison Gerrard also came along to show their support.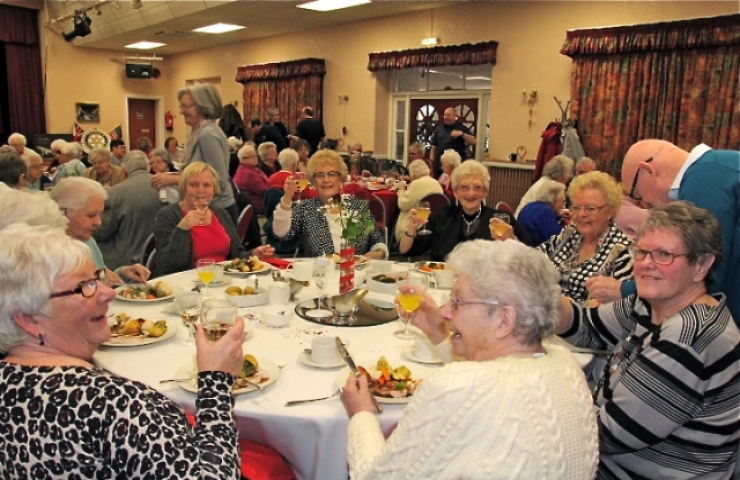 The purpose of the Community Service Committee is to assist and give support where required, to local community based charities, worthy causes and organisations .
The Community Service Committee is responsible for organising many events which vary from year to year.
Some examples being, a Health & Stroke Awareness Day, in conjunction with local GPs and Nurses, an Annual Pensioners Party, Pantomime Trips for deserving children, Kids Out Days, School Theatre visits and Local Environmental Projects.
The Community Service Committee has links with a number of local charities and we try to ensure that the donations from our fund raising efforts are spent wisely and distributed to the most deserving of these local charities.
Cuddington Primary School Garden
Press Release:
The Rotary club of Northwich Vale Royal and the PTA of Cuddington Primary School teamed up on a community project that provides an educational and social amenity at the school.
When the Rotary Club of NVR received a request from the Head Teacher at Cuddington Primary School for help to revitalize a small area of the school grounds into a useful amenity for the school, we were delighted to offer our help said Peter Chapman, Rotary Community Committee Chairman. The committee had indicated some time ago that they would like to get involved in small community projects and here was a project that the club felt were able both physically and financially capable of doing. It is not all about raising funds for charities Peter continued, it is also about being involved in the community and in this case fellow Rotarian Steve Hollis became project manager and designed it.
Volunteers from the schools PTA and members of the Rotary Community Committee combined to fund and build two raised garden beds with new fencing that will be used for growing fruit and vegetables.
Mrs Yvonne Elliot, Headteacher at Cuddington Primary School said, We are absolutely delighted with the new facility. The school has a keen gardening club and the facility will also be used as a practical element within the current school curriculum. Mrs Elliot continued, The school has had a lot of positive feedback from parents and the general public as a whole. It is a great improvement and I would like to thank the Rotary Club of Northwich Vale Royal and the school Parent Teacher Association for all their very hard work
Support for the children at Victoria Road School.
Gordon Atkinson of RCNVR presents a cheque for 300 to Cathy Lord (Head) and Sarah Roberts (deputy Head) at Victoria Road Primary School. The school is one of a number of organisations in the community being supported by RCNVR.