Press
November 28th - Bangladesh: The US military has joined the battle to get aid to communities left devastated by the cyclone. The US is using its helicopters to fly aid - including ShelterBoxes - to key distribution points.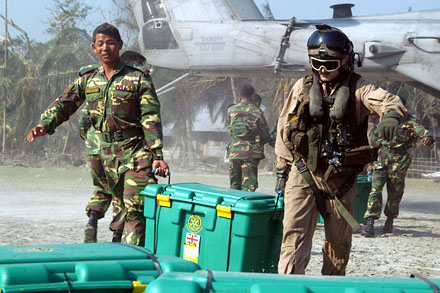 Photo Credit: Seaman Christopher Lange 28th November 2007
Despite tremendous logistical problems caused by the scale of the disaster, storm damage and the nature of the terrain, more boxes are also making their way from Dhaka by road.
Assessments of several locations have been carried out by members of a ShelterBox Response Team and the distribution of boxes to individual families is due to begin tomorrow.