Young Musician of the Year - 2017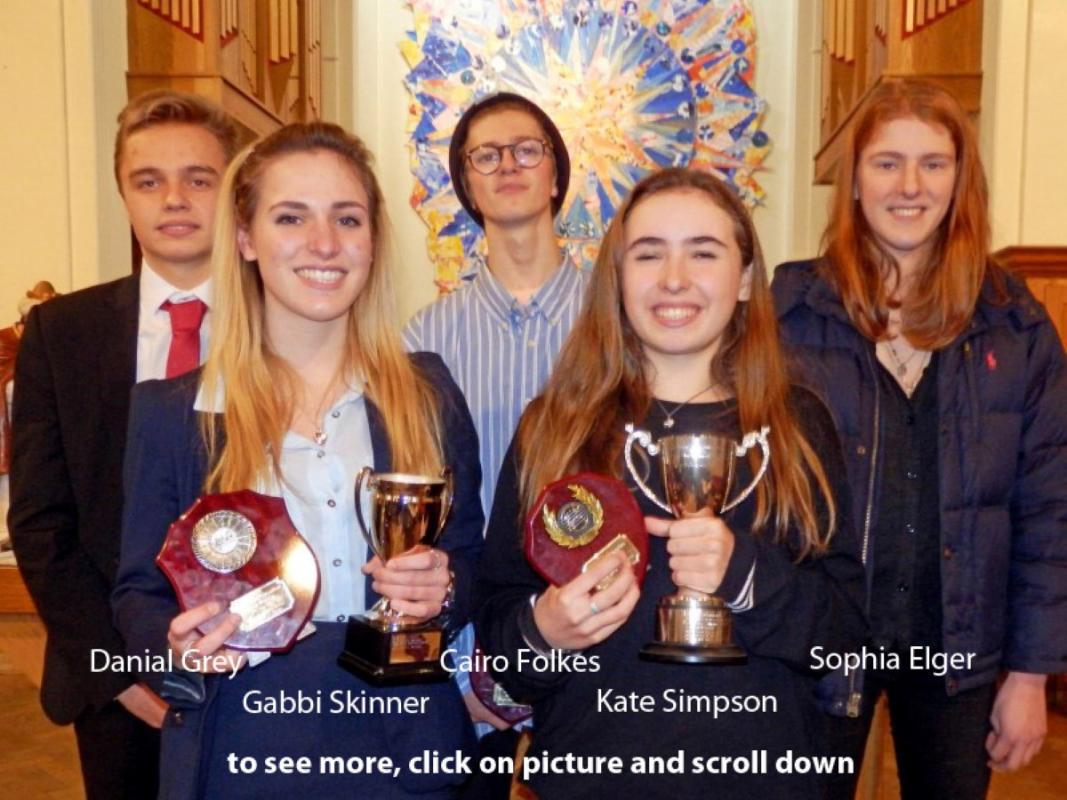 Picture above shows the 2016 competition winners
Young Musician on the Year 2017
The 2017 local round of the Rotary Young Musician competition will be hosted by Clayesmore School by kind permision of the Headmaster.
For further details and entry forms click on the appropriate Rotary logo below

Competition Guidelines Entry Form
Scroll down to see videos and information from previous years competitions

Young Musician of the Year 2016
The 2016 local competition was held at Claysmore School Chapel on 23rd January. Watch this space for Information and Entry Forms for next years competition.

Kate Simpson
Winner
Young Musician of the Year


Sophia Elger

Runner Up
Young Musician of the Year









Gabbi Skinner

Winner

Young Vocalist of the Year












Anna Sherren


Junior Young Musician of the year





"YOUNG MUSICIAN OF THE YEAR - January 2016"
Blandford Rotary hosted the North Dorset round of the "Young Musician" competition at Clayesmore School when 30 pupils from several local schools entertained an appreciative audience.
Overall winner was 14 year old violinist Kate Simpson, a student at Bryanston School, who played Smetana with professional skill and dexterity. Runner up was saxophonist Sophia Elger (17), also a Bryanston student.
In the Young Vocalist competition, winner Gabi Skinner and runner up Phoebe Whitley are both students at Clayesmore School. Gabi sang "Lascio Ch'io Piango" (Handel) and "Vilia" from "The Merry Widow" and demonstrated a great vocal range with powerful performances.
Kate and Gabi now progress to the District Final to be held at Canford School, Wimborne on Sunday 22nd February.
In the Junior section, open to students up to 13 years of age, the winner was Anna Sherren (10) from Knighton House school. She played two clarinet pieces: "Summer" and "Hernando's Hideaway". Runner up in the Junior section was Jack Faulkner from Clayesmore School, who sang in a beautiful clear voice "Sicilian River Song", "The Bare Necessities" and "I'd Do Anything".
At the conclusion of a splendid afternoon of musicianship, Blandford Rotary President Vic Chippendale complimented all the competitors, and thanked the adjudicators Philip Lange, Rowena Carmichael and Elizabeth Glen for their constructive advice, as well as Clayesmore School for providing such an excellent venue.
| | |
| --- | --- |
| Rotary Wessex Young Musician Competition District Final Sunday 21st February at 2:00pm Canford School, Wimborne, Dorset BH21 3AD | Rotary Young Musician Regional Final Saturday 12th March at 2:00pm Bryanston School, Blandford, Dorset DT11 0PX |
Regional Finals
The Rotary Club of Blandford was responsible for organising this years Regional Final.
(L to R – front row) Suzanne Poole (R/Up Vocal), Lolla Grace (Winner Vocal), Sophia Elger (R/Up Instrumental)
(L to R – back row) Rotarian Andy Munden, Rotarian Steve Adamson, Matthew Lloyd-Wilson (Winner Instrumental), Rotarian John Bentley.

Young Musician of the Year 2015
See the video - click on the link below
| | | | | |
| --- | --- | --- | --- | --- |
| Emily Clarke | Joseph Empson | Steve Adamson | Abigail Morgan | Lauren Morgan |
| Vocalist | Young Musician | President | Young Musician | Vocalist |
| Runner up | Runner up | Blandford Rotary | Winner | Winner |
Junior Division Winners

Alice McCormick Winner: Junior Young Musician of the Year

Jack Faulkner Winner: Junior Vocalist
CLAYESMORE SISTERS ARE TOP YOUNG MUSICIANS
Once again Clayesmore School hosted this year'
s local heat of the Rotary Young Musician of the Year Competition, now in its eighth year. And two of their students, sisters Abigail and Lauren Morgan, were judged to be Young Musician of the Year and Young Vocalist of the Year respectively. Flautist Abigail played "Aria and Waltz" from 'Suite Antique' by John Rutter. Her sister Lauren sang "Pur Dicesti, o Bocco Bella" by Antonio Lotti and "So In Love" from 'Kiss Me, Kate'.
The runners-up in each category were Joseph Empson, a student at The Blandford School, who played his own piano composition entitled "Contemplation", and Emily Clarke who sang "Take, O Take Those Lips Away" by Amy Beach.
Junior Young Musician of the Year was Alice McCormick, 12, repeating her win the previous year, who played "Adelita" by Torrega on the cello. The runner-up was Jack Faulkner, who sang "Walking In The Air" and "Over the Rainbow".
The adjudicators were professional musicians Roy Robinson, Rowena Carmichael and Celia Gilbert. Chief adjudicator Mr Robinson, speaking on behalf of his colleagues, congratulated all the participants on their high standard of musicianship and offered constructive advice to the winners chosen to progress to the next round of the national competition run by Rotary.
It is planned that Abigail Morgan and Joseph Empson will progress to the Rotary District Final taking place on Sunday February 22nd at Canford School, Wimborne.
Young Musician of the Year 2014
Clayesmore School very kindly hosted this year's local heat of the Rotary Young Musician of the Year Competition on Saturday 25th January 2014 entries were received - 22 juniors (one only 5 years of age) and 30 seniors.
Senior Young Musician of the Year: Charlotte Horner, aged 13 (last year's Junior Winner). Played "Hypnosis" by Ian Clarke, on the flute - student at The Gillingham School.
Senior Vocalist: Matilda ("Tilly") Bartholomew, aged 17. Sang "Er, der Herrlichste von allen", from the Frauenliebe und Leben song cycle by Schumann - student at Clayesmore School.
Junior Young Musician of the Year: Alice McCormick, aged 11. Played the cello.
Junior Vocalist: Isabella Ellis, aged 12. Sang "The Ugly Duckling"- student at The Blandford School.
Charlotte and Tilly will progress to the District Final on Sunday 23rd February at Canford School, Wimborne.
Judges were : Peter Lange, internationally renowned pianist
Rowena Carmichael, professional oboist and teacher of piano and oboes for 26 years
Barry Curtis, former professional pianist and organist, worked for BBC Radios 1 and 2
President of Blandford Rotary John Bentley announced that the Young Musician contest, now in its seventh year, was getting bigger each year. Last year we had 35 entries, which was itself a record. This year we have 50! He commended the performers for the exceptionally high standard. This was endorsed by head judge, Peter Lange, when he told an appreciative audience: "What you have heard this afternoon is great musicality and many superb performances. There is real talent here. Let's keep classical music live!"
Breaking News. See below for news of how our contestants faired in the next phase of the competition
.
Following a very successful 1st round at Clayesmore School, three of our "Young Musician of the Year" winners progressed to the Rotary District Final at Canford School, Wimborne. After being our Junior Young Musician in 2013 and our Senior Young Musician in 2014, Charlotte Horner (still only 13 and probably the youngest in the Final) triumphed again as the Winner in the Instrumentalist category, playing "Hypnosis" by Ian Clarke on her flute.
Our runner-up at Clayesmore, Finn Murphy, was runner-up again in the District Final, playing Handel's "Harmonious Blacksmith" on the piano. And our other winner at Clayesmore, Tilly Bartholomew, was runner-up in the Vocal category, singing a recitative and aria from Handel's "Semele". So, we had one "Winner" and two "Runners-Up" out of 13 competitors from all over Dorset and Hampshire. The standard of musicianship was outstanding, as commented on by head judge Jack Maguire (former leader of the BSO) who said the standard was "on a par" with that at the 2012 National Final when he was also a judge .
Charlotte will now progress automatically to the Regional Final in Frome on Sunday 6th April. It is possible that either or both of Finn and Tilly will also be invited to take part.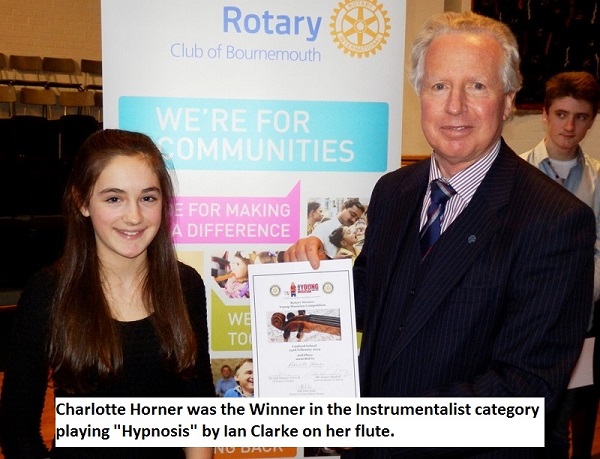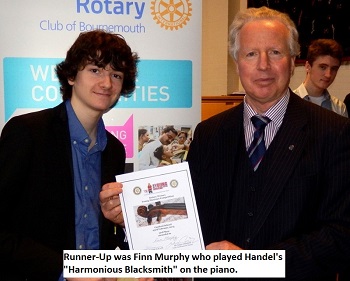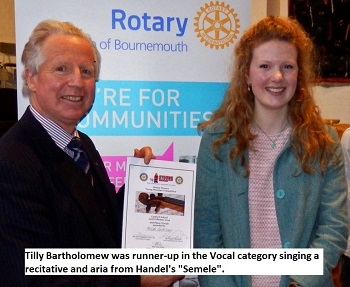 Young Musician of the Year Competition 2013
Rotarian Andy Munden nd

ahis New Generations Committee were delighted with the incredibly high standards of musicianship set by the 37 entrants to the Competition held on Saturday 26th January at Clayesmore School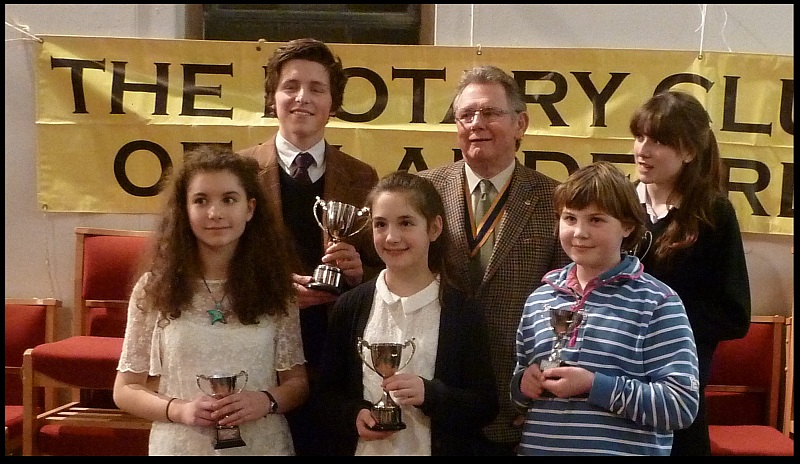 Senior Winner: George Hewett, President Nic Nicol, Senior Vocalist: Lauren Morgan
Senior Runner up: Evangeline Coplan, Junior Winner Charlotte Horner, Junior Runner up: Alice McCormick
The 2013 District final took place on Sunday 3rd March at the Henry Beaufort School Winchester, and was MCd by James Larcombe. There were 14 performances, 5 vocal and 9 instrumental, which produced an excellent competition and concert for a very attentive audience.
The winner was Adam Smith, who played a Spanish Gypsy Dance by Pascual Marquina, and Czardas, by Vittorio Monti. It was most unusual to hear an accordion in competition, and especially one played so well.
Second was George Hewitt, who entertained us with a Tango and Charleston by Trevor Hold, and third Alexandra Walker, who played a movement from the Sonata for Trumpet and Piano by Kent Kennan.
As there are two separate classes at the Regional and National level, separate vocal awards were presented to Molina Hatchett, who sang Ave Maria by Gounod and Batti, Batti by Mozart, and Lauren Morgan, who performed Down by the Sally Gardens and On My Own, by Schonberg. They will go forward to the Regional final in Teignmouth, together with Adam Smith and George Hewitt.
District Governor Mary Pike presented the prizes and thanked the principal of Henry Beaufort School for the use of the Beacon Arts Centre and Denis Welstead and his team for the organisation of the final.
The judges were led by Dr. Christopher Davis, the former principal director of music of the Royal Marines, with Johanna Owens, who was the assistant Director of Music at The Pilgrims School, and Jon Coad, a member of the Royal Opera Chorus.
Young Musician of the year competition 4th February 2012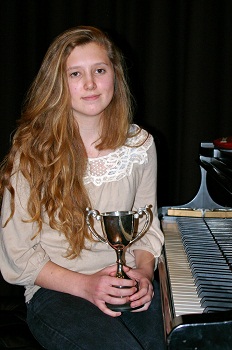 Senior Winner - Stacey Newlin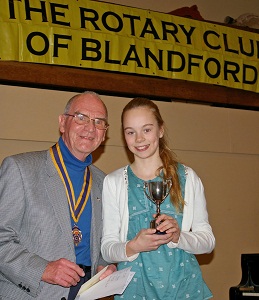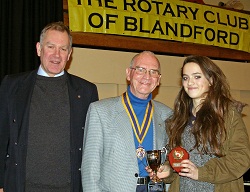 Junior Winner - Abi Morgan and Senior Vocalist Rosie Luther with President Vic Chippendale
This year's Young Musician of the Year was the 5th in the series. The standard of the entrants remains very high. We had 31 entries with students from Blandford School, Sturminster High School, Bryanston School, Clayesmore School, Gillingham & Shaftesbury Schools and Hanford School. It's a pleasure to see junior entrants from previous years coming through to the senior classes and doing well. Stacey Newlin, our senior winner this year, has entered every year since we started, and will now go on to the district competition in Winchester later this month. Again, we were privileged to have 3 highly qualified judges in Angela Walden, Tony Burton-Page and Grant Bocking. Blandford Stour club have now joined forces with us and have provided a new cup for the senior vocalist and have agreed to share the cost of promoting the event.
Young Musician of the Year Competition Saturday 13th March 2010
At the Third Annual 'Young Musician of the Year' Competition, organised by the Rotary Club of Blandford at Bryanston School, the audience was mesmerised by two virtuoso performances by young pianists.
Alexander Coplan, aged 14, won the Senior competition with a dazzling performance and received the John Edwards Cup and a cash prize. The Senior Runner-Up was Josie Ellis, 15, who played the flute. She received a Cup and cash prize.
The Junior competition was won by Max Blass-Laker, aged 11, who played Chopin with an amazing degree of technical ability and emotional intensity. He received the James Atkins Cup and a cash prize. The Junior Runner-Up was Charlotte Horner, 9, who entered 4 different classes and was a winner in two of them! She received a Cup and cash prize.
The other winners and finalists were: cellist Harry Ellison-Wright, 11, (junior strings); violinist Eleanor Haywood (senior strings); and Flora Beverley, 14, (senior vocalist).
The prizes were presented by Derek Andrews, President of the Rotary Club of Blandford, who commented on the exceptionally high standard of the 24 entrants, who ranged in age from 7 to 16. Judges of this increasingly prestigious annual event were: Warrant Officer First Class Colin Hales (bandmaster of the Royal Corps of Signals); Mr Grant Bocking (former Head of Music, Queen Elizabeth's Scholl, Wimborne) and Mr Philip Lange, the renouned international concert pianist.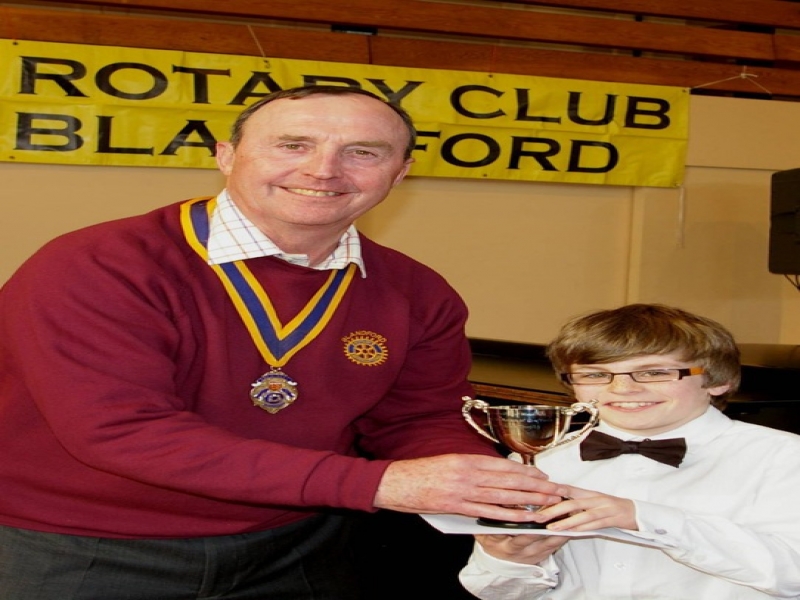 Junior Winner Max Blass-Laker receives the James Atkins Cup and a cash prize from Derek Andrews, President of the Rotary Club of Blandford.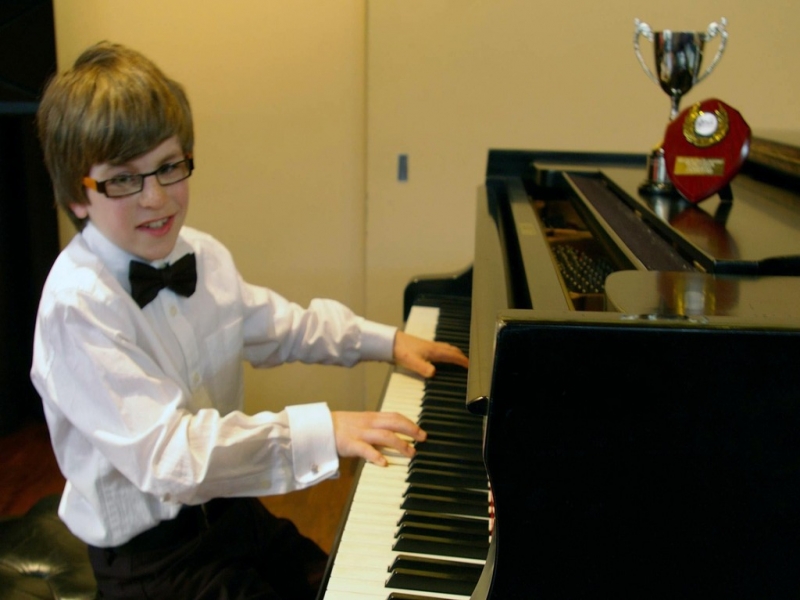 Alexander (senior winner) Max (junior winner).
The Young Musician of the Year competition will be back again next year.
Contact Andy Munden about this page: