previous page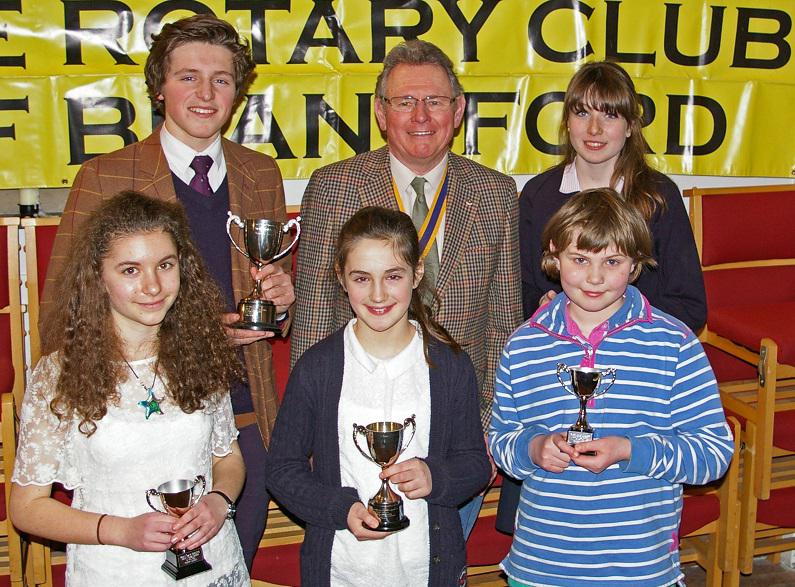 An annual competition to find talented musicians. Details of the 2014 competition are outlined below.
Young Musician of the Year Competition 2014
Blandford Rotary is holding it's annual Young Musician of the Year Competition on Saturday 25th January 2014 at Clayesmore School, Iwerne Minster.
Click

HERE

for the entry form and competition guidelines.

Young Musician of the Year Competition 2013
Rotarian Andy Munden and his New Generations Committee were delighted with the incredibly high standards of musicianship set by the 37 entrants to the Competition held on Saturday 26th January at
Clayesmore School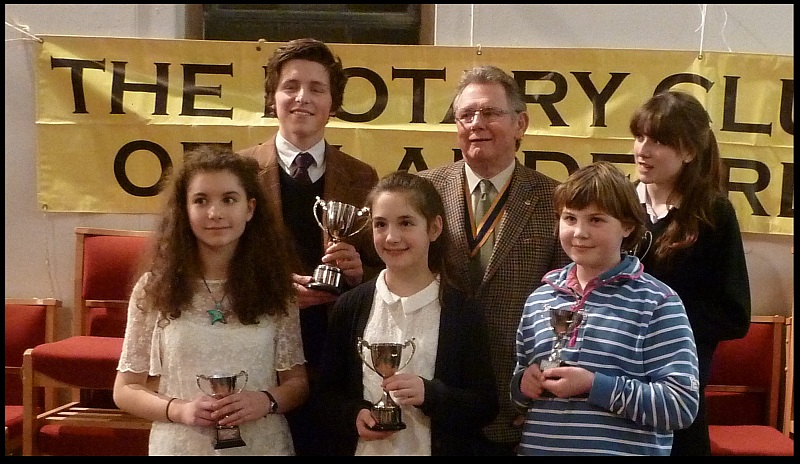 Senior Winner: George Hewett, President Nic Nicol, Senior Vocalist: Lauren Morgan
Senior Runner up: Evangeline Coplan, Junior Winner Charlotte Horner, Junior Runner up: Alice McCormick
The 2013 District final took place on Sunday 3rd March at the Henry Beaufort School Winchester, and was MCd by James Larcombe. There were 14 performances, 5 vocal and 9 instrumental, which produced an excellent competition and concert for a very attentive a
The winner was Adam Smith, who played a Spanish Gypsy Dance by Pascual Marquina, and Czardas, by Vittorio Monti. It was most unusual to hear an accordion in competition, and especially one played so well.
Second was George Hewitt, who entertained us with a Tango and Charleston by Trevor Hold, and third Alexandra Walker, who played a movement from the Sonata for Trumpet and Piano by Kent Kennan.
As there are two separate classes at the Regional and National level, separate vocal awards were presented to Molina Hatchett, who sang Ave Maria by Gounod and Batti, Batti by Mozart, and Lauren Morgan, who performed Down by the Sally Gardens and On My Own, by Schonberg. They will go forward to the Regional final in Teignmouth, together with Adam Smith and George Hewitt.
District Governor Mary Pike presented the prizes and thanked the principal of Henry Beaufort School for the use of the Beacon Arts Centre and Denis Welstead and his team for the organisation of the final.
The judges were led by Dr. Christopher Davis, the former principal director of music of the Royal Marines, with Johanna Owens, who was the assistant Director of Music at The Pilgrimsí School, and Jon Coad, a member of the Royal Opera Chorus.
Young Musician of the year competition 4th February 2012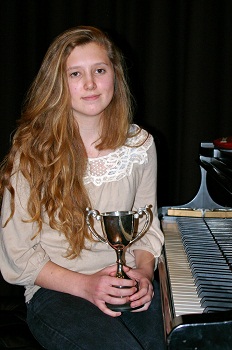 Senior Winner - Stacey Newlin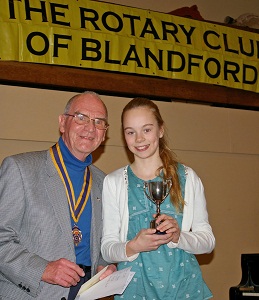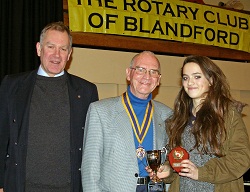 Junior Winner - Abi Morgan and Senior Vocalist Rosie Luther with President Vic Chippendale
This year's Young Musician of the Year was the 5th in the series. The standard of the entrants remains very high. We had 31 entries with students from Blandford School, Sturminster High School, Bryanston School, Clayesmore School, Gillingham & Shaftesbury Schools and Hanford School. It's a pleasure to see junior entrants from previous years coming through to the senior classes and doing well. Stacey Newlin, our senior winner this year, has entered every year since we started, and will now go on to the district competition in Winchester later this month. Again, we were privileged to have 3 highly qualified judges in Angela Walden, Tony Burton-Page and Grant Bocking. Blandford Stour club have now joined forces with us and have provided a new cup for the senior vocalist and have agreed to share the cost of promoting the event.
Young Musician of the Year Competition Saturday 13th March 2010
At the Third Annual 'Young Musician of the Year' Competition, organised by the Rotary Club of Blandford at Bryanston School, the audience was mesmerised by two virtuoso performances by young pianists.
Alexander Coplan, aged 14, won the Senior competition with a dazzling performance and received the John Edwards Cup and a cash prize. The Senior Runner-Up was Josie Ellis, 15, who played the flute. She received a Cup and cash prize.
The Junior competition was won by Max Blass-Laker, aged 11, who played Chopin with an amazing degree of technical ability and emotional intensity. He received the James Atkins Cup and a cash prize. The Junior Runner-Up was Charlotte Horner, 9, who entered 4 different classes and was a winner in two of them! She received a Cup and cash prize.
The other winners and finalists were: cellist Harry Ellison-Wright, 11, (junior strings); violinist Eleanor Haywood (senior strings); and Flora Beverley, 14, (senior vocalist).
The prizes were presented by Derek Andrews, President of the Rotary Club of Blandford, who commented on the exceptionally high standard of the 24 entrants, who ranged in age from 7 to 16. Judges of this increasingly prestigious annual event were: Warrant Officer First Class Colin Hales (bandmaster of the Royal Corps of Signals); Mr Grant Bocking (former Head of Music, Queen Elizabeth's Scholl, Wimborne) and Mr Philip Lange, the renouned international concert pianist.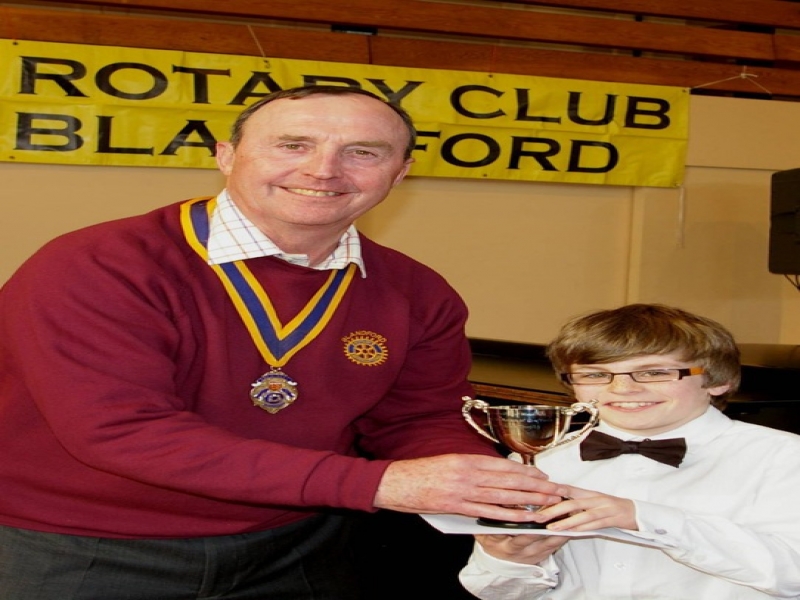 Junior Winner Max Blass-Laker receives the James Atkins Cup and a cash prize from Derek Andrews, President of the Rotary Club of Blandford.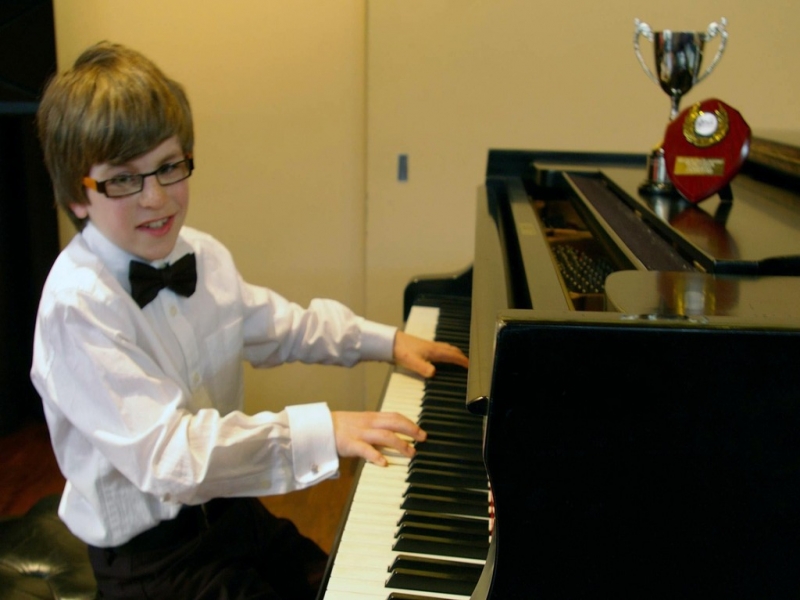 Alexander (senior winner) Max (junior winner).
The Young Musician of the Year competition will be back again next year.
What we do: