Rotherham Rotary Roundwalk
Details of the 25 mile Rotherham Roundwalk Event, managed by the Club for 35 years.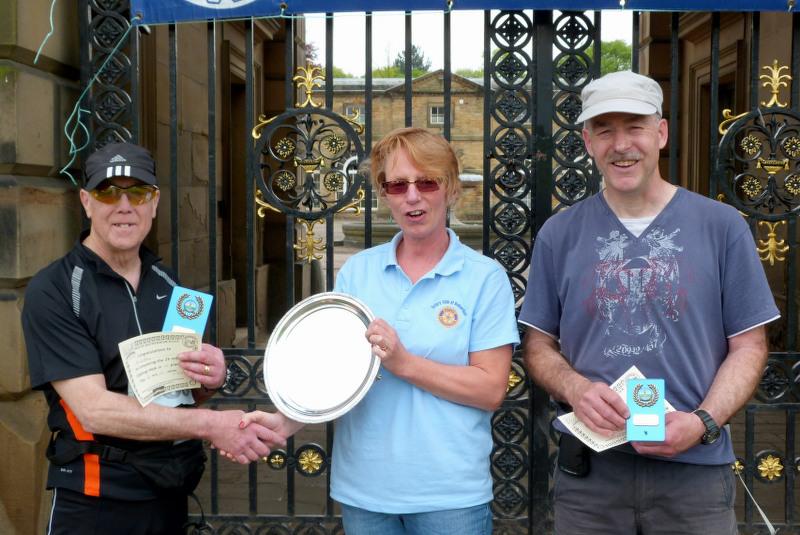 Rotherham Roundwalk
The Rotherham Roundwalk is a recognised Long Distance Footpath of just under 25 miles, marked on the latest OS Explorer maps with GPS downloads* available at GPS-routes.co.uk. It starts and finishes near All Saints' Parish Church in the town centre, and may be walked any time. However an annual charity walk organised by the Rotary Club of Rotherham took place over the route from the 1980s to 2014. For some years it became a highlight of the Rotherham Walking Festival. Over the years it raised over £86,000 for local good causes. However it recently became ineffective as a fund raising project and the club decided to put its efforts into other activities. See sub page for latest news.
The 25-mile route was developed by Rotherham Ramblers members George Rogers and Alan Davies when they were laid off during the 1980 steel strike, basing it on a charity walk over part of the route the previous year. It is a complete clockwise circuit from the northwest of the town round to the southwest. It leaves the town through a wooded clough and soon enters attractive countryside round the Wentworth Estate in the north. It then goes through a short industrial section and semi urban area to the west, and more undulating rural country to the south, re-entering the town through Boston Park. There is a variety of terrain, with the majority on public footpaths, but all relatively easy walking including one or two short steepish climbs.
The annual event was competitive as well as being a charity walk, and the record time for the Rotary Plate men's trophy is 4 hours 6 mins recorded by Stephen Wraith in 1989. The ladies competed for the Sheldon Rowley Memorial Salver, in memory of the 17 year old who was first to finish in 1991, but tragically died later that year. The record of 4hrs 52mins was set by Janice Streets in year 2000. However, most people doing the walk finshed in a time of between 6 and 8 hours.
The route aims to get people to appreciate the wealth of countryside around the town. There are also shorter Rambles from 3 to 15 miles using part of the course as alternative options for those who cannot manage 25 miles. A 24 page booklet of all the walks is available from our DOWNLOADS page. A 90 minute video of previous walks is now available in aid of Roundwalk Charities. Please use the contact form below and DONATE HERE.
Club members were heavily involved in organising the annual events, registration and marshalling on the day, and still continue to maintain the paths and waymarking of the route in conjunction with the local authority. See sub page 2016 Roundwalk if you are interested in the walk.
*NB The route has since been amended in the West Bawtry Road area due to road construction