A Summary of Recent Achievements


ROTARY
A GLOBAL NETWORK OF COMMUNITY VOLUNTEERS
This is an overview of our activities in 2010 and recent years. Check out the different sections of our website for more details of a particular project.
Donations
The Rotary Club of Pwllheli provided funding for the following local and UK organisations:-
Air Ambulance, Pwllheli First Responders, Bardsey Island Trust, Cath Community Fund, Local Guide Dogs, Wheelchair Foundation, Plas y Don, Step by Step, Prostate Cancer, Alzheimer's Society, Hope House, Nefyn Community Organisation, Communities First Pwllheli, Pwllheli Youth Club CIP, Aberdaron Church, Llandudwyn Church, Ala Road Church,Y Gwystyl day care centre, Botwnog Youth Football, Pwllheli Brownies, Cumbria Flooding Relief.
Fundraising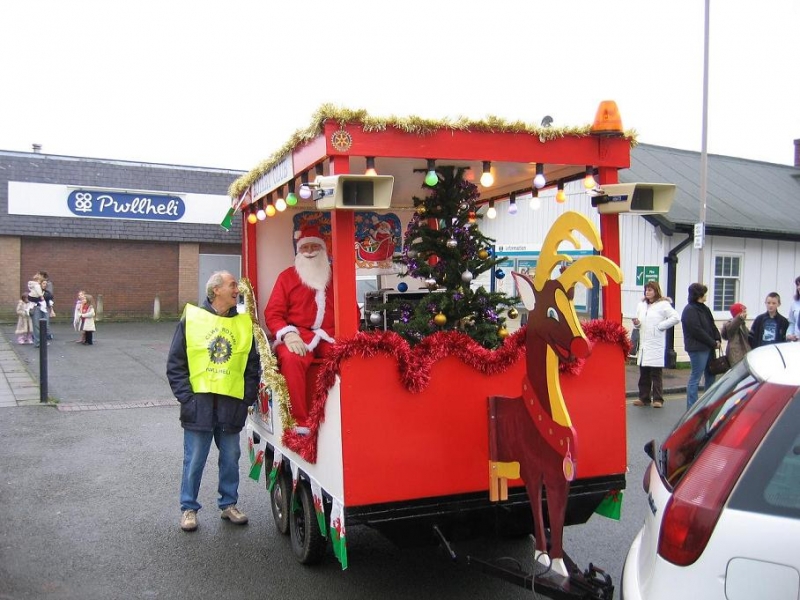 The Christmas sleigh is one of our main fund raising events. Santa toured Pwllheli and our local villages, gave pleasure to the children and raised over £2500 last year for local and national charities.
In August 2008 a very successful outdoor live music event and fun day was held at Roshirwaun by courtesy of Rtn David Watson and his wife Mary. Three live folk and rock bands played and there was an Indian style buffet and wine. This proved to be an excellent social event which added a considerable sum to our charitable funds.
The Rotary Foundation
Targeted the eradication of Polio via Polio Plus. (See 'Polio Eradication' on this website for further details.)
Youth Opportunities
Provided bursaries for local students to attend a course at the Welsh National writing centre. (See separate section on this website for further details).
Actively supporting CIP (Cynllun Ieuenctid Pwllheli, translated as Pwllheli Youth Project) in various ways:
Funding 2 of their leaders to go on Rotary Young Leadership (RYLA) courses in August 2009.
Funding tee-shirts and sweatshirts.
Active involvement in their meetings and management committee with an objective of a long term relationship.
Facilitate expansion of their activities through our contacts and local knowledge of appropriate expertise.
In return, the members of CIP help our fundraising with the Christmas float.
Funded a day out for local young carers.
International
Haiti earthquake Relief fund.
Collected for the Tsunami victims, supported by Pwllheli Council and the people of the town and used the monies raised to help build new villages in Sri Lanka. One of the new houses in a Sri Lankan village is actually named 'Pwllheli House'. (See the feature in 'Tsunami Village Sri Lanka' on this website.)
Sent a cheque for the Books for Swaziland project.
Provided Aqua boxes and Shelter boxes for worldwide disasters and involved schools in preparing these to assist in the relief of suffering. (See separate section on this website)
Entertained children from Chernobyl in Belarus who were visiting our area.
Other Projects
An Exhibition of what we do in local shops.
Provided commemorative benches in Llanbedrog Churchyard and Oriel Plas Art Gallery.
Supported Friends of Bryn Beryl, and Alaw Ward of Ysbyty Gwynedd our local hospitals.
Social & Sports and Club Meetings
Speakers, Boat trip to the St Tudwal's Islands, Walks, Jazz Evening on the Ffestiniog Railway, Quizzes, Bowling, Pwllheli's Charter Dinner and the Charter Dinners of neighbouring Rotary clubs.