Our Newsletters
Thames Link is our Club newsletter issued two or three times a year.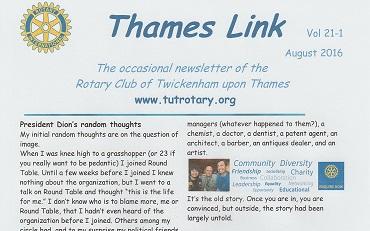 Show related pages
Thames Link
Thames Link is the Newsletter of the Rotary Club of Twickenham upon Thames. With a message from the President, photographs and articles about events the club has run or attended, and news about new Club members, it is full of interesting snippets.
You can find out about our annual international trips to a European city or the annual tour of a wonderful garden in the UK.
There are updates on the work we do with local schools, such as competitions, interview panels or a chess club. Or news about efforts to help the local community. There are often reports about projects to help people in far off parts of the world deprived of such basic things as clean water!
And the extract from the archives of the club is always an interesting read, often showing how much things have changed!
Please open one of the pages and find links to each copy of Thames Link. We hope you enjoy reading it and looking at the many photos!