Community and Vocational
Details of Community & Vocational issues
We continue our support for 'The Stroke Association' by facilitating 'Know your Blood Pressure Day' held at Broad Street Mall, Reading Town Centre in April annually.
We will continue with the Easter Egg distribution, our support for CIRDIC and for Against Breast Cancer. We also hope to build on our June Rotary Ride for Prostate Cancer and make a cycle event more of an annual club event.
We have become "experts" at running car parks for some local triathlons in return for making an entry collection for our Charities. If you are organising an event in the Reading area, have need of car park marshalls and we can make our Charities collection, please let us know.
We are planning to arrange a series of speakers for our members' breakfast meetings to provide an insight in to a variety of business experiences; if any readers would like to share their business experience with us, do let us know. We would love to hear from you.
For the last few years we have been working with Ufton Adventure (see video about this charity here) and in Spring 2014 we helped build a stone pizza oven as pictured below. This facility, combined with the excellent outdoor activities and overnight stay cabins, enables hundreds of children to learn new skills and to share experiences.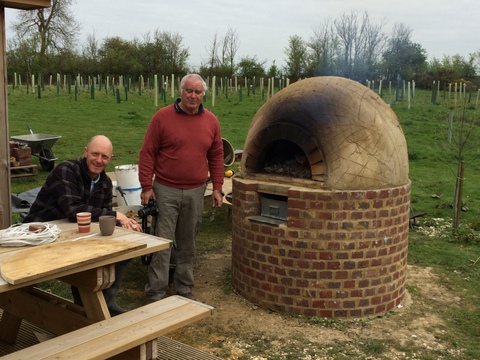 Watch the video, "We're for Communities" which explains a bit more about what Rotary does: