Membership
Rotary Club of Croydon, the Borough's original and oldest club,
has served the community for nearly a century.
Becoming a member of Rotary means you are a member of every club throughout the world. This enables you to meet your community leaders and to make an impact both here and around the world. We invite you to visit our club and find out more about us and the opportunities we offer to get involved.
Our members have found that it is a truly rewarding experience.
Here's what they say:
"Being a Rotarian means being able to give something
back to my community in an atmosphere of friendship,
enthusiasm and fun!" [Barbara]
"Being a Rotarian offers friendship, interesting talks
and information, the opportunity to help in some
worthwhile charities and a chance to meet with
other clubs in Europe." [Chris]
"The Rotary principle of 'service before self' is greatly
to be desired and since retiring from business I have
attempted to serve the Croydon and wider community
in voluntary ways." [Edward]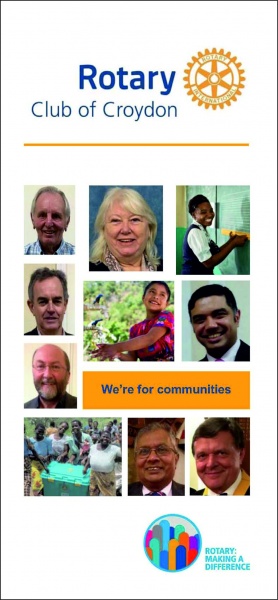 A copy of our new

Club Information Pamphlet

is now available to DOWNLOAD.