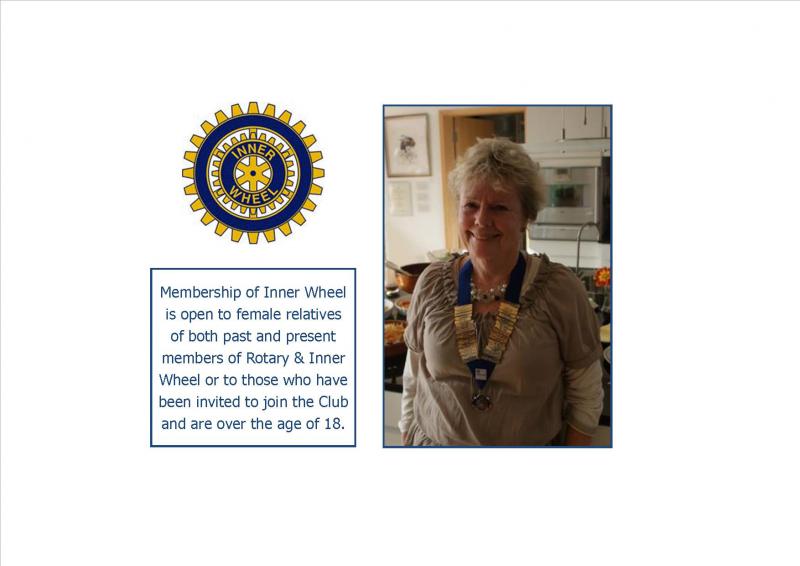 The Inner Wheel Club of Wilton
Inner Wheel was founded in support of Rotary in Great Britain and Ireland during the 1920's. Inner Wheel became international in 1967 and now has clubs in 98 countries.
Our Charity for the current year is the Trussell Trust in aid of whom we held an Art Exhibition during the weekend of 18th, 19th and 20th October. Wilton Inner Wheel hosted a lunch on Saturday 19th for 50 people.
We have a busy year planned, a visit to Waitrose for a cookery demonstration, various speakers, a fashion show and a Scottish evening. We also support Wilton Rotary when they need us.
We would be pleased to welcome any ladies who would like to join us for any of our events. Our meetings take place mostly on the first Tuesday of the month.
You can contact any member using the contact form or call President, Anne Chalke, pictured left, on 01722 790457.
Membership is open to female relatives of both past and present members of Rotary & Inner Wheel or to those who have been invited to join the Club and are over the age of 18. Belonging to Inner Wheel gives members the opportunity to share friendships in Clubs and Districts in Great Britain and Ireland and throughout the world.
The objectives of Inner Wheel are to promote true friendship, to encourage the ideals of personal service and to foster international understanding. Wilton Inner Wheel Club was formed in 1980 and currently has 19 members who normally meet once a month and host meetings in their own homes.
In the course of our calendar of social and charitable activities we often help at Rotary Club events (see photos below) and are visited by guest speakers and members of other Inner Wheel clubs.
Above left: our cake stall at the Wilton Rotary Mammoth Car Boot Sale in 2012. Above right: a scene from the Art Exhibition held at President Anne's house in October 2013 in aid of The Trussell Trust.
Mammoth Car Boot Sale Rotary Spireworks
What we do: