Group Study Exchange (GSE)
What is Group Study Exchange?
The Group Study Exchange (GSE) programme of the Rotary Foundation of Rotary International is a unique cultural and vocational exchange opportunity for young business and professional men and women between the ages of 25 and 40 in their initial stages of their professional life.The programme provides travel grants for teams of participants to exchange visits between paired areas in different countries.
For four to five weeks, team members study the host countries institutions and ways of life, observe their own vocations as practised abroad, develop personal and professional relationships and exchange ideas.
Young adults between the ages of 25 and 40 who are interested in applying should be employed full time in business or a profession and must live or be employed in North Wales or Northwest England, but cannot be related to a Rotarian.
Contact: Dave Barton for application forms and information at Mobile: 0778 926 7908 Home :0151 421 1915 Email : d.c.barton@btinernet.com
The Rotary Club of Pwllheli has sponsored local candidates who applied to join forthcoming exchanges to Japan and has recently welcomed the team from The Phillipines to a dinner on 21st May 2009. The UK team who visited the Philippines also gave a presentation to the club on 4th March 2010.
In 2011, The Rotary Club of Pwllheli will be sponsoring a candidate for the forthcoming exchange to the Amazon in Brazil and was host club to the visiting team from Brazil on May 6th and 7th 2011.
The Amazon, Brazil Team visits Pwllheli 2011
Here are the details of the team who were hosted by Pwllheli members on May 6th and 7th.
Clockwise from the top, Amanda, 29, Medical Laboratory Technician: Antonio, 25, Business Administration; Giselle, 29, School Teacher; Emerson, 37, Accountant and University Professor.
District 1180 GSE team who visited The Philippines in 2009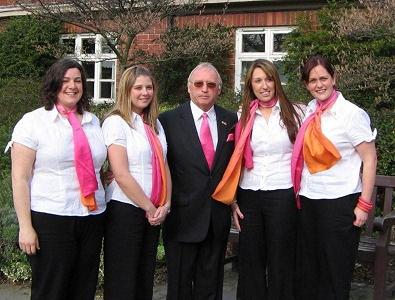 A team of four young women visited The Philippines in 2009, sponsored by Rotary District 1180 and accompanied by Team Leader Les Wilson of Maghull & Aughton Club. They became known as 'The Pink Panthers'. The Rotary Club of Pwllheli welcomed them to a presentation on March 4th 2010 at Pwllheli Sailing Club when they gave an inspiring personal account of thei time in the Philippines.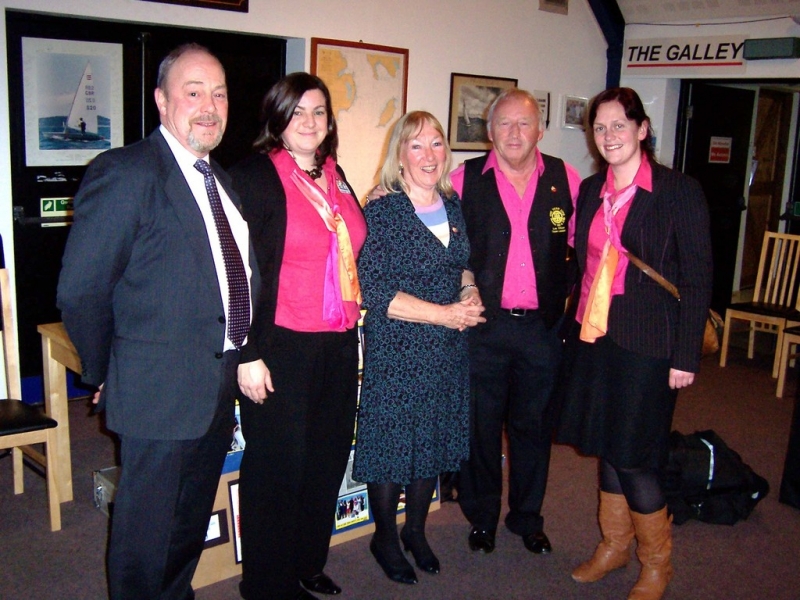 Members of the GSE team to the Philippines at Pwllheli March 2010
Visit by the Group Study Exchange team from the Philippines.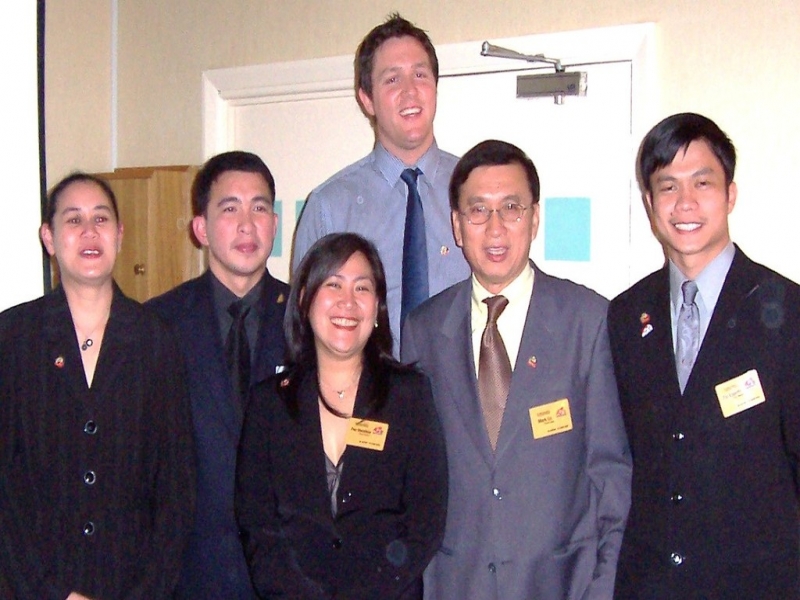 The Rotary Club of Pwllheli hosted a Dinner for a team of young professionals from The Philippines who are visiting Rotary District 1180 in May/June 2009. The Group Study Exchange team gave their presentation to the 6 'West Coast Rotary Clubs' at the Nanhoron Arms Hotel, Nefyn, Pwllheli on 21st May 2009. The Pwllheli members came away from the meeting hugely impressed by the presentation. We learnt about their country, their families and their aspiration to put something back into their communities. They were keen to learn from their experiences on their visit about what we do well in the UK. It became increasingly clear during the evening that we in the UK had a great deal to learn from them. We were impressed by their friendliness, their politeness, their personal skills and their commitment to try to create a better society. It was an excellent example of the two-way benefits of Rotary's Group Study Exchange Sheme.
The GSE Team from The Philippines who attended the dinner.
Aquilino "Jong" Cortez 38yrs, Councillor of the City of Olongapo and lay-minister in the Catholic church.
Cecilie Fe "Faye" S. Abalos 33yrs, Chair of Department of Communications at the University of the Philippines Baguio.
Team Leader Marquez "Mark" Go 56yrs. Formerly Human Resources Director, Texas Instruments, President of Berkley School Inc, Batchelors Degree in Political Science, Masters in Management and Doctor of Humanities. Past President of Bagio North RC and Past District Govenor of D3790 and major TRF Donor. During his time as District Governor in 2001/2, his district increased membership by over 1000 members or 63% and was recognised by Rotary International as one of the top 5 districts worldwide in terms of membership growth. He has 8 children.
Maria "Pao" Mendiola 38 Yrs Teacher in Pre-School and Primary Schools. Formerly Business District Manager with Glaxo Smithcline.
Florante "Flo" Espiritu 27 yrs, an Accreditation Officer & Systems Administrator at Subic Bay Metropolitan Authority.
The GSE Team from The Philippines give us a musical farewell to Wales at a lunch at Bala on June 6th 2009.