Entertainment & Sport
Social and Sporting Events Galore
The club 'Sunday Walk & Lunch' events provide a source of income from within the club with which we can support a local charity.
Theatre, concert and other visits are arranged several times a year and are always very enjoyable.
Sporting activities are enjoyed by club members, particularly on the 'greens' of Golf & Bowls plus engagement in the various sporting activities with other Clubs in the District.
Nearly but not quite on the bowls green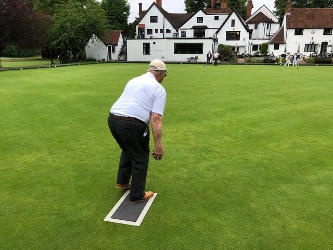 On 5 June 2018 the Rotary Club of Chelmsford, represented by Graham Furnival, Stan Keller and Tony Stubbings, played a Rotary quarter final bowls match against the Rotary Club of Havering East. The location was Upminster Bowling Club and the game consisted of "triples" played over 18 ends.
Sadly we lost the match and Havering East went through to the semis. We initially held our own, although Graham had a few ragged ends at the start. But the opposition Skip was on top form, an experienced bowler who is currently Captain of Upminster Bowling Club. He had a remarkable game.
They say you can't count your woods until the last wood is bowled! How true, because every time we looked like holding a few woods, in came their Skip. For instance, at end 16, with the jack near the gutter, we were holding five and on his last bowl their Skip turned it round and we were 2 down. It's a funny old game is Bowls.
It was an enjoyable morning and the weather was perfect. Havering East were worthy winners, and of course they had to buy the beer!
A Day at the Races!
Well, just an afternoon really - with tea and lots of cake! This was a social event organised by Alan Scott and attended by around 30 members, partners and friends. Everyone enjoyed themselves (even if they were proved to be poor judges of which horses would win), and Alan was asked to present the prize to the owner of 'Ninety Minutes', winner of the second race.