Rotary Club of Keswick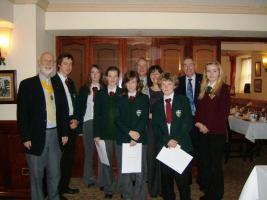 Annabelle Allport, from Keswick School, brought six young poets to the Club recently to receive their Young Poets awards. Each of them read out their winning poem to club members.
Annabelle Allport, English teacher from Keswick School, brought the six Poet's Day winners from the School to be entertained at a recent Rotary Lunch. Each was introduced by Tom Marshall the winner of year 11 and the poems were enjoyed by the whole club.
The winners were Hannah Watson (year 7), Catherine Day (year 8), Lucy Quinn (year 9), Richard Sykes (year 10), Tom Marshall (year 11) and Lucy Jackson (year 12).
Certificates and a useful cheque were awarded to each winner by District Governor Albert Johnson who noted that the older the poet the more serious the subject of the poem became. So there was something for everyone in the audience and Albert obtained permission to include one of the poems in his next Rotary District 1190 News Letter.
Congratulations to Teachers and Pupils including all the runners up in the competition.