February 2010
2010 End Polio Now Collection
Eradication of Polio a Possibility or a Dream?
Worldwide cases now reduced to 1600 per annum
It is over 28 years since the last case of Polio in the UK but many still remember this horrific, crippling sometimes fatal childhood disease. In 2010 Polio, a disease for which there is no cure, is still however a harrowing reality for children in Africa and Asia. As a result of a Polio immunization campaign the annual number of Polio cases has dramatically reduced from 350,000 cases in 15 countries in 1985 to only 1,600 cases in 4 countries (Afghanistan, Northern India, Nigeria and Pakistan) last year.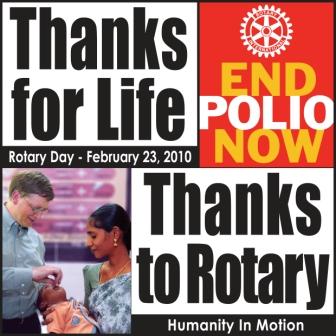 Rotary International and Rotary clubs around the world have been a driving force in this campaign since 1985 and in February this year Rotary Clubs throughout the UK together with both Sainsbury's and Tesco collected money to further advance the fight against Polio. In addition the Bill Gates has joined the fight and is adding a