Rotary Club of Norwich St. Edmund

Home | Visit of the RIBI President - 23/3/10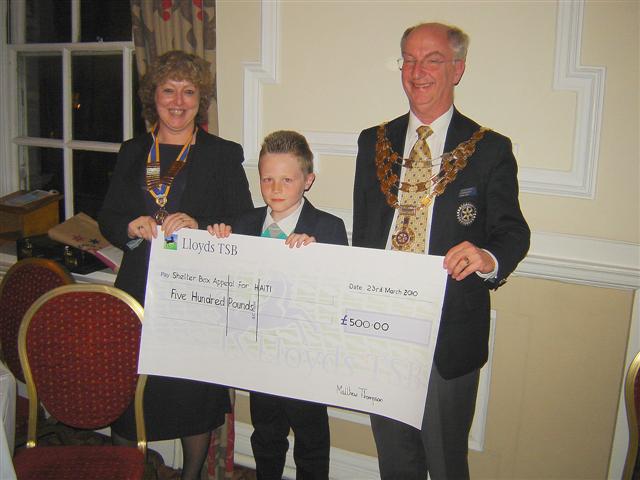 When asked if he wanted to say anything Mathew Thompson 11 yrs. said 'No thank you',
but then that was to be expected as he believes actions speak louder than words.  Hearing about the Haiti earthquake recently and wanting to do something for the victims, he got Dad's permission to do a sponsored bike ride and raised £500 which he is seen here just after handing over a cheque to President Kim. RIBI President David Fowler is also helping to show the large cheque to the assembled guests. The money will be used to provide a Shelterbox, home for ten people in the disaster zone.
Hosting a rally at The Maids Head Hotel, Norwich on Tuesday 23rd March 2010, all but one of the 8 Norwich area clubs turned out together with members from Cromer & Sheringham, North Walsham, Great Yarmouth and Rotaract, to witness the above presentation and to hear an inspiring address by the RIBI President about the work of Rotary around the world.
Organising club Norwich Saint Edmund was also honoured when DG John Samuel recognised the Club's Rotary Foundation contribution for 2008 – 2009 by the presentation of a banner showing them to be the top of  77 clubs in District 1080 in per capita giving.
                                                                          Barry Catchpole, Secretary
                                                                           24/3/10
(Further picture in Photo Galleries)