RYLA Rotary Youth Leadership Award
RYLA Courses~ Destination ARTHOG 26th - 31st August 2013 "This was the best week of my life" declared a RYLA attendee from Pwllheli. We regularly receive similar comments.
Rotary Youth Leadership Award (RYLA) 2013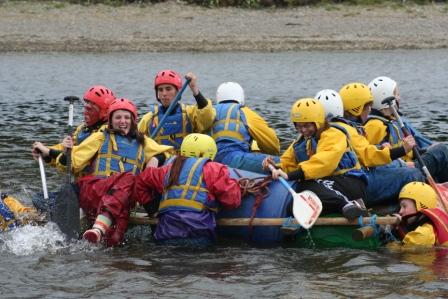 The Rotary Youth Leadership Award (RYLA) course is held at the Outdoor Education Centre at Arthog on the Mawdach estuary in Gwynedd.
The 2013 course will be in August 26-31 2013 when 36 students sponsored by Rotary Clubs in District 1180 (North-west Wales, Wirral, Merseyside) will be invited to attend.
The quality of the learning on our RYLA event resulted in the course being HIGHLY COMMENDED in the National Training Awards in 2007.
RYLA courses are for young adults who are potential leaders from diverse backgrounds.
Whether you are a secondary school student, university student or young professional, RYLA provides a unique opportunity to learn, grow, have fun and make new friends.
The RYLA experience prepares young people to be leaders in their community, profession and other facets of everyday life.
RYLA will help you to:
Develop leadership skills
Increase self confidence
Gain exposure to a variety of issues and people
Improve career skills and knowledge
But most of all, you will have a great time (talk to Mathew, Enzo, Ryan or Adam about previous courses).
Note. In order to read this leaflet it may be necessary to use your browser's enlarge or zoom facility. In Microsoft Internet Explorer, for example, this is at the bottom right hand corner of your screen.
The 2012 poster as a PDF file can be seen by clicking:-- here
For more details see the Home Page.