PRESS CUTTINGS
Norwich Evening News 6th March 2012
The 2012 Dussindale Scarecrow Festival is moving from its normal August Bank Holiday date to link with the Queens Diamond Jubilee celebrations. It will be held on Monday, 4th June.
Full details will be announced shortly. Promotional leaflets and entry forms will be distributed to all homes in the area at Easter and full details will be available on the organisers web site (Norwich Centenary Rotary Club) www.norwichcentenaryrotaryclub.co.uk
The entry fee remains at 5. Scarecrow locator maps will be available on the day priced 2.50.
A decision is yet to be made as to which charity will benefit from this years event.
Any pre-event queries should be emailed to Norwichcentenaryrotaryclub@gmail.com
Norwich Centenary is the youngest Rotary Club in Norwich, being formed in 2005. They are involved in lots of community activities and raise thousands of pounds each year for deserving causes. The club meets each Wednesday at 6.30pm at the Oasis Club. For more information check out the club web site www.norwichcentenaryrotaryclub.co.uk or call the Oasis on Norwich 462462.
Norwich Evening News 14th Sept 2010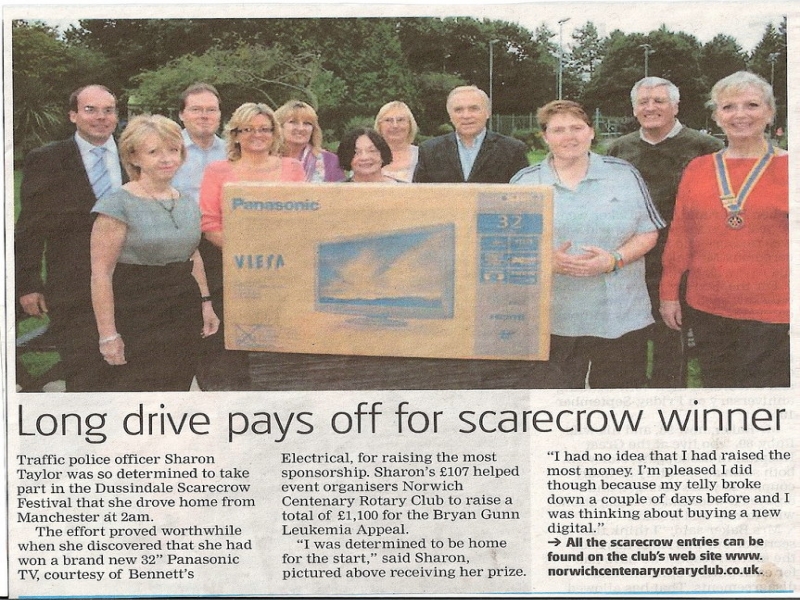 Scarecrows descend on Dussindale
NORWICH EVENING NEWS WEB SITE 30/08/2010
The birds in Dussindale may well have had a shock over the Bank Holiday as scores of scarecrows sprang up around the Thorpe St Andrew estate. The second Dussindale Scarecrow Festival took place on Monday and saw an impressive array of dummies created, including whole sets of themed scarecrows at some of the 30 homes taking part. In Hampden Drive there was the cast of the X-Factor television programme, complete with judges, singer and cameraman.
Tony Marsh, a member of the Norwich Centenary Rotary Club which organised the event, said: "It's been incredible this year, I just can't believe some of the displays. The set of the X-Factor was very good. You could even tell one of them was Simon Cowell as he had his trousers up high around his waist."
Other scarecrows of note included Dr Who, the Tardis and a Cyberman in Commonwealth Way, the stars of the Phantom of the Opera in Gunner Close, and a firefighter attempting to rescue a stricken scarecrow from a house fire in Fleetwood Drive.
The event, which was raising money for Bryan Gunn's Appeal which helps families and children with leukaemia and cancer, included a barbecue at the Oasis Sports and Leisure Club in Pound Lane, where families could pick up a map fo the scarecrows and vote for their favourites.
Richard Maxwell, a member of the Rotary club and general manager of Oasis, said: "We tried to make it a good family day out, so that people could have a walk round and see the scarecrows and then come back to the club and take part in some activities."