Trees of Light Leamington and Whitnash
Rotary Club of Royal Leamington Spa "Trees of Light" will once again be suporting the Myton Hospices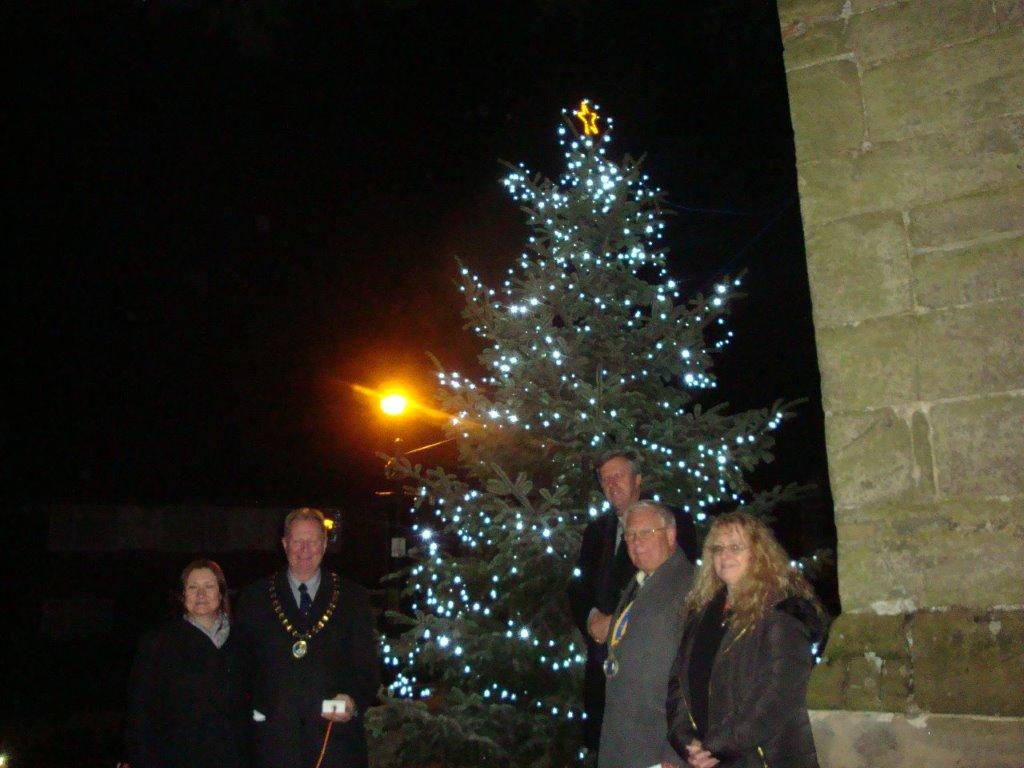 Left to Right: Kate Button wife of the Mayor, Simon Button Mayor of Whitnash 2016-17, Rev Richard Suffern, vicar of St Margaret's church Whitnash, Rotary Club of Royal Leamington Spa President Barry Andrews, and Rachael Stevens Community Fund Raiser at The Myton Hospices
Royal Leamington Spa Rotary Club Trees of Lights
Whitnash Tree of Light
18th November - 5th January
The lights will be illuminated on the Rotary Tree of Light outside St Margaret's Church
on Saturday 18th November from 5.15pm with music and carols.
Royal Leamington Spa Tree of Light
19th November - 5th January
The lights will be illuminated on the Tree of Light outside the Town Hall at a ceremony
on Sunday 19th November from 3:30pm including a short carol service with the Spa
Brass Band. The town lights will also be switched on later.
Make a donation and light up a light in memory of someone or a cause dear to you at any time
Click on this line to download the Tree of Light leaflet
Rotary Trees of Light goes from strength to strength raising nearly £50k in Leamington Spa and Whitnash since 2001. The Rotary Trees of Light have become a regular feature of the Royal Leamington Spa and Whitnash town lights. All proceeds from the trees will go to The Myton Hospices
We have various ways for you to light a light on the tree. Download the form from the link above, collect a form from the Leamington Spa Town Hall or Whitnash Town Council offices, Franklin Road, Whitnash or complete the form which appears in the Leamington Courier each week
Check out the origins of the Light up Rotary project started in 1995 which is now estimated to have raised over £100 million - Click on this line

Website maintained by John Hughes of Island Of Art. The images and text are the copywrite of John Hughes and Rotary International unless stated otherwise and may not be reproduced without the permission of the Website manager or Rotary International excepting for the express purpose of promoting the "Rotary Tree of Light" through Rotary International or R.I.B.I. The Rotary name and logo are the exclusive property of Rotary International and are used here under Rotary International Internet Policy Guidelines. © Rotary