Committee of PHF Past Presidents
Explanation of the Paul Harris Fellowship Award. Paul Harris is the founder of Rotary. For a brief history, follow the link on the CLUB HISTORY page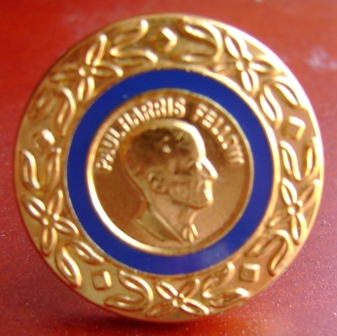 The Committee of PHF Past Presidents of the Rotary Club of Newcastle upon Tyne is made up of those active members of the Club who have both served as Club President and have been elected as Paul HarrisFellows.
The Committee meets once a year, usually during the month of February. It will consider any nominations that have been made by Club members for an award of Paul Harris Fellowship to be made by the Club to individuals.
A Paul Harris Fellowship is the highest award that a Rotarian can achieve. Generally it is awarded in recognition of long and meritorious service to the community that fulfils the ideals of Rotary for the betterment of humanity. It is not limited to Rotarians but may be awarded by a club to any person who, in the eyes of the Club President and Council at the time, meets the requirements.
The citation reads, " [name] is hereby named a Paul Harris Fellow in appreciation of tangible and significant assistance given for the furtherance of better understanding and friendly relations among peoples of the world."
For a list of the Paul Harris Fellowship awards made by the Rotary Club of Newcastle upon Tyne, please select the tab from the menu on the left, or use this link
The Procedure for the nomination of Paul Harris Fellows is available on the members section of our Club website or via this link.