Club History
HISTORY OF THE CLUB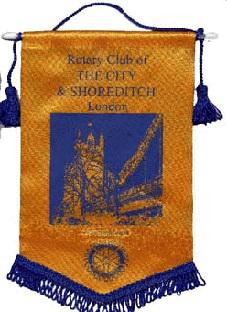 The Rotary Club of Shoreditch was founded in 1933 through the initiative of two Rotarians who found themselves transferred to Shoreditch, through the generosity of the London Club, who ceded the territory for the new Club, and through the efforts of the two sponsoring Clubs, Hackney and Stoke Newington. The two Rotarians, the Revd J Morris Bold and H J Edwards, were joined by a third Rotarian, Roland Eustace, who as a member of Hackney found himself in the territory, which was ceded by Hackney in boundary adjustments with the new Club. A further 24 new members were then recruited, many of them through the efforts of Arthur Parry, an ex-Mayor of Shoreditch, and they were a representative cross-section of the business life of the Borough.
They met under the guidance of a formation committee headed by Ted Unwin of the London Club, and the inaugural meeting was held on 29th September 1932. The Charter was presented in the presence of 300 Rotarians from District 13 (later 113, and now 1130) on Monday 30th January 1933 in the Abercorn Rooms, the Chair being taken by Rtn Frank Burnham, then Chairman of District 13, who installed the Revd. Morris Bold as Founder-President.

The Club met in Room 200 of the Great Eastern Hotel for 49 years (with the exception of the year 1951-2 when the meetings were held in Williamsons, Bow Lane) until the Great Eastern was sold in 1982, when a move was made, first to Mincing Lane and then to Mark Lane, in St Olave's Church Hall, which would be the meeting place for the next 20 years. In 2004 the meeting place changed to London Capital Club and since August 2005 the Rotary Club met at Percento Restaurant, 26 Ludgate Hill, London EC4 in the shadow of St. Paul's Cathedral. In 2010 the club went back to the London Capital Club for a short period and from July 2011 onwards meets at Taberna Etrusca, 9-11 Bow Church Yard, London. So the meeting place has always been within the boundaries of the City of London..

Through the initiative of Past Present Horace Atkins links were forged with the Rotary Clubs of St Raphael (France) and Lodi (Italy) in 1958. These links with our Contact Clubs at St Raphael and Lodi, with each Club in turn hosting an annual get together, have created deep bonds of friendship between the members of the Clubs and the Clubs have supported each other's Matching Grant Projects.
Based on an initiative of Past President Roger Wolf the partnership of our three clubs has been extended in 2010 to include the Rotary Club of Leipzig-Bruehl in Germany.
In August 1999 the Club was renamed "The Rotary Club of The City & Shoreditch" from its original name "Rotary Club of Shoreditch" to highlight the fact that the Club is very much linked with the City of London, the major financial centre of Great Britain.

Also in 1995, the Club voted for dual gender and in 2007 elected Mrs. Livia Catalano as the first female President.

Amongst previous charity projects: over