Boxing Evening February 26th 2016
Annual Boxing Dinner
39th Annual Charity Boxing Night
February 26th will be our 39th Annual Charity Boxing night at the HG Wells Conference and Events Centre in Woking.. This is a great evening enjoyed by all present for so many reasons. The event will be generously sponsored by Spicer Haart. We are extremely grateful for their support. It is hard to believe that the event has been going on for 39 years and it is worth spending a moment thinking back to the first evening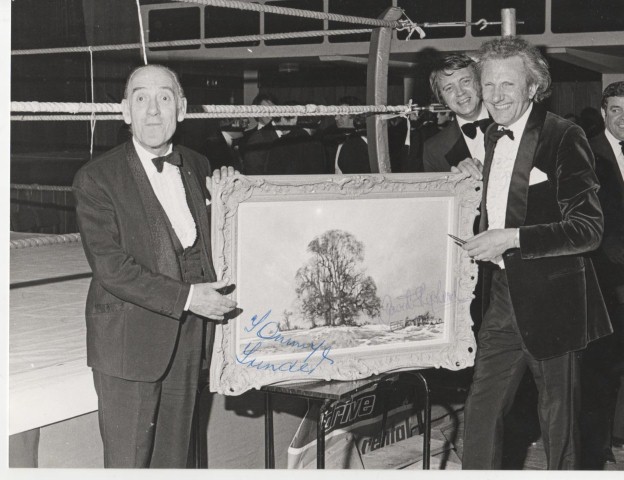 On the occasion of the first charity boxing night our evening was graced with the presence of our now Honorary member, David Shepherd and Tommy Trinder, who will be known to older visitors. Tommy took to the ring, but not to box, he was our auctioneer for the evening. David Shepherd gave a painting to be auctioned for our charities. David has attended most of the events but he lives a long way away and finds the journey late at night difficult. We are for ever grateful to him for all his help and support.
The boxing has always been organised by Guildford City Amateur Boxing Club with the Amateur Boxing Association. Great care is given to ensure the boxers are well matched which makes really good boxing. The match this year will be between a South of England Team and a Select Irish Team. This is really something to look forward to. The ladies first appearance last year was good and we look forward to a further bout this year. The training these youngers get is invaluable. Boxing teaches so much more than punching someone, it also teaches respect, discipline and how to behave in difficult circumstances as well as obeying the rules. This Club is a great asset for the town. The Guildford Borough Council were able to move the Boxing Club from some premises which were not at all suitable to a new building in Park Barn which was refurbished and now a centre of excellence. It is an eye opener to visit the club and witness for oneself the enthusiasm of the young people and the dedication of the training staff. There are already budding Olympians to be seen in action.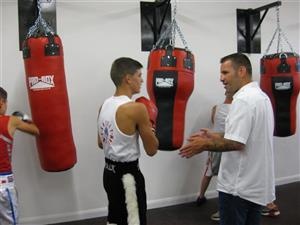 Not only are there recognised trainers looking after the enthusiastic youngsters but also here we see a former World Champion who was a member of the club giving one to one advice. This is a great incentive to the boys and girls who come to train, get fit and learn new skills.
What happens to the money raised at these events? Over the years the evening and the generosity of the fans has raised in excess of £750,000. This has meant that we have been able to support the Boxing Club of Guildford City but numerous other local charities with a considerable bias towards charities involved with children. In addition to these local organisations it has been a privilege to work with the Rotary club of Arusha where schools have been built and even a University facility provided. Two young women have already graduated and both have returned to their roots to look after children as underprivileged as they were.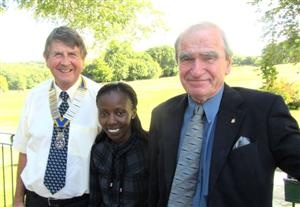 With the help of Fay Cran, a rotarian from Arusha in Kenya and our own International Chair, Peter, Neema the first of the students to Graduate was able to come to this country and stay with Peter. She was welcomed by the club at a lunchtime meeting. The first young man to graduate does so in the near future and Peter will be there to support him because these youngster were street children when they first had the chance to get an education and improve their lives. This is mainly because of the proceeds of the boxing.
It is a privilege for all who attend to enjoy this wonderful sport and assist so many young people. It does not happen without a lot of work and burning of midnight oil. Get out your diary and get the date put in so that you are free on the night. Download a form and get your tickets booked as soon as possible so that you are not disappointed. Rember your partners too as we have seen a huge increase in the number of ladies who have very much enjoyed the evening out.
BOXING EVENING BROCHURE click HERE
APPLICATION FORM click HERE
Now is the time to do it before the Christmas festivities when you will be busier than even now.