International
International
Help for Albino Population in Tanzania
One might be able to imagine what it might be like to be abused because the colour of your skin is not white here in the UK. Some will indeed know what it is like all too well. Can you imagine what it might be like to be abused and vilified for being white? Well - it happens in parts of Africa when melanocytes normally found in the skin are absent and the person remains white even in the sun of central Africa. Not even that but it is thought by some that various parts of the body of an Albino person have special properties and I am sure you can imagine the rest. The article in the Surrey Advertiser today 30 January 2014 tells of ways in which the Rotary Club of Guildford District are helping some of the Albino population in Tanzania.
---
Visit to Graduation In Tanzania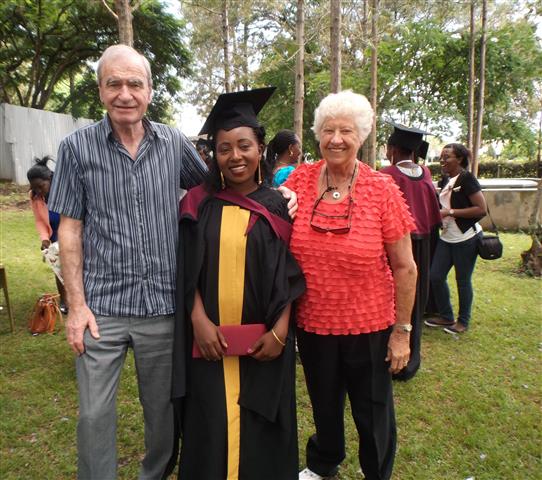 Peter with Naomi and Faye Cran
December 2014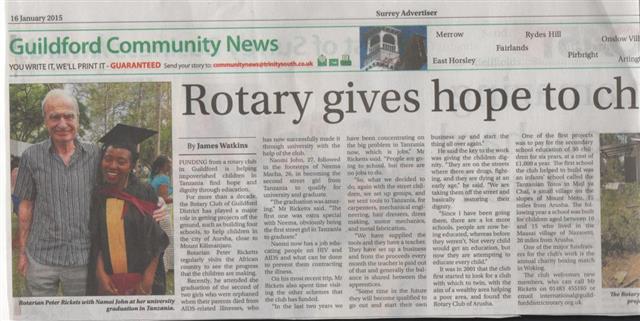 Rotarian Peter travelled to Tanzania again to be present at the graduation ceremony of the second street child who has now completed her education. She started out with nothing and having worked her way through standard schooling she has complete a three year course which gave her a degree and has enabled her to go on and be employed helping yet more street children. The first child to come through the system (see below) now also works with the same children and young people.
---
School in Sierra Leone
Many of our friends in Rotary and ineer Wheel will know of the interest of Pat O'Keefe in a school in Sierra Leone. She visited earlier this year to work on the school accompanied by her grandson and granddaughter (James & Charlotte). Apart form a lot of hard work which was very much appreciated by the people in Sierra Leone they achieved a huge amount and now there is St David's School which is already functioning. For further information and to see the state of play click here to see an up to date report from the school. Well done Pat and the family quite an achievement.
---
A Visit from Tanzania
Our meeting on the 19 September was very special. We had a talk by our own Shahid Azeem PHF and a visit by Neema Macha.
You may ask what was special about a visitor from Tanzania? Surely people come from Tanzania every day. We accept that intercontinental travel is an every day occurence. Our visitor brought home the fact about what the club has been doing in the country for many years.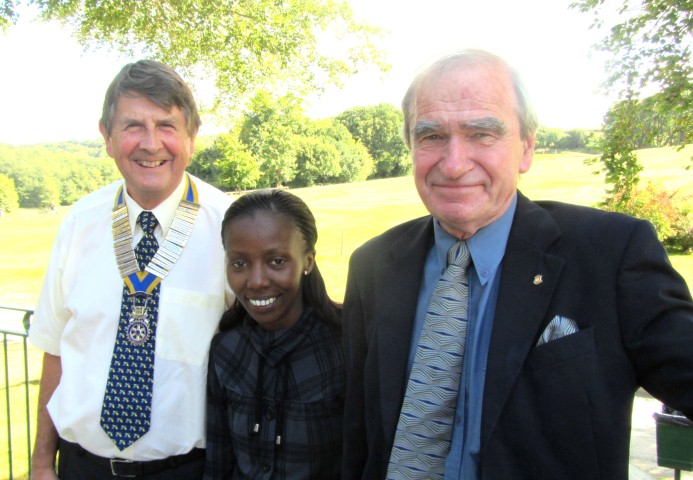 From left to right, President Peter, Neema Macha and Peter
Our Visitor was Neema Macha. When we started our work in Tanzania she was one of the street children who regretably had very limited education. I suggest you read the article below this report to get a better idea of what was started and then come back here to see how the story has progressed.
Neema was one of the first children to benefit from an education in the first part of the school built and she has progressed through the system until she has now graduated from University with a 2:1 in studies equivalent to Social Sciences here in the UK. No small achievement for someone from such a lowly start in life. What now for her? Is she expecting some highly paid job in the city earning mega bucks? How many young people in Tanzania have a degree and a good one at that? The answer is nothing like one would expect just reading about it. If you had the priviledge to meet Neema one would expect rather more. This rather shy young woman clearly is extremely grateful for the chances she has been given and for the mentoring by Peter with whom and his wife Andrea she is staying on this trip of a lifetime. Neema is now looking after a home for street children and mentoring them and showing by example what a good education can achieve. She is a great example for the children she cares for and there are possibly a few children in the UK who could benefit by following her example and following other children in Arusha who thirst for an education to give themselves the chance of a better and longer life.
It has been a priviledge to meet Neema and her mentor and Masai Elder, Peter can be rightly proud of his association with a great example to all the children in Tanzania.
OUR EXPERIENCE IN TANZANIA
In 2001 the Rotary Club of Guildford District decided to look for a club with which to twin. This was not to be the usual social twin but one where a wealthy area could financially assist a poor area. Tanzania certainly fitted this criterion. With the help of Brian Stoyel (Past President of RIBI) we found the Rotary Club of Arusha which fully provided what we were looking for. It was through the good offices of Brian Stoyel that we were introduced to the remarkable Faye Cran
After detailed talks with our friends in Arusha, particularly Faye Cran, in January 2002 we agreed to pay for the secondary school education of thirty children for six years