About Rotary - Service News 2019
Welcome to RotaryGBI Service News. This is the June 2019 edition of Service News, which collates links through to the monthly newsletters provided by the individual national Rotary GBI Service Teams.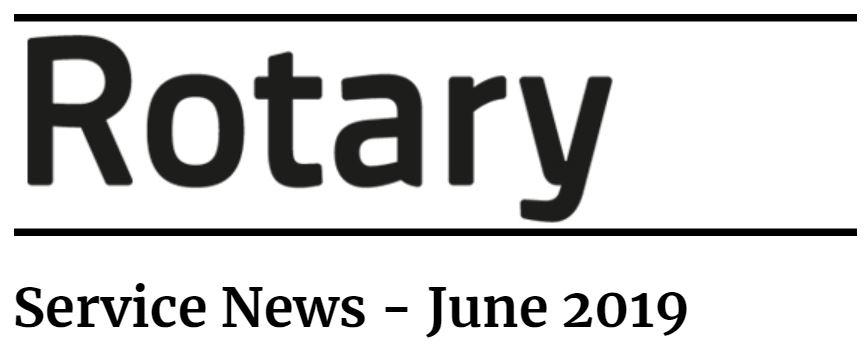 Welcome to RotaryGBI Service News, bringing you the latest updates from the national Rotary in Great Britain and Ireland Service Teams.

This communication will be sent to all members each month, and will contain links through to individual monthly service team newsletters, which are sent to relevant district officers.

This will allow you to access key information across a range of areas in one place.
Foundation Team

Items include:
Thank you from Team Leader, Mike Parry
Latest figures for giving to The Rotary Foundation, polio and Global and District Grants
Polio update - Carol Pandak, Rotary Director for our PolioPlus programme gives us the latest global position
Club contributions and Paul Harris Fellowships
Home Team

Items include:
Thank you from Team Leader, Lynne Marshall
Children in Need - another record year!
Updates for Young Chef, KidsOut and Rotary Leadership Award
Environmental news including the launch of the Environmental Sustainability Rotarian Action Group World Environment Day Handbook.
International Team

Items include:
Thank you from Team Leader, Geoff Blurton and look back at Rotary year 2018/19
The Rotary Foundation Cadre of Technical Advisers
Public Image Team

Items include:
Stories, not stats - use your passion to promote Rotary
Connecting with your audiences through social media
Bring your social content to life at events with Social Walls
Important update - Copyright infringement
In the past month Rotary in Great Britain and Ireland have received two legal claims for Copyright Infringement.

Both incidents involved, albeit unwittingly, Rotary clubs using photographic imagery on their public webpages for which they did not have permission or licence.

Copyright is becoming a predominate issue, particularly on the internet, with fines now being enforced more frequently than they used to be.

The following fact sheet, produced by Rotary Magazine Editor, Dave King, provides guidance to clubs and districts on good practice to avoid copyright issues, particularly in respect of photos/articles on club and district websites.

It is important that if clubs/districts are uncertain as to the ownership of a photo/article content, then they should remove it – paying particular attention to photos and articles in archive/old news feed areas of the club/district website.