Rotary Club of Haddington

Home | President John McMillan - July 2012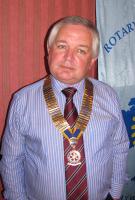 Club President John McMillan welcomes you to our website.


Based in the historic market town of Haddington in 2010 our club celebrated 50 years of service to the community. Those who founded the club did not have the advantage of instant e-mail communication or a club web site, but their dedication to helping those in need at home and abroad was just the same as it is now.
Our members come from wide variety of backgrounds and we support many local and international organisations and provide assistance to many deserving causes.
Our youth programme involves local secondary and primary schools where we encourage competition with projects like the Primary School Quiz and Young Chef.
We feel it is important to have fun while fundraising and supporting good causes.
The club has a strong social aspect involving our partners, friends and supporters.
I would invite you to browse our website where you can find more information on our activities and social programme.
If you want to know more about Rotary or would like to attend our meetings at The Maitlandfield Hotel, please e-mail the secretary by using the button below, we would love to meet you.
If like me, you feel like putting something back into society and have fun while doing it, Haddington Rotary Club may be the answer you have been looking for.