Newsletters
This gives access to our in-house newsletter for the past few years.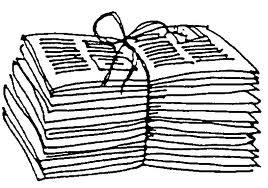 From here you may look at, or even download our newsletters. They are saved as PDFs, which open with a PDF Reader.

You should already have one on your computer; most of them do, usually the original Adobe Reader. If not you may download it FREE from the Adobe website. Or as an alternative you might prefer a different reader that is easy as Adobe's to use but which is about a tenth the size and loads much quicker. If so try the Foxit Reader for Windows, which you can download FREE from their website FoxitSoftware
Choose any, or all, from the selection below. Older copies, back as far as the last century, are available from the editor.
NB Of late some readers who use Macs, iPads and iPhones are reporting that they can't open the PDFs even though I have tried different settings. The only common denonimator is that they see a winmail.dat file, which just confirms that THEY have issues. Winmail.dat is a file type issued by the Windows email client to help some systems cope with PDFs. It is not a file that I create. It is reported that, if you save the winmail.dat file as a PDF i.e. change the suffix from winmail.dat to winmail.pdf, it should magically open, but I can't test this. What I have had confirmed is that, if you suffer this problem, you can visit this page and download a copy direct from here. This bypasses the email problem and so all should be well.